Considering reupholstering that worn-out chair in your den?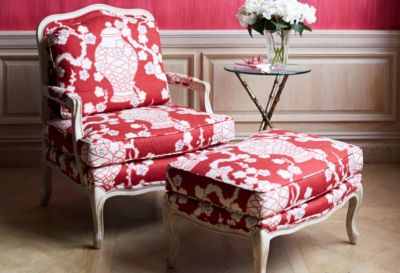 If so, there are some decisions that need to be made. Is it worth reupholstering that chair? How has its construction held up? If it's just in need of the facelift reupholstering can provide, do you plan to do it yourself, or have a professional do it for you? Or, would it be better to buy a new-to-you antique or vintage chair? Here are some pros and cons to each decision:
Reupholstering Furniture
First, let's take a look at the reupholstering in general. What are the benefits and drawbacks to having your own furniture reupholstered?
Pros:
If you love the planet we live on, one benefit to renewing your existing furniture is that it's good for the environment. Much of the wood that is used today comes from rain forests in places like Indonesia and China. By revitalizing your old furniture, you'll save some timber at the same time. Along the same line, antique and vintage furniture is often made from more sturdy, solid wood than furniture today. This is effectively illustrated by the weight. Where a newer couch can easily be moved to the side of the room, a couch from the 1950s or early 20th century is heavy and may take two or more people to move it. This means that after reupholstering it, you know it will hold up for years to come. If you choose to reupholster your furniture, you're not stuck with the few choices found in the furniture store—your choices are as vast as the fabric that can be found. That means you can choose a fabric and trim for your chair, couch, or loveseat that fits your decor without looking like anyone else's furniture. It's unique, custom, and personal.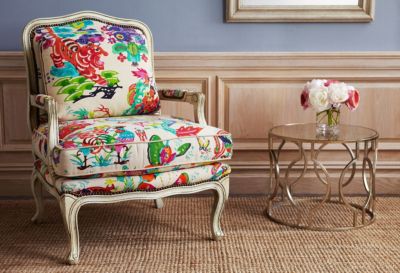 If your furniture has been handed down through the generations, you'll be saving a family heirloom that you can pass down to your children—refurbishing and extending the life of a bit of history. If all that needs to be replaced on the piece is the fabric (and not the springs, padding, or frame), it could cost less than buying a new piece of furniture.
Cons:
Although you can change the fabric to whatever you want, you can't change the basic size or style of your original piece, so make sure you love it! The wood is not going to change and the size is not going to change. The era the furniture was designed in is not going to change, either. So if the basic shape or frame of the piece doesn't work, then changing the fabric won't make you fall in love.
Reupholstering is really worth the time and the effort if the frame is of quality wood. If the frame is of soft wood or plastic, or the has deteriorated past its prime, it's not worth reupholstering.
DIY Upholstering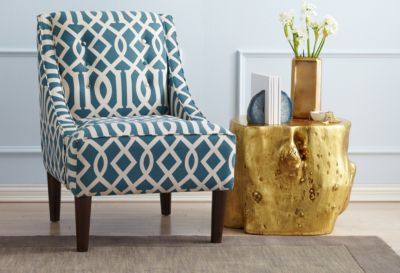 Now that you know the pros and cons of reupholstering, if you still think that the benefits outweigh the drawbacks, the next thing to decide is whether you're going to do it yourself or have a professional do it.
Pros:
It's always fun to learn a new skill and to use that skill to create something beautiful. Get your fingers nimble and ready; this is what happens when you reupholster furniture yourself! And every time you sit it or look at it, you're reminded that you did that. It can definitely be a great conversation piece, too, when you have company come over.
Because you're doing the labor, it's a lot cheaper than going the professional route. Plus, you know that it's going be exactly what you want. You don't have to worry about your specs getting lost in the translation, or ending up with a piece that doesn't fit your vision.
If you really want to polish your skills, you might be able to find classes in your area that teach techniques in reupholstering. If not, there are many resources available, including books and online tutorials.
Cons:
Reupholstering is a time-consuming project. If you enjoy it seeing things through start to finish, then it will be a rewarding task. If not, warning: it can be frustrating, especially if it's not going well. If this is the first time you've ever reupholstered anything, likely you'll need to invest up front in tools for the task: a staple gun, staple puller, ripping chisel, rubber mallet, upholstery tacks, upholstery pins, webbing stretcher, and fabric scissors. If you have your heart set on using fabrics that have patterns or stripes, be prepared for some extra effort: it's easy to make the patterns warped or crooked, so keep things lined up during every step.
Professional Upholstering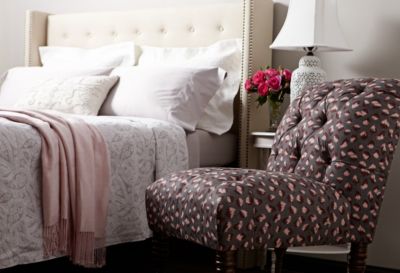 If you'd rather not put in the time and effort yourself, hiring a professional is a great option. Here are some pros and cons to consider:
Pros:
The result will be a custom design. You're sure to have a beautiful piece of professional quality that will look great in your home and you can be proud of. By hiring a professional, you're supporting your local tradesmen and your local economy, too.
Cons:
The number one issue is the cost. It can easily cost more than a new piece of furniture! Where furniture stores will work with you on financing, reupholstering shops expect some or all payment up front. Make sure to get a few quotes before making a decision, but avoid a place that is way lower than the rest. Be explicit: if required, request that they remove all the old, underlying material and replace the padding and springs. Shortcuts knock down the finished product.
Typically, it takes between four and eight weeks to get your furniture back, which is a long waiting period. Unlike buying a new piece, where you can go out, pick out the item, and bring it home (or order online and wait a few days), with reupholstering there is a long lead time between placing the order and receiving the product.
In the end, you may decide to buy a mint-condition antique or vintage chair or couch for a unique look, rather than dealing with the hassle of reupholstering furniture yourself. Some of these pieces have been kept in great condition or have been updated, and will make great, one-of-a-kind additions to your home.