Blending Old World elegance with a touch of whimsy, Juliska is beloved for its handcrafted tableware and accessories. At the company's helm is co-founder Capucine De Wulf Gooding, a former fashion designer who approaches life with a joie de vivre we wish we could bottle and hoard. She and hubby David (the company's other co-founder) live a chic, joy-filled life in Connecticut with their three kids, so we were thrilled that she invited us into her world. Read on for the utterly romantic tale of her grandparents (her greatest inspiration), her dinner-party musts, and how this working mom balances it all.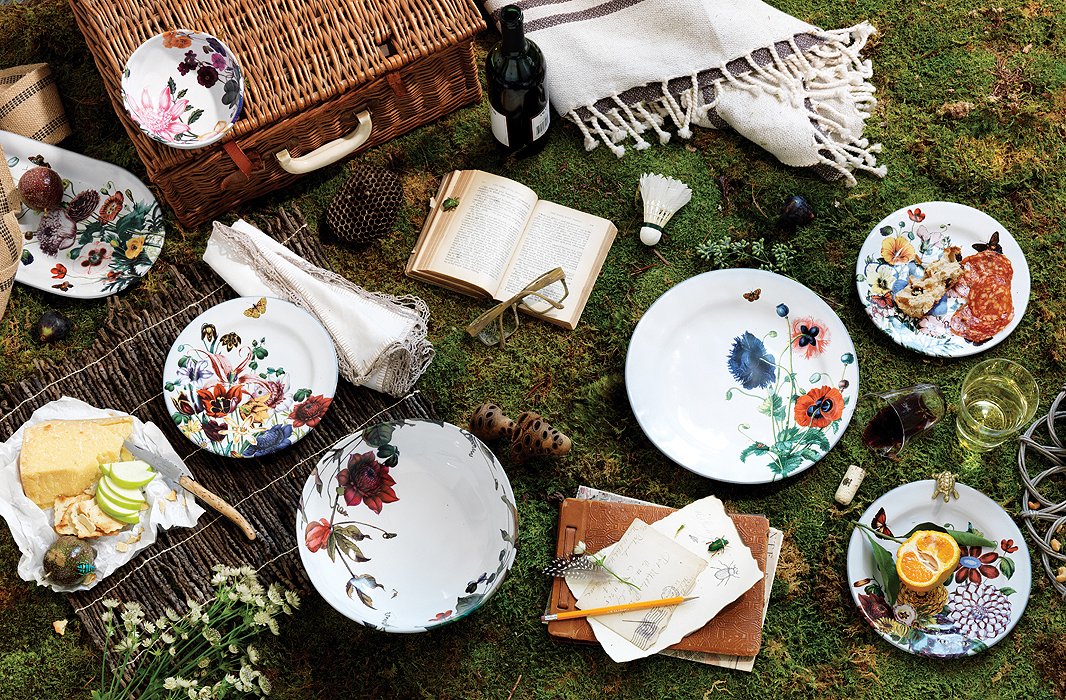 The Basics
If you weren't a designer, what would you be? A professional dessert critic. (Not that I could ever find fault with dessert!)
What are you most inspired by? My grandparents' house, nestled in the farmlands of France. It was home to a glamorous Parisian ballet dancer (my grandmother) and a dashing gentleman farmer (my grandfather), who married against their parents' wishes. They broke all the rules and made up their own. They were soul mates who filled their house with music, art, friends, laughter, and nine children. From black-tie dinners to garden parties to family weddings, my grandparents were legendary hosts who created endless memories of love and living boldly.
What would people be surprised to learn about you? That I have a home zoo consisting of chickens, turtles, a cockatiel, a dog, a bunny, and goldfish. No surprise, as it turns out, I am a pushover.
What items are in your purse at all times? Dozens of pens, a handful of little notebooks for scribbling ideas and design sketches, Chanel lip gloss, measuring tape, phone charger, a good novel, and emergency dark chocolate.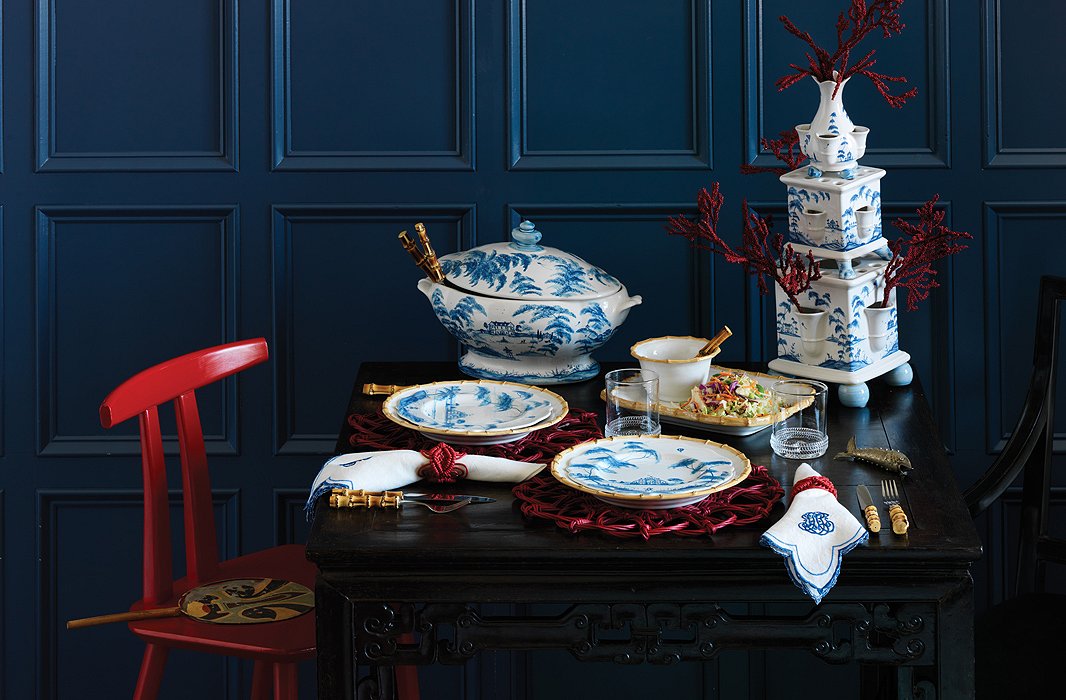 My Style
How does your fashion background influence your tableware designs? Fashion is all about personal expression—wearable art. Setting the table is the same thing! The desire to mix and match shapes, patterns, and colors in an unpredictable way is endlessly inspiring and fun for me.
You've lived in both France and the U.S. Which locale has most influenced your style? I think the American irreverence and open-mindedness sings a duet with the European sense of restraint and Old World romance.
The best part about designing your collections? The worst? The best thing is the constant creative pursuit of design and innovation—I really dork out on that stuff! The worst part is having to edit down the collections. I have ideas falling out of my pockets, and I love all of them—I can't choose! My husband, David, jokes that when I see a fork in the road, I take it.
Tips for creating a chic, family-friendly home? If you can't fight it, feature it! Having children brings explosions of color, mess, and artwork into your life! Our home is colorful and eclectic, and we have little collections all over the house of things our children love: a table full of artifacts found on walks, a huge basket of children's books by the fireplace, and we even built a day bed in our kitchen window so that our girls could snuggle up while we cook.
Any secrets to striking a family/work balance? It's not so much a scale as a pendulum that swings back and forth all the time. But no matter what, I take our girls to school every morning and I am home for a sit-down dinner every evening, with lots of cuddles at bedtime. We spend all our free time as a family, and we fill it with love—and we laugh a lot!
As a working mom, what's your best time-saving tip? There is no way to save significant time. Instead, I focus on making the time count. I set my phone to turn off at 6 p.m. to be present with our children until they are tucked into bed.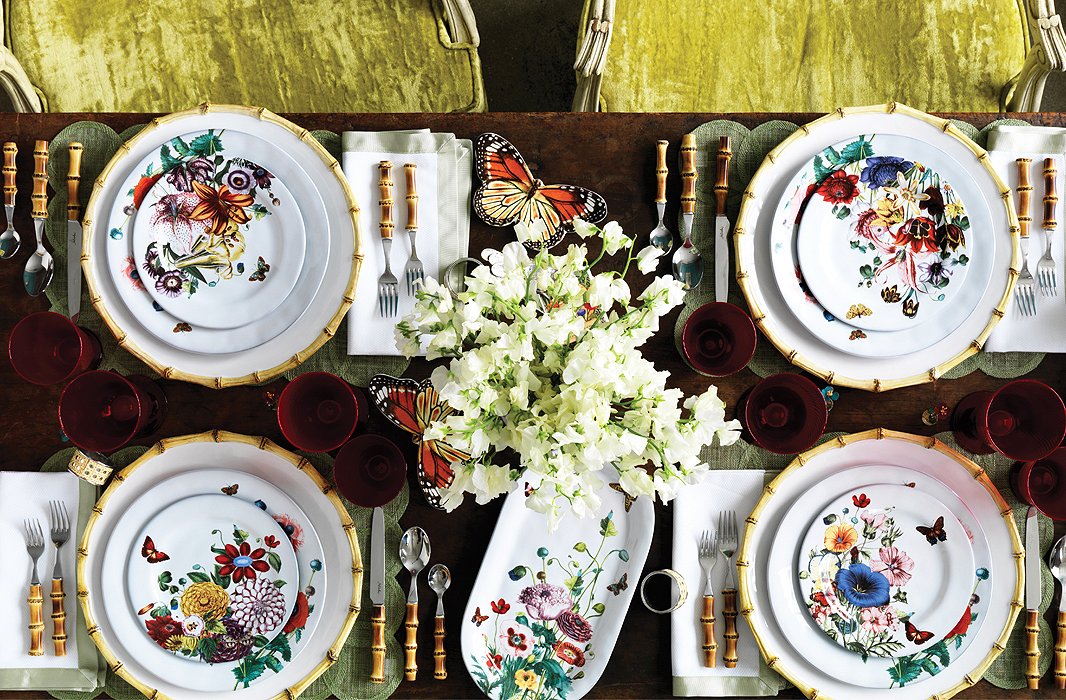 Entertaining
A perfectly set table must include… Fresh flowers, cloth napkins, and comfy chairs so that you can linger a long while.
Your favorite tabletop cheap thrill? If you have to have only one thing on your table, let it be the warm glow of a dozen little candles.
Tips for brides-to-be choosing a china pattern? When you're registering, you're laying a foundation for future traditions together, whether it's that steaming café au lait in an oversize breakfast cup that the two of you enjoy each morning, the stunning flutes you clink with every New Year's Eve, or the special dish you make his favorite pie in on his birthday.
Musts for a brilliant dinner party? Set a stunning table with layers of plates, color, and table linens. But don't just set the table—set the scene! It can be a supersimple theme like "stripes" or something more elaborate like "Arabian nights." Pack people around a table so that their elbows are touching—this breaks through personal space and really gets people to warm up. Great music. And momentum is key—keep the food and drink going without interruption.
Favorites
Whose style are you obsessed with? Alexander McQueen—rebel, romantic, risk taker, perfectionist. Why wouldn't you be obsessed with him?
Your biggest vice? Dessert and vintage dresses… I can't get enough of either!
Where would we find you on a Sunday afternoon? Setting the table as my family is scattered around the backyard with sopping wet children playing in our pool while my husband mixes concoctions and finesses the grill.
The best vacation you've ever taken? French Alps during the summer. My heart lives there even if I don't. It was wonderfully unspoilt and simple. It was blissful togetherness surrounded by staggering natural beauty and ridiculous French food. Who wouldn't want to eat cheese three meals a day?
The hotel you'd move into if you could? Villa d'Este in Lake Como, Italy.
The Instagram feeds you can't stop stalking? Paul Nicklen, Douglas Little, and Jessica Seinfeld.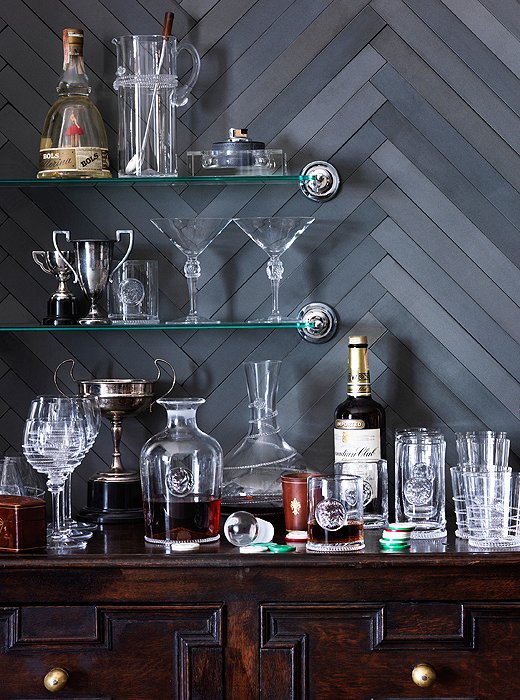 Great entertaining is all about thoughtfulness, regardless of the occasion. Celebrate even life's littlest moments in grand style!