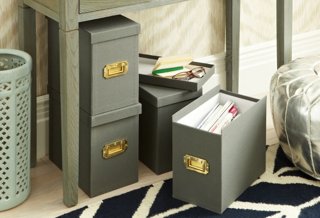 Storage boxes can be more than merely utilitarian. By adding hardware that complements your decor, these everyday objects instantly become a style statement.
What You'll Need:
Drawer pulls or knobs with accompanying screws (we experimented with four styles: campaign hardware, Lucite, geodes, and blue glass)
Fiberboard storage boxes
A ruler
A pencil
A drill or an awl
Choose the hardware that suits your style.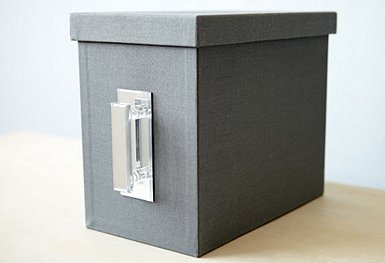 Lucite handles add a bit of glamour to your bedroom. (And these are stick-on!)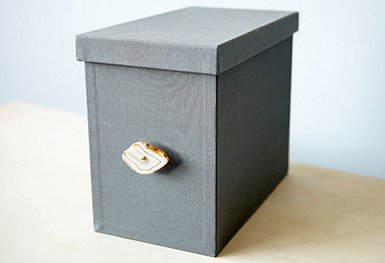 Geode-inspired pulls bring an organic element to a man-made accessory.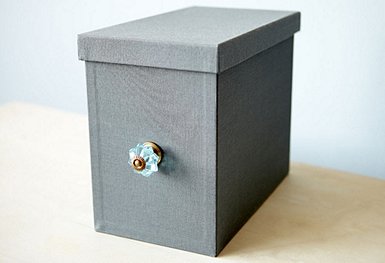 Colored glass pulls give your storage system vintage appeal.
How To:
1. Using a ruler, center hardware on the front of the box. With a pencil, mark the position where the screws for the drawer pull or knob will live.
2. Drill or poke screw holes into the box with a small drill bit or an awl.
3. Attach the pull or knob onto the box just as you would on a cabinet or drawer.
Tip: The screws that came with our campaign hardware were a bit short. To remedy this, we bought 6/32 x 3/4 slotted, round-head machine screws with hex nuts in a matching brass finish.
Sources: boxes by Bigso Box of Sweden; campaign hardware from Paxton Furniture; lucite stick-on pulls from The Paris Apartment; geode and blue glass knobs from Anthropologie; screws from Nut House Hardware
"When grouped together, these stylish storage boxes can mimic the look of a piece of furniture. "
—Megan Pflug, stylist