Joy on Her Red & White Treat:
These Roasted Strawberry and Toasted Coconut Popsicles are a piece of summer indulgence. The beautiful summer strawberry flavor is intensified by roasting the fruit before blending it into a smooth puree. The toasted coconut adds a nice bite and a lovely roundness to the frozen treats. Maybe all you need now is a pale blue nail color and a good seat for the firework show. Happy summer!
Ingredients:

Makes 10-12 popsicles
1/3 cup sweetened shredded coconut
1 pound fresh strawberries, hulled
1 tablespoon olive oil
4 tablespoons granulated sugar
juice of 1 lime, divided
1 can (15 oz)  whole-fat coconut milk, well shaken
1 teaspoon pure vanilla extract
Place a rack in the upper third of the oven, and preheat oven to 350 degrees F. Sprinkle coconut onto a rimmed baking sheet and toast in the oven until golden brown. Keep a close eye on the coconut, as it will toast quickly—usually within 3 to 5 minutes. Remove the toasted coconut from the oven and place in a small bowl to cool.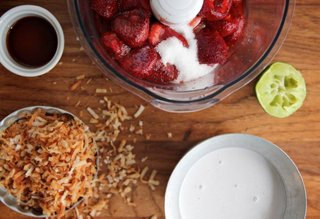 Place strawberries on the baking sheet, and drizzle with olive oil. Place in the oven to roast until fragrant and soft, about 18 to 20 minutes. Remove the strawberries from the oven, and add them to the bowl of a food processor fitted with a blade attachment. Add 2 tablespoons of sugar and the juice of half a lime. Blend until smooth.
In a small bowl stir together coconut milk, the remaining lime juice, the remaining 2 tablespoons of sugar, and vanilla extract. Stir most of the toasted coconut, leaving a small amount aside as garnish, into the milk mixture.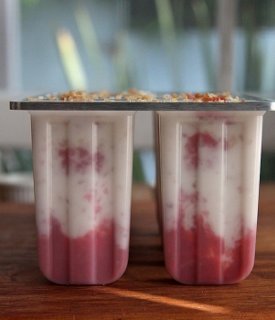 Dollop a spoonful of the strawberry puree into the bottom of each popsicle mold. Start with just 10 molds in case you don't have enough to fill 12 molds. Stir the coconut milk mixture and add to the popsicle molds, filling each 2/3 high. Spoon more strawberry puree into each mold, and top with the remaining milk mix and a sprinkle of toasted coconut.
Top the popsicle molds with their lids, and place sticks inside. Freeze for at least 6 hours before serving.
We'd like to extend a huge thanks to Joy for sharing this amazing recipe! To see more of her delectable treats or get her cookbook, visit Joy the Baker!
Photography courtesy of Joy the Baker