Color Correct
Rather than despise it, foster a budding love of pink by going bold, as actress Katie Tarses did in this play area in her daughter's room. Using a striking color, like Benjamin Moore's Razzle Dazzle, on the shelves makes the toys and keepsakes on display feel extra special. The paint also detracts from any cringe-worthy fave toys you may not be as excited to showcase.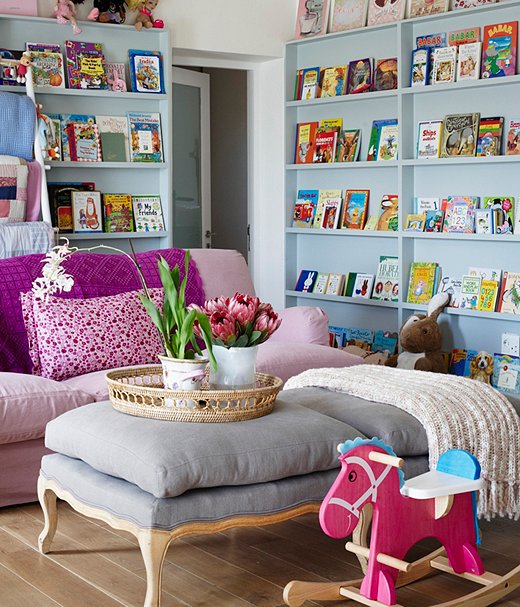 Shelfie It
This genius take on the traditional library gives children (with or without their parents) a space to read and store all those books. Showcasing those colorful cover illustrations via leaning rows fuels creativity while creating one fabulous art installation. To achieve the look, all it takes are standing bookcases and plush living room furniture. The quilts and throws up the cushy level, making this a perfect spot to while away a rainy afternoon—or simply cuddle up with a good book and your little one.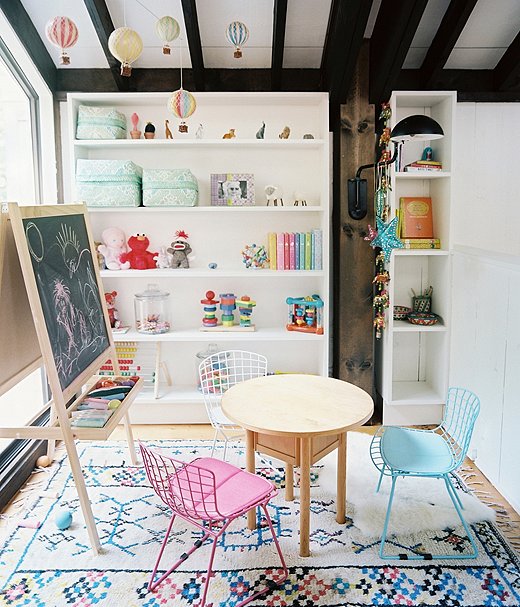 Lighten the Load

Kids grow fast, which means their toy collections grow just as quickly. Contain a headache-inducing trove of clutter by letting modern white anchor your decor. It'll open up a diminutive area so that you can breathe easy amid all the itty-bitty items. In a smaller space, bookshelves work wonders at getting things off the floor, leaving room for an activity table and chairs (we're totally loving these baby Bertoia versions). Lest we forget to keep the space kid-focused, pops of bright pastels provide just the right amount of stimulation for curious minds.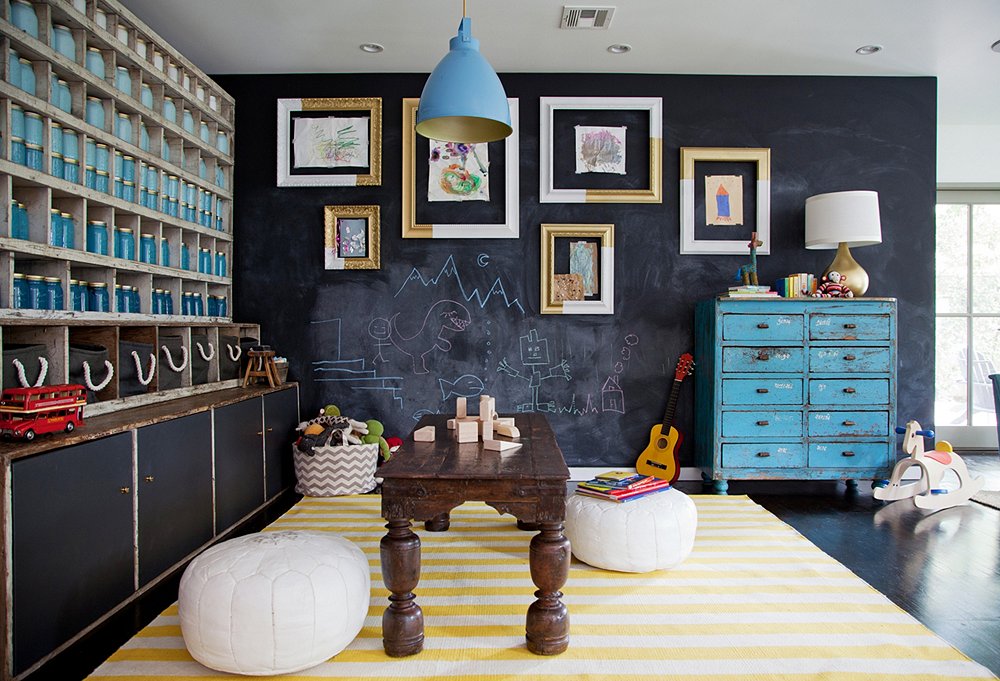 Pitch Black
We simply can't get enough of the beautifully dramatic effect dark walls have on a room. Thanks to chalkboard paint, you can still have the power of black or charcoal while appeasing kids' desires to create (and draw on things they're not supposed to). The muted effect of matching black cabinetry and canvas bins to mask clutter is stylish organization at its best. The floating artwork in stunning gold-and-white frames to house their growing collections and the ombré jars hiding all those arts-and-crafts supplies are additional clever touches.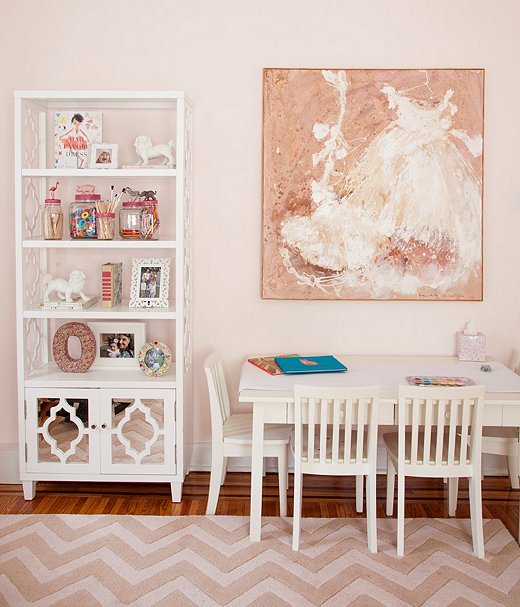 Break Even
Find the right balance to please both you and your tot by finding kid-friendly furniture that matches your existing decor. This pretty palette feels more mom than babe thanks to the large abstract artwork, the clean white furniture, and the chevron pattern of the rug (in soft wool pile for playing on the floor, natch). Floral and trellis patterns exude serene femininity so that dolls and other girlish playthings feel more like decorative accents than toys.