With her brand-new book, Always Pack a Party Dress: And Other Lessons Learned from a (Half) Life in Fashion, author, blogger, and former Barneys fashion director Amanda Brooks recounts a long, enviable (half) life in the worlds of art and fashion. She's since traded the openings and the designer front rows for muddy riding boots and days spent jam-making on an idyllic cottage in the English countryside with her husband and family, a back-to-basics swap we find wildly inspiring.
To celebrate her latest tome, we asked her to tell us how the book's fashionable lessons translate to her style inside and around her home.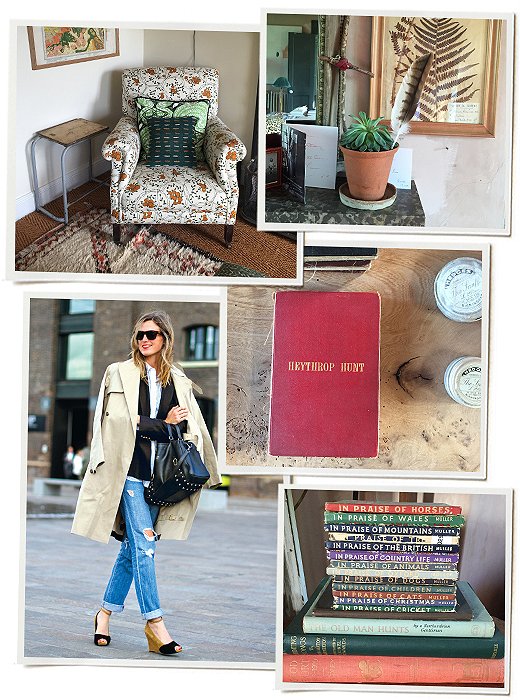 #1 Embrace Your History
Amanda admits to spending many years suppressing her natural style tendencies, trying to look "less preppy" before ultimately noting that you can run but you cannot hide: "To embrace who I am and where I came from and to combine that with all that I had learned gave me the sense of wholeness that I craved."
The same applies outside her closet. "A home is an even better place to embrace your history, with personal items like photographs, things you've brought home from travels, items you might have inherited, etc.," she says. "Some of my favorite personal things are engraved silver cups given to my grandfather, an African printed pillow from a dear friend, old hunting maps that belonged to my husband's aunt. Some of these things go very well in the house, and others are—perfectly—out of place."
#2 Mistakes Are Okay As Long As You Learn from Them
Amanda credits her career missteps for teaching her an "up-front understanding of expectations, requirements, and working style" that has served her well since. An example of a mistake she's made in decorating? "The time I decorated my whole house according to a fashion trend I was following when I was working as creative director at [former fashion label] Tuleh. Everything was done in loud colors with mixed prints, and I was over the whole thing by the time it was done. I learned to stick with what is more timeless."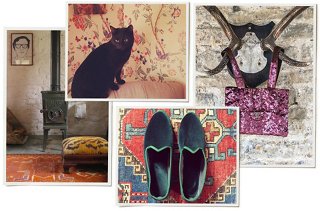 #3 Try Anything That Grabs Your Attention
A self-described "fashion chameleon" throughout her life, Amanda now describes her style as "a mix of classic and bohemian, vintage inspired, and personal." When it comes to decorating her home, her approach is similar. "I like something that looks unique, not mass-produced. That's what I love most about flea markets: Everything stands out as unique and has stood the test of time."
#4 Commitment Can Set You Free
In the book, Amanda cites her husband, artist Christopher Brooks, as a major influence both personally and professionally. "If nothing else happened in my life, I would feel accomplished simply for the family, the love, the support we have created together."
The couple has created a string of home looks as well. The family has a "raw loft space" in lower Manhattan and a "1949 flat-roof beach house on the North Fork of Long Island" in addition to their bucolic base in Oxfordshire. The dwellings provide inspiration and a bit of levity when it comes to her neat-freak tendencies. "They make it messy! Sometimes I feel they are in my life to teach me to embrace imperfection. But also, my husband and I share our love of many different aesthetics—modern, traditional, midcentury, city, country—so we have the same references if not exactly the same taste."
#5 When Stuck, Ask Someone You Admire What They See for You
Amanda, who has worked for photographer Patrick Demarchelier and art powerhouse Larry Gagosian and counts designer Diane von Furstenberg as a friend and mentor, has no shortage of invaluable advice on speed dial. But when it comes to her own home and garden, there is one person she turns to: "My mom, a lifelong interior designer who has perfect taste."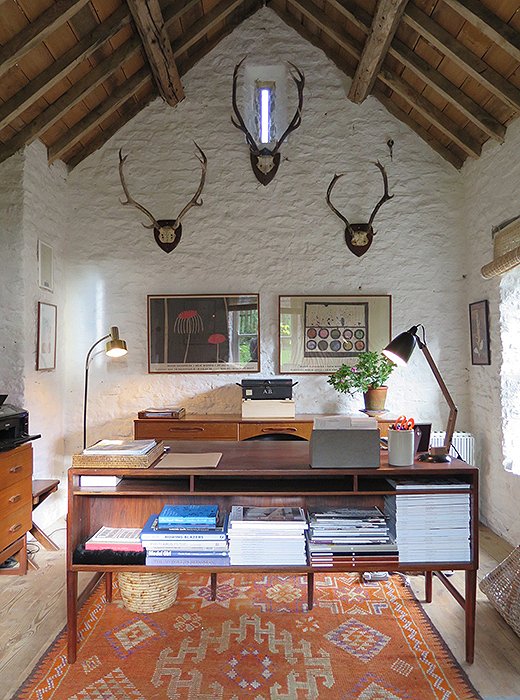 #6: A Gorgeous Home Office Can't Hurt (Our Own Insight)
When we spied Amanda's "compulsively tidy" home office in her book, we were smitten. We asked her tell us more about the gorgeously appointed place where she sits down to write.
"It all started with the midcentury rosewood desk—a gift from my husband—and my collection of Hugo Guinness show invitations. Everything else was just one layer at a time being added on. I found the antlers in a barn on the farm, and the rug came from an antiques store on Portobello Road. I have to be visually inspired in my workplace, but it also has to be cozy."
The inspiration wall in my office is a living, breathing thing. It changes constantly.