We have nothing against hamburgers, hot dogs, and potato salad. When it's time to send off summer and welcome fall, however, we want a meal that's a little more special than the others we enjoyed throughout the season. The culinary whizzes at cookware emporium Sur La Table shared several recipes that, while different from our usual summertime fare, are surprisingly simple.  Check them out below, and enjoy!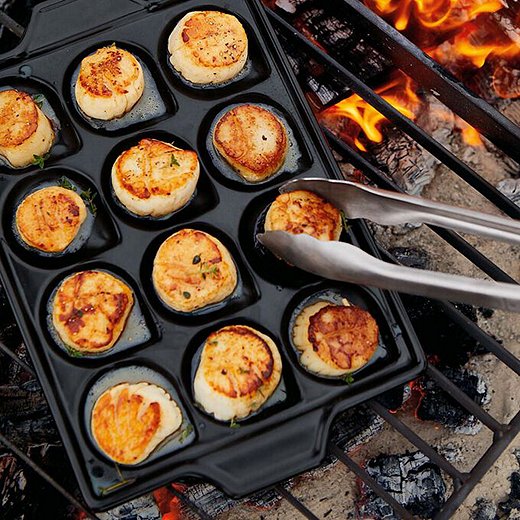 Grilled Scallops with Cilantro-Nectarine Salsa
Even if you're not a scallops fan, you're certain to love the salsa with anything from chips to steak. And you don't need a grill to cook the scallops; you can do so on a stovetop.
Makes 4 servings
Ingredients
2 medium shallots, peeled and minced
2 large ripe nectarines, pitted and finely diced
1 small red bell pepper, finely diced
½ jalapeño, minced
2 tablespoons lime juice
2 tablespoons cilantro, minced
Kosher salt and freshly ground black pepper
1 tablespoon canola or vegetable oil for grill
1 pound large sea scallops, abductor muscles removed
2 lemons, cut into wedges
Instructions
To make the salsa: Place the shallots in a fine-mesh strainer and rinse under running water to remove any sharpness. Drain well, transfer to a medium bowl, and add nectarines, bell pepper, jalapeño, lime juice, and cilantro. Taste, adjust seasoning with salt and pepper, and set aside.
To cook the scallops: Prepare a medium-high charcoal fire, preheat a gas grill to medium-high, or heat a large grill pan over medium-high heat. Brush the pan with a thin coating of oil.
Pat scallops dry and season with salt and pepper; place them on the grill and cook without turning until they are seared and easily release from the grill, 2-3 minutes. Turn over and finish cooking, 1-2 minutes more.
To serve: Divide the cooked scallops among 4 warmed plates. Spoon the cilantro-nectarine salsa over the top of the scallops, place lemon wedges on the side, and serve immediately.
Grilled Fish with Mint Gremolata
As with the scallops, you can make the fish on the stovetop—no need for apartment-dwellers to miss out!
Makes 4 servings
Ingredients
For citrus vinaigrette
Juice of ½ lemon
Juice of 1 orange
2 tablespoons extra-virgin olive oil
Sea salt and freshly ground pepper to taste
For mint gremolata
1 tablespoon each chopped fresh chives, mint, and flat-leaf parsley
1 tablespoon orange zest
2 tablespoons toasted chopped almonds or pine nuts
For fish
4 (6-ounce) fresh white fish fillets, cleaned and pin boned
Vegetable oil, for grilling
Coarse sea salt and freshly ground pepper, to taste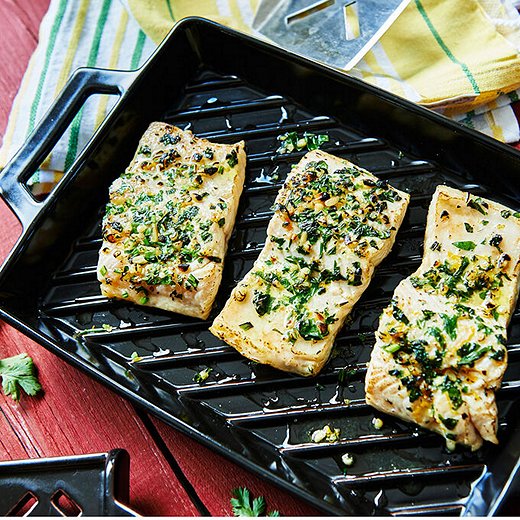 Instructions
In a small bowl, make the vinaigrette: Mix the juices, olive oil, and salt and pepper to taste. Set aside.
In another small bowl, make the gremolata: Mix the herbs, zest, and nuts. 
Pat the fish dry with paper towels, then brush the fillets with oil on both sides and season with salt and pepper. Press half the gremolata onto the fillets. 
Preheat a grill or grill pan to medium-high heat. Coat grill with a thin coat of vegetable oil. Carefully grill the fish for 2-3 minutes on each side starting with the flesh side down. Gently remove the fillets from the grill and place on a serving platter. Spoon the citrus vinaigrette over the grilled fish, and sprinkle with the remaining gremolata. Serve immediately.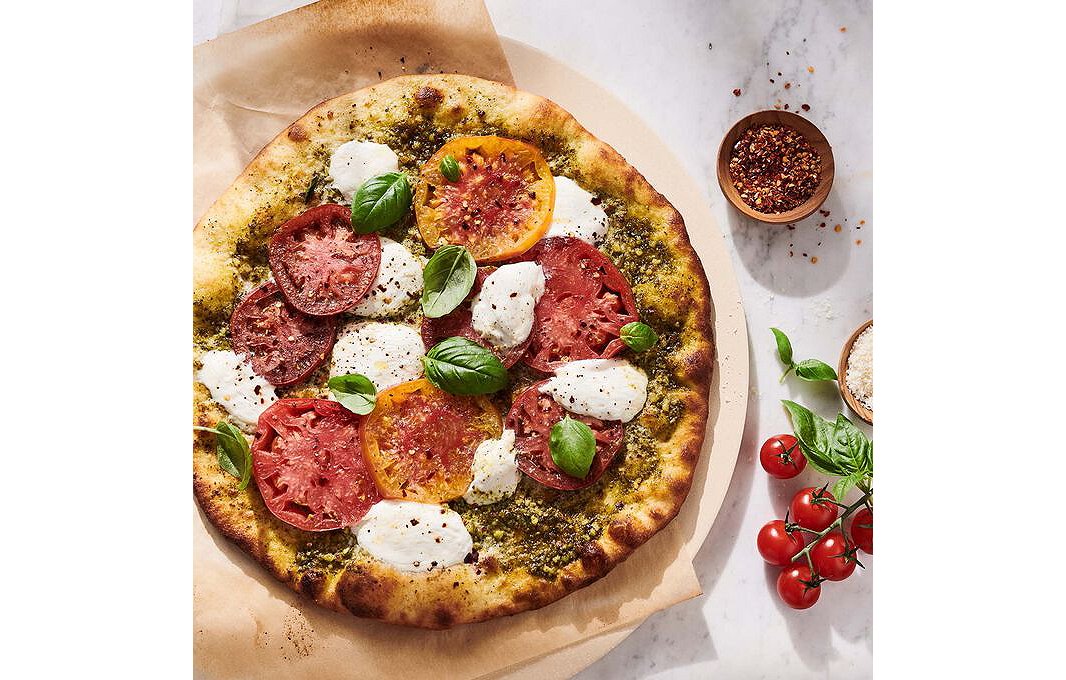 Burrata and Heirloom Tomato Pizza with Basil Pesto
Don't be daunted by the length of the recipe; it includes ingredients and instructions for making your own pizza dough from scratch, but you can certainly opt for ready-made dough instead. Another plus: You can make both the pesto and the pizza dough ahead of time and store them, covered, in your fridge overnight or in your freezer for up to a month. 
Makes two 12-inch or four 8-inch pizzas
Ingredients
For basil pesto
2 tablespoons pine nuts, toasted
2 bunches (about 4 cups) fresh basil leaves
2 garlic cloves, smashed
Zest of ½ lemon
½ cup freshly grated Parmigiano-Reggiano cheese
½ cup extra-virgin olive oil
Sea salt and freshly ground pepper, to taste
For pizza dough
¼ cup (2 ounces) warm water (110°-115°F)
2¼ teaspoons active dry yeast or 1¾ teaspoons instant (fresh) yeast
3¼ cups bread flour or unbleached all-purpose flour
1½ teaspoons kosher salt
1 cup (8 ounces) water
3 tablespoons (1 ½ ounces) extra virgin olive oil, plus 1 tablespoon for brushing
12 ounces burrata cheese, torn into small pieces
2 heirloom tomatoes, sliced crosswise into 1/8-thick rounds
5 tablespoons thinly sliced fresh basil leaves, for garnish
Note: To prevent tomatoes from releasing too much moisture into the pizza, lightly salt the slices and lay them out on a paper-towel-lined baking sheet to drain prior to assembling the pizza.
Instructions
To make the pesto: Into the bowl of a food processor fitted with a metal blade, add pine nuts, basil, garlic, lemon zest, and grated cheese. Pulse until finely chopped. With the motor running, drizzle in olive oil and puree until smooth. Taste and adjust seasoning with salt and pepper. Transfer to a small mixing bowl.
To make the pizza dough: Place 2 ounces of warm water in a small bowl and sprinkle with the yeast. Cover with plastic wrap and let stand for 5 minutes or until foamy. Stir to dissolve, if necessary.
In a stand mixer fitted with a dough hook, combine the flour and salt, and mix briefly to combine. Turn the mixer on low speed, add the yeast mixture, and mix to combine. Add a cup of water and 3 tablespoons of olive oil, and knead the dough until smooth and elastic, about 5 minutes. Alternatively, you can knead the dough by hand on a floured surface for about 10 minutes.
Shape the dough into a smooth ball, place it on a floured surface, and cover with an inverted bowl, plastic wrap, or a damp cloth. Let rise at room temperature for about 1½ hours, or until doubled in bulk.
About 30 minutes before baking the pizza, place a pizza stone on the lowest rack in the oven and preheat the oven to 500°F.
Once your stone is preheated, start rolling out your dough. Dust work surface with flour. Divide your dough in half or into quarters, depending on your preference. Flatten one dough ball to a thickness of ½ inch and roll to desired diameter. Transfer to a parchment-paper-lined rimmed baking sheet, cover with another piece of parchment and proceed with remaining dough balls.
To assemble your pizzas: Dust a pizza peel with cornmeal or flour and place a dough round on the peel. Give the peel a little shake to make sure that the dough moves freely and is not sticking. Lightly coat dough with a thin layer of pesto. Then top with burrata and tomatoes. Working quickly, open the oven and slide the pizza off the peel onto the pizza stone. Allow your pizza to cook until the crust is golden brown and crisp and the cheese is bubbling, 8-10 minutes. Remove the pizza from the oven and place on a cutting board. Let pizza rest 1-2 minutes before cutting. Repeat process with remaining dough, pesto, burrata, and tomato slices. Garnish with basil leaves and serve.