One Kings Lane style guru (and resident Weekend Decorator) Megan Pflug is back with her latest crazy-cool DIY solution.
When Instagram maven Grace Ban moved into her petite Manhattan apartment last year, she wanted to transform her tiny bedroom, which was just large enough to fit a twin bed, into a fashion-inspired oasis. But how to get there, especially when her rental agreement didn't allow for even painting the walls? With a few small-space solves, I was able to help Grace move beyond her decorating limitations to create an Instagram-worthy jewel box of a room.
Pick Your Palette
After Grace and I swapped some inspiration images and I was able to get exact measurements of her space to know what we were working with, I started crafting a plan of attack. First we picked a pale palette of white, gray, and dusty pink with metallic accents, taking cues from pieces in her wardrobe (always a good approach). Starting with a carefully chosen palette made choosing pieces later on much easier!
Embrace Your Space
Rather than fighting it, we embraced the narrow footprint of Grace's room by placing the bed along the short wall, which felt more purposeful. Next, to make it a real focal point, I added custom drapes hung from extrawide tension rods to create the illusion of a canopied daybed. On the wall behind the bed I covered the entire space with the same fabric using another tension rod, to add interest without the use of paint.
Tip: Tension rods are a perfect solution for renters because they don't require drilling into the wall.
Make Your Bed
Arranging the pillows along the back wall was all that was needed to transform the bed into a daybed. This simple tweak to a standard pillow arrangement makes better visual use of the space and gives the twin bed a grown-up feel. The white bedding and the textured pillows provide a nice contrast to the dusty-pink drapes and add texture without compromising the room's light and airy vibe. Above the pillows I hung a floral photograph that Grace took, which I had printed using Artifact Uprising, alongside a graphic black-and-white print.
Tip: Tension rods offer another great rental solution when it comes to hanging art. Lightweight prints can easily be suspended from the rod using a piece of all-but-invisible monofilament.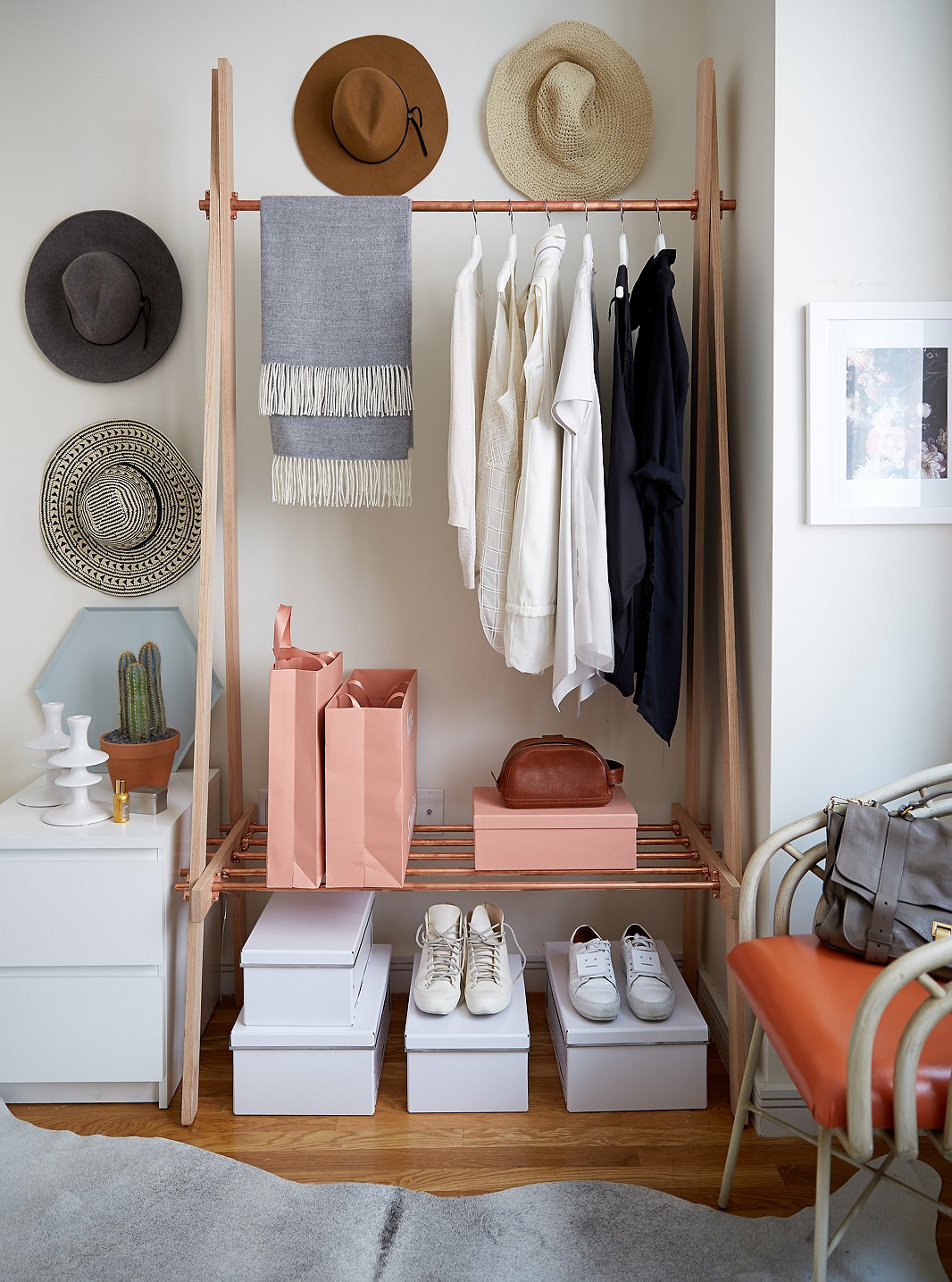 Adding Style and Function
Because closet space was also an issue (when is it not in Manhattan?), I added a freestanding clothing rack made of copper pipe and wood on the wall opposite the bed. This chic, open storage unit is a great spot to display seasonal fashion favorites. Hats hung on the wall pull double-duty as decor. On the floor, a speckled gray hide adds interest without overwhelming the small space, and a midcentury-inspired chair is the perfect spot to sit and kick off your shoes.