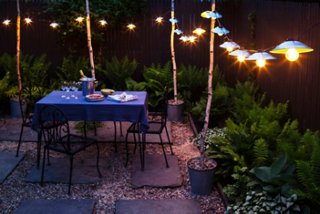 Who doesn't love entertaining outside in the summer? So this year, I'm sharing one of my go-to solutions for turning a dark, undefined corner of an outdoor area into a cozy spot to spend the evening.
The problem I have in my backyard is a common one: It lacks trees or architecture to hang the lights from. So I decided to "fake" some using a few small birch branches and a couple of hardware-store staples.
The best part about this solution is that it will last all season long, but it's simple enough to pull together for just one evening.
Here's what you'll need:
4-6 galvanized buckets between 12 and 14 inches tall (number may vary depending on the layout)
4-6 birch branches about 7 feet tall (number may vary depending on layout)
4-6 bags of gravel (one per bucket)
4-6 eye hooks (one per support pole)
2-3 strands of outdoor lights (number may vary depending on layout)
1 outdoor extension cord (number may vary depending on layout)
1 spool of thin galvanized wire
Tip: I like to space the branches about five feet apart so that they offer enough support while still letting the strands of lights swag gracefully.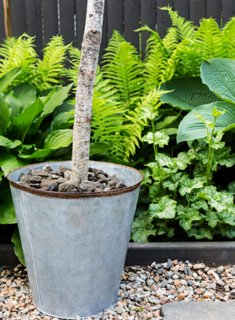 Make the Base
To begin, stand one branch upright in the center of a bucket, and fill the bucket with gravel. Be sure your bucket is in its final resting spot when you fill it because it will be too heavy to move once full. It's also a good idea to make sure your spot is relatively flat so the bucket doesn't tip over. Repeat the process with your remaining buckets and poles.
Tip: My buckets came with drainage holes in the bottom, but if yours don't, simply drill one or two in the bottom to allow rainwater to drain out.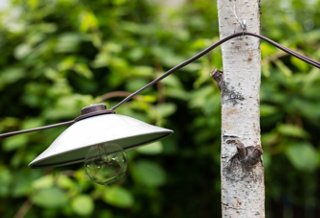 Hang the Lights
Screw an eye hook into the branch at the desired height, and secure the strand of lights to it using a small length of galvanized wire. Repeat the process for the remaining poles.
To power the lights, I attached them to an extension cord that I ran up the side of a birch pole in an inconspicuous spot. I used a couple more lengths of wire to hold it flush against the branch. I used a dark-colored extension cord here so that it is disguised in the garden bed. (Be sure to use a cord designed for outdoor use.)
Tip: This same setup can easily be adapted to create a little shade in the daytime. By draping a lightweight drop cloth over the the tops of the poles and securing it with a bit of twine you'll create a simple summer canopy.
Resources: Birch branches from B & J Florist Supply Co., buckets from Jamali Floral & Garden Supplies, galvanized wire from Home Depot, gravel from Home Depot, and strand lights from Home Depot.
(Photography by Nicole LaMotte)