How often have you seen an interesting fixture at an antique shop, flea market, or vintage sale and thought, It's gorgeous but what would I do with it?
A quick poll around our offices found that it happens quite frequently. So I was challenged with finding new purpose in old hardware. Below are three ways to reimagine a set of brackets, a door knocker, and a pair of knobs in a fresh, modern way.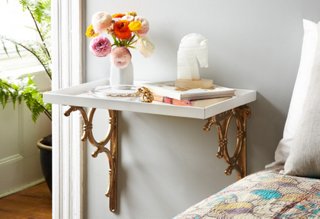 Shelf Brackets
This pair of iron brackets became a bedside table in just a few minutes. First, I used steel wool to remove any grime and then gave them a golden glow using a metallic spray paint (Montana brand spray paint in Gold—it's my favorite!). To finish the table, I topped the brackets with a simple modern tray that contrasts the ornate lines of the brackets.
Tip: I attached the bracket to the wall using Walldog Anchors. They are a screw and a anchor in one, so they're easy to install. Plus they come in brass, so they blend seamlessly with the gold finish.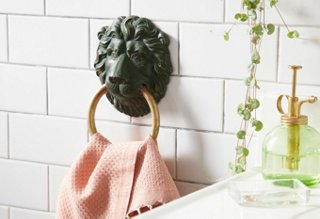 Door Knocker
This vintage knocker is big on personality, and the brass ring makes the perfect perch for a hand towel. Because most door knockers are secured from behind, attaching them can be a little tricky. I found that a double-sided screw is the key to making this adaptation. First, I secured the screw to the wall, leaving about 1/2 inch exposed. I then attached the knocker to the wall using its existing screw holes. I tightened it to the wall by rotating the knocker clockwise until it was secure.
Tip: Although your knocker may have two screw holes in the back, you will only need to use one of them.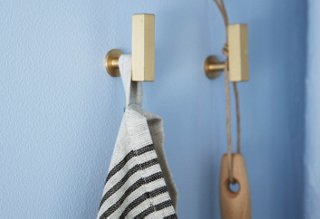 Cabinet Knobs
Almost any knob can perform double-duty as a wall hook. I think the sculptural lines of these are a nice alternative to a more traditional hook. I attached these minimalist beauties using a double-sided screw secured with a wall anchor. It was as simple as that!
Photos: Lesley Unruh
In need of a stylish solution to a vexing decor challenge? We're here to help! Email Megan at editors@onekingslane.com and you may inspire her next project.