Don't let technology or imperfections cramp your wall's style. While hunting for vintage finds at the last Brimfield Antique Show, I realized a vintage oil painting would make the perfect cover for a fuse box in my apartment that's located smack-dab in the middle of the wall. By simply attaching a hinge to the back to allow for easy access, you can transform a piece of art into a decorative solution without sacrificing an ounce of function.
See below for my step-by-step guide to this project… 
What You'll Need:
Painting on a wooden stretcher (the stretcher must be deep enough to accommodate your control panel or whatever you're concealing)
Wall anchors and screws
Drill and bit (most but not all wall anchors require them)
Hinge (I used a vintage one)
Short screws
Screwdriver
Prep the Painting
1. To begin, turn your painting face down on a flat, clean surface.
2. Center your hinge along the desired side so that the middle of the hinge is aligned with the outermost edge of the painting's stretcher or frame. I prefer attaching the hinge using a screwdriver to avoid splitting the wood of the stretcher.
Note: It's important that the screws you use here are short so that they don't puncture through the painting itself.
3. Attach as many screws as needed. (I used only two screws because my painting was small.)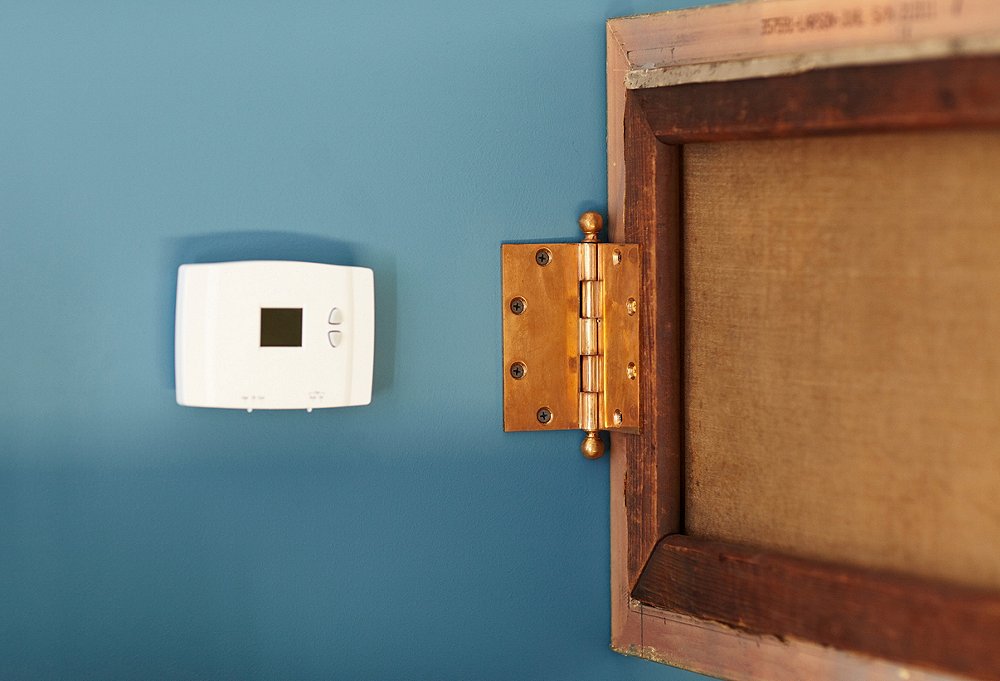 Hang and Hide
4. To finish, position your painting on the wall, mark the screw holes with a pencil, and set the painting aside.
5. Attach the wall anchors according to the manufacturer's instructions.
Note: Fasteners vary according to the weight of the object you are trying to hang and the type of wall, so ask at the hardware store to make sure you pick the right kind.
6. Reposition your painting, and screw the hinge into place. Swing the painting closed, and forget about that control panel until the next time you need access.
Extra Credit
I created this hinged painting to cover a control panel, but you can easily adapt the concept to create an enchanting replacement to a medicine cabinet door, to cover a fuse box, or to hide an alarm-system console. The list goes on and on.
In need of a stylish solution to a vexing decor challenge? We're here to help! Leave a comment below and your issue may inspire my next project.