Future-heirloom wood cutting boards, coolly graphic table linens, picnic-ready baskets—these are some of the hoardable items designed by Sarah Sherman Samuel and produced by her and different artisans (including her pop, Lee) as part of her dreamy home-decor brand. The maker and lifestyle blogger works out of a one-room studio off the garage of her Los Angeles bungalow, which she and her husband are currently remodeling (check her blog for major reno inspo). With the changing seasons hinting at the gorgeous weather to come, we decided to pop by her bright, cheery space to drool over her latest projects, trade tales about our favorite LA haunts, and play with her darling pair of pooches.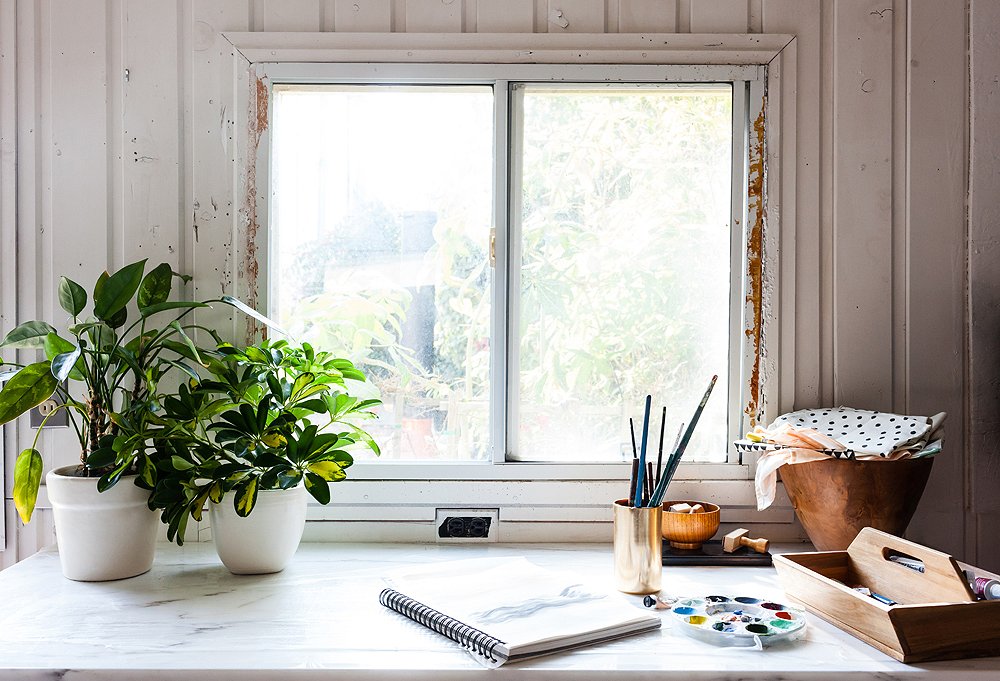 What's your career background?
"Before I started my company in July 2013, all my previous jobs were in graphic design. My very last job was with a start-up, and I grew with the company to become the creative director."
When and why did you start your blog?
"I started it in 2012—my blog came before my company—because I'd wanted a creative outlet. My job was technically creative, but it wasn't exactly my personal vision. At the beginning on the blog, I mainly tracked renovations we were doing on our cabin in Michigan, sprinkling in a few personal-style posts here and there."
How would you describe your aesthetic?
"Modern meets heirloom. Fashion meets nature. Design meets life."
Can you walk us through a typical day in your studio?
"I try to get into my studio around 8:30 or 9 and start the day by answering pressing emails. There are way more than I ever imagined! Then I'll put up a blog post—I shoot for three to five posts a week. I always take one good break, usually midday, to get outside and walk the dogs. A few times a week, or whenever I am craving some creative input, I also like to get out and grab coffee or lunch with a friend. Then I save my afternoons for hands-on projects: creating new patterns, photographing products, taking shots for a blog post, or sanding or oiling cutting boards. I try to finish up by 7, but sometimes I go much later. I'd much rather work into the night than on weekends."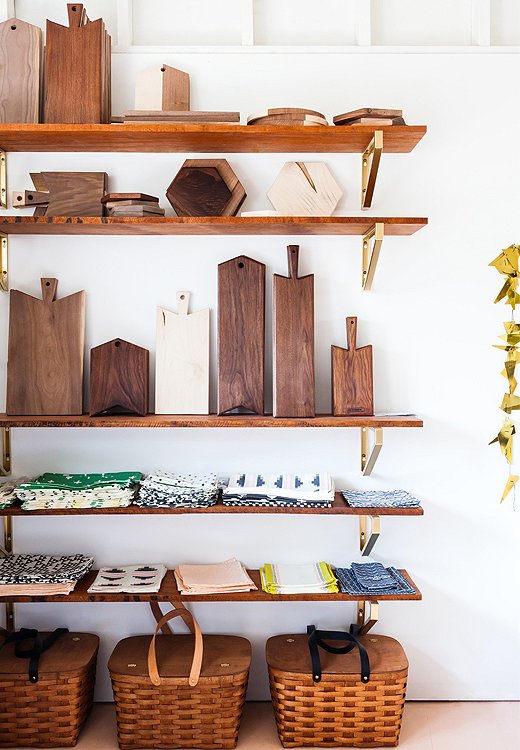 What's your design process?
"I'm pretty quick at generating new textile patterns. First I paint the designs with a brush and acrylics, then I'll clean them up a bit on the computer. Then I put on the brakes. I like to sit on my designs for a few days. I'll stick them up on the wall, edit some out, tweak others, and wait a day before revisiting them to see which I'm still loving. I like my patterns to work together so that people can mix and match them, but not be perfectly coordinated. If I'm working on cutting boards, I typically sketch a shape right on the wood, letting it dictate the particular shape it's going to be."
Once you've dreamed up your designs, what happens?
"I get the fabric printed, then drop it off with a local seamstress for sewing. A family-owned basket company creates my picnic baskets, and my dad and I both make the boards."
How's working with your dad?
"He's a retired computer-network engineer, but woodworking is his passion. He always had a big workshop off the side of our house when I was growing up, and he taught me everything. We think really similarly, so we work well together. Most of our wood is salvaged or from downed trees, and he'll call me all excited about a beautiful piece he found. Every time I go home to Michigan, I leave with two giant suitcases full of gorgeous walnut and maple."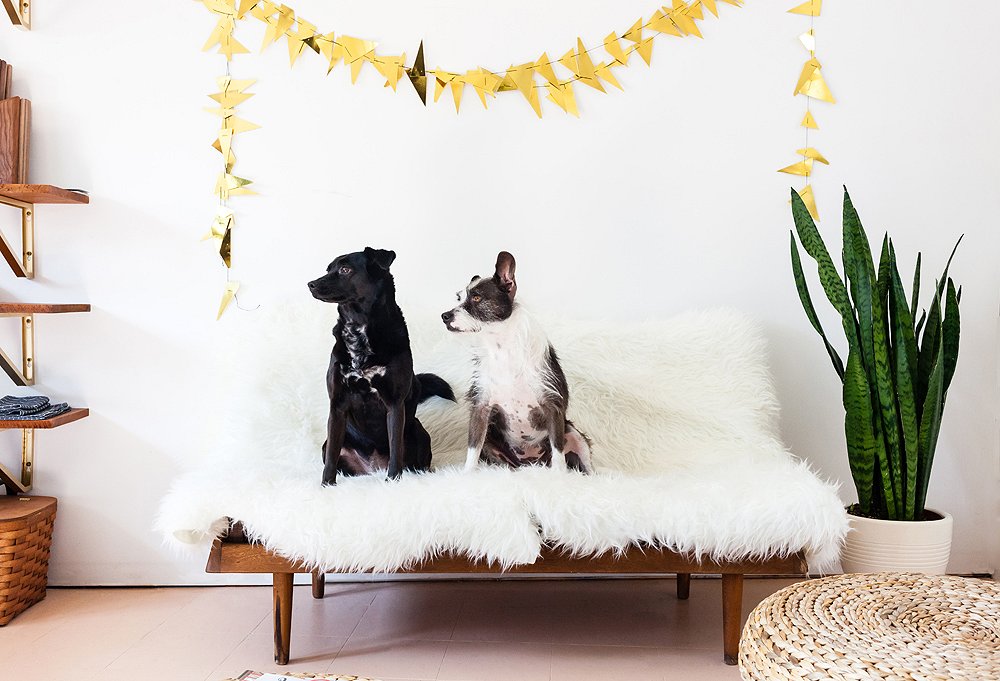 Where do you turn if you need inspiration?
"If I feel stuck, I love planning little day or weekend trips for the constant influx of 'new' they provide. If I can't swing that, even going outside for a while helps. I'm inspired by nature—it clears your mind. Also, Pinterest, of course, is fun if you need a quick hit of inspiration."
What local places do you love?
Griffith Observatory; Will Rogers State Historic Park; shops including Tortoise General Store, Chariots on Fire, and the General Store; the Los Angeles County Museum of Art; and the Annenberg Space for Photography. If I have a little more time, I love going to Joshua Tree, the Sequoia National Park, and Palm Springs. Korakia Pensione is my favorite hotel there."