Impact with Cobalt Blue
For photographer Annie Schlechter and type designer Russell Maret, a vivid blue accent wall does double duty in their New York City industrial loft space. "It covers what is essentially a thick structural wall," says Annie. "Since we couldn't make the wall go away, we made it into something we wanted to look at. We wanted an Yves Klein painting but could not afford it, so we made our own." An accent wall in a striking color is by default an impactful focal point in any room. Try painting a wall in a statement-making cobalt and offsetting it with pink and lavender touches, as Annie does, for a cool and elegant juxtaposition. 
Annie used: kt. Color Yves Klein Blue, available through Aronson's Floor Covering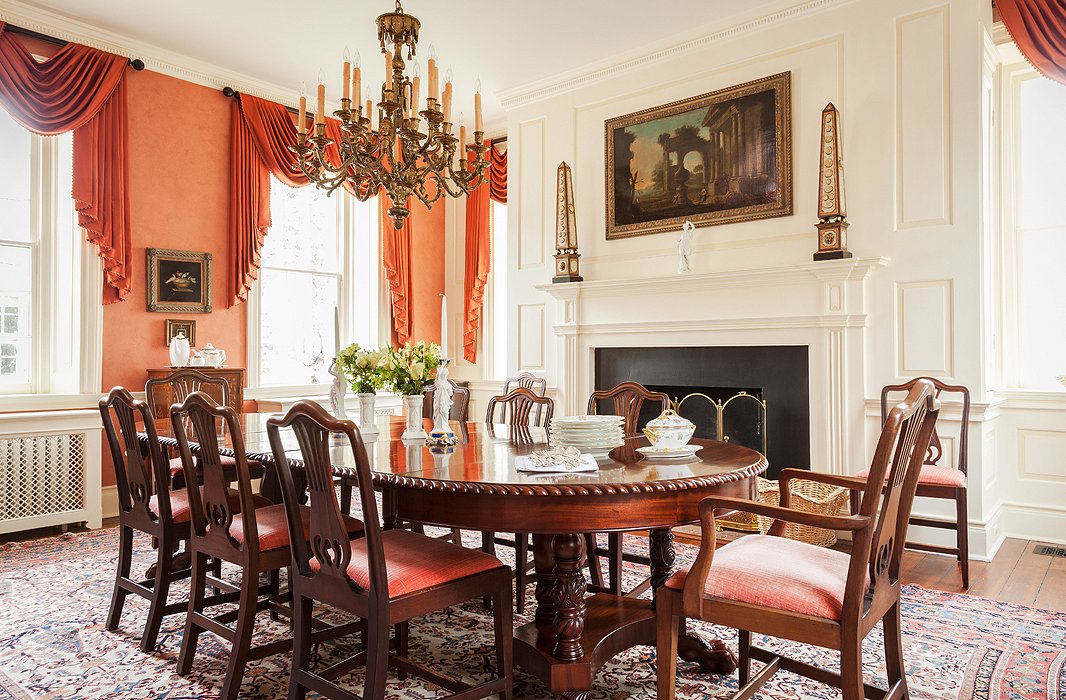 Raise Intrigue With Coral
Jewelry designer Elizabeth Locke's well-dressed dining room proves that what she calls "a Pompeiian red" can be just the unexpected touch that provides intrigue in an otherwise traditional space. Decorator Alison Martin drew the color from the Oriental rug on the floor and the silk curtains; painter Malcolm Robson mixed layers of glaze to bring about a nuanced gemlike peachy orange. "I find that people look wonderful in pink and red rooms," says Alison. Try a bright accent wall in a traditional space for a vibrant counterpoint to help tone down the formality of classic furnishings and designs.
Alison used: a custom mix: base paint of Coral Rock Satin Impervo enamel by Benjamin Moore with multilayers of oil-base glaze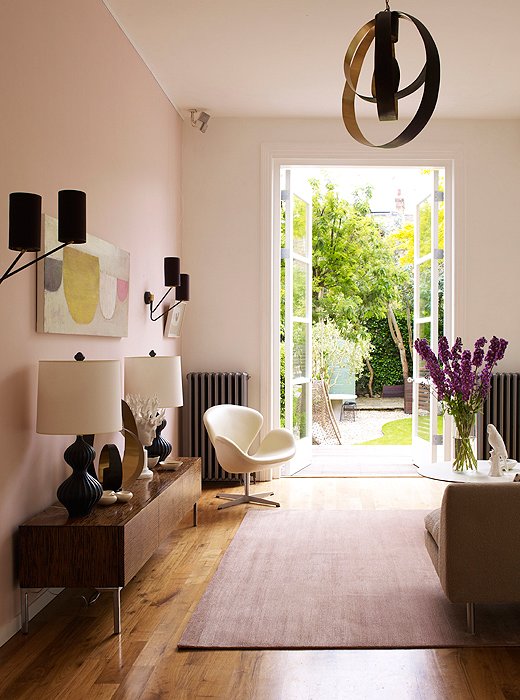 Soften with Soothing Pink
Rather than add impact, British artist Sue Williams A'Court painted a soft pink accent wall for a serene effect in her living room. "It's incredibly calming as well as introduces an element of comfort and warmth into the space, which is huge and filled with light," she says. "It could've become a bit sterile if it were just one big white space." Light hues on an accent wall create a subtle focus; you can then layer in bold art, lighting, and accents for chic contrast.
Sue used: Calamine by Farrow & Ball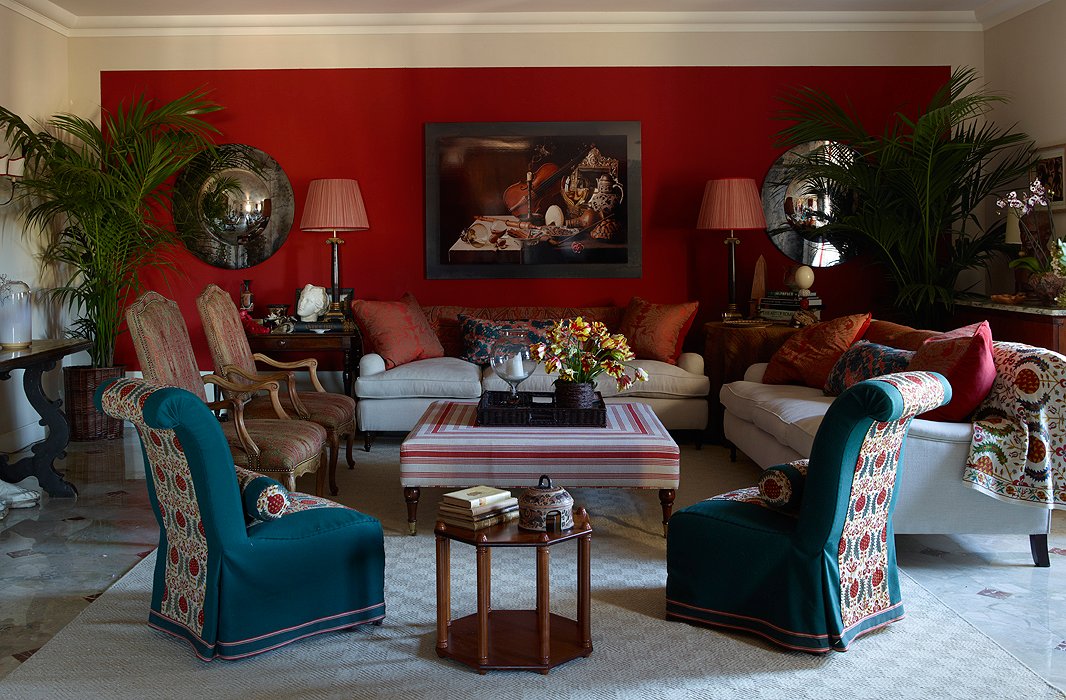 Add Depth with Warm Red
"I love the red, but I didn't want a huge red room," says decorator Alessandra Branca of her inviting and infinitely elegant living room in Rome. "By doing one large square, it gave the room depth and focus and the punch I love." Alessandra also picked the rich terracotta red to complement the antique paisley and other bold prints. An accent wall in a rich primary hue, accompanied by accents in varying shades of the color, will create a cohesive, sumptuous look.   
Alessandra used: a custom mix, but she recommends Terre D'Egypte by Farrow & Ball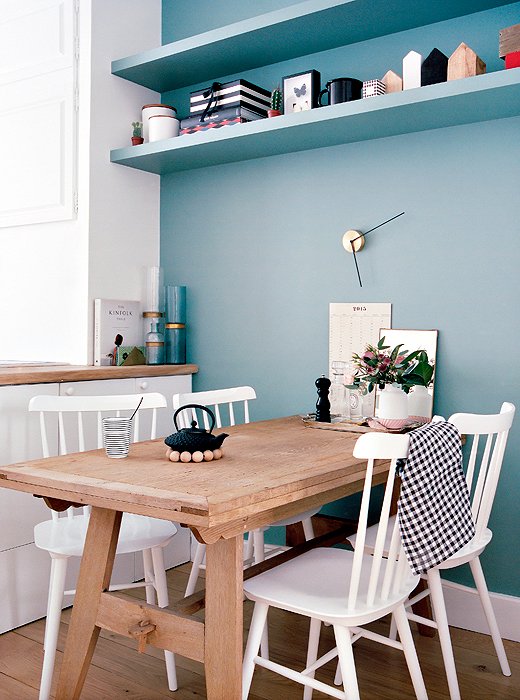 Go Cool and Calm with Blue
One part simple, one part modern, the dining area in creative director Morgane Sezalory's Paris home has a lighthearted appeal thanks to a blue-and-white backdrop. "We wanted a countryside effect, and this really evokes a feeling of the weekend for us every morning," says Morgane of her blue-gray wall and shelves. For similar relaxed ease, opt for a casual blue with gray undertones along with simple furnishings in white and natural tones.
Morgane used: Oval Room by Farrow & Ball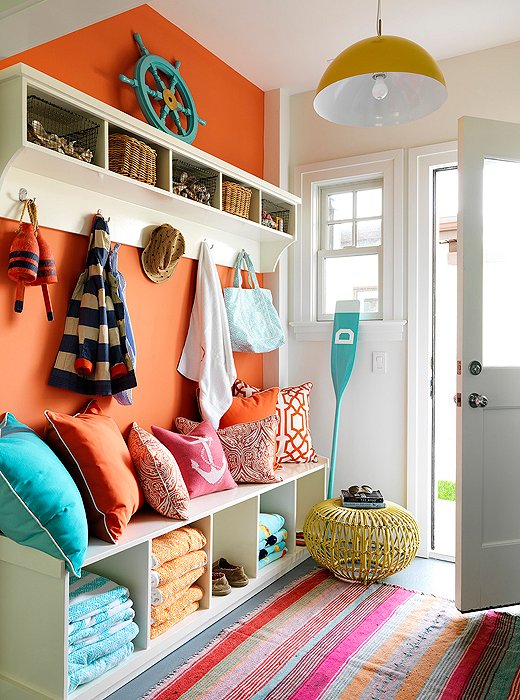 Brighten with Tangerine
Designer Mona Ross Berman punches up the mudroom in a family's beach house with an invigorating orange to bring a fabulous and fun vibe to the otherwise utilitarian space. "Orange is such a great color, but you have to get it right," says Mona. "This orange has a tangerine, slightly pink tone to it, which felt very beachy and spunky." Consider a bright hue in an entry to help set the tone for the rest of your home. "The mudroom, by virtue of being on the first floor, is something everyone who comes into the house sees," Mona adds. "I loved the idea of passing through this cheerful, lighthearted room." 
Mona used: Fresno by Benjamin Moore