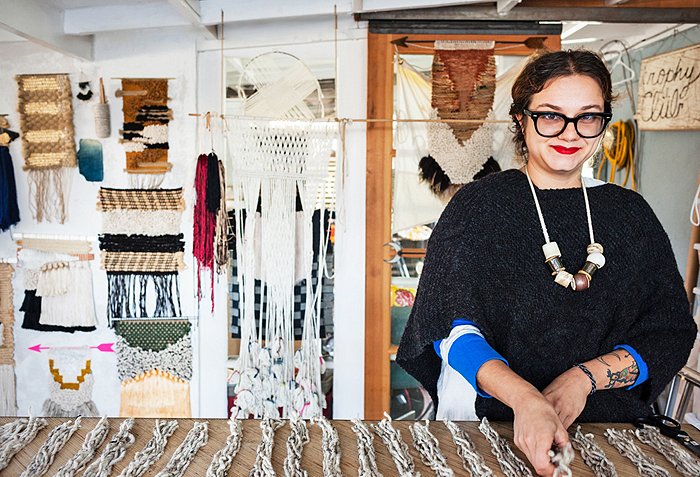 Los Angeles-based weaver Janelle Pietrzak, one half of textile studio All Roads (the other half is her man, Robert Dougherty), is one of our all-time favorite artisans. When we last caught up with her, her work space wasn't yet finished. So when we heard that she was all moved in, we stopped back to scope out her new digs and dig even deeper into her creative process (it involves an insanely gorgeous inspiration board, natch). Here we talk shop, inspiration, and her best advice for those wanting to break out on their own.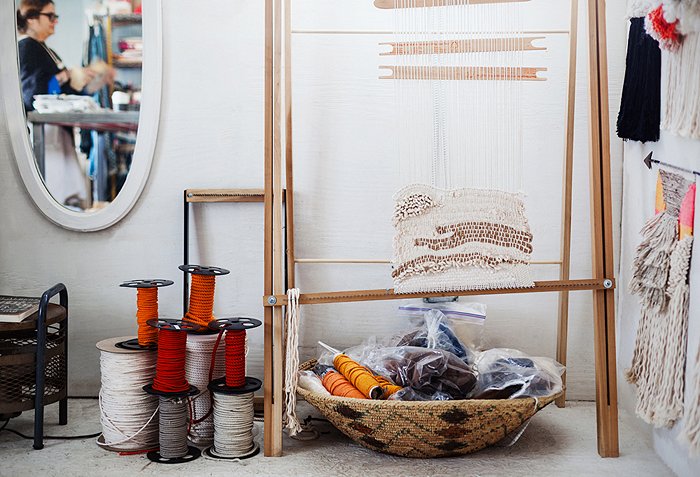 Tell us about your space!
"It's in Echo Park, close to Silver Lake, in a studio complex. One of my studio mates is a jeweler; the other makes marionette puppets. Robert and I split our space, so I have my textile studio on one side, and he has his metal- and woodworking workshop on the other."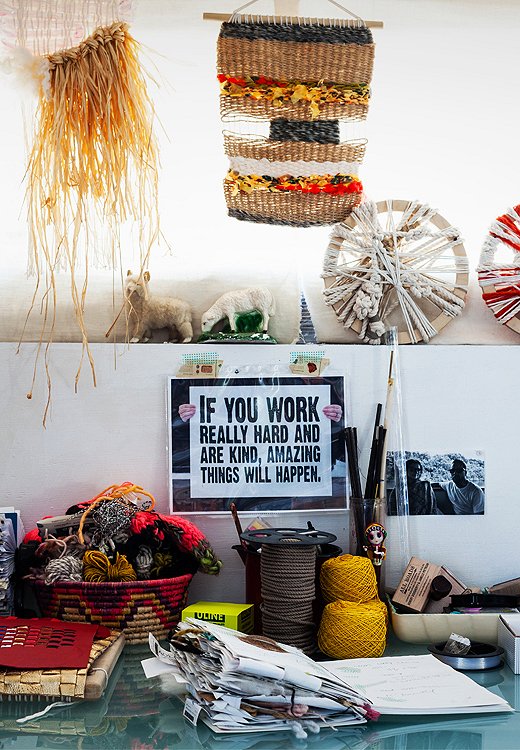 How did you two create distinct work spaces?
"Robert built a wall between our sides that has a sliding glass door for access. I have to cross his space to get to mine, but we're pretty separated. My side is all bright and cheerful, and his is dark and fortlike."
How is your space arranged?
"One wall, covered with shelves, holds yarn and supplies. My desk, a glass table, backs up to another wall. And the other two walls are bulletin boards where I hang stuff up, an important part of my process. One is essentially a mood board where I pin up images, and the other is where I hang my almost-finished pieces. In the middle of the room is a worktable where I do most of my weaving. Robert made it. It's welded steel with a chevron plywood top."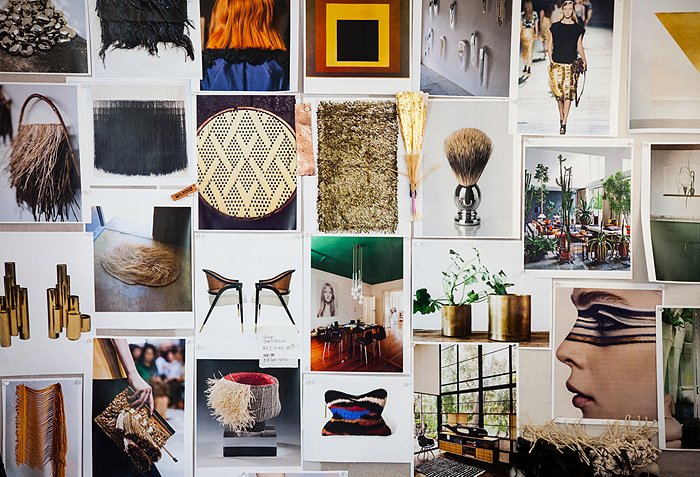 How do you create your inspiration boards?
"They're pretty focused. Every time I'm about to start a new group of weavings, I latch onto a concept or feeling. I'll start a Pinterest board of inspiring images, looking at color, shape, and material. Then I'll edit them down, go to Kinko's, and have them print off the strongest ones for me on good color-copy paper. I pin these up in a considered way: I like the board to flow, so I won't put all the gold or black in just one area but space it out across the board. I like my eyes to move around on the board, relooking, seeing something that I didn't before."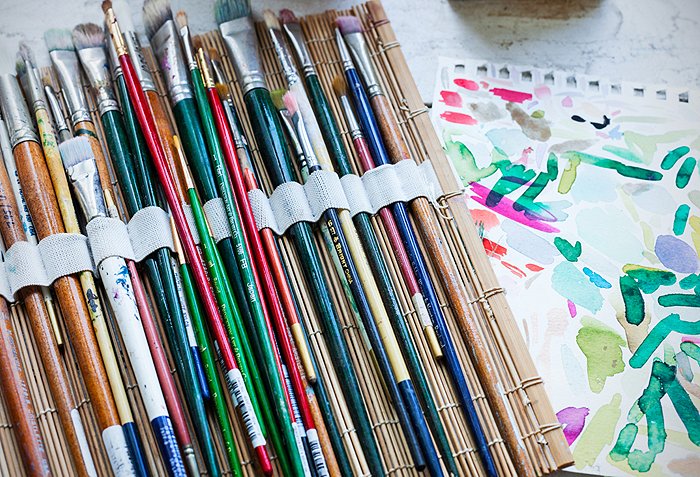 How do these mood boards influence your weavings?
"They help me limit my color palette to create a cohesive collection. I also put up tests, like gold-leafing, to see how a material behaves. Or I stick up little bits of materials I'm excited about, like a beautiful raw twine, and it reminds me to work it in."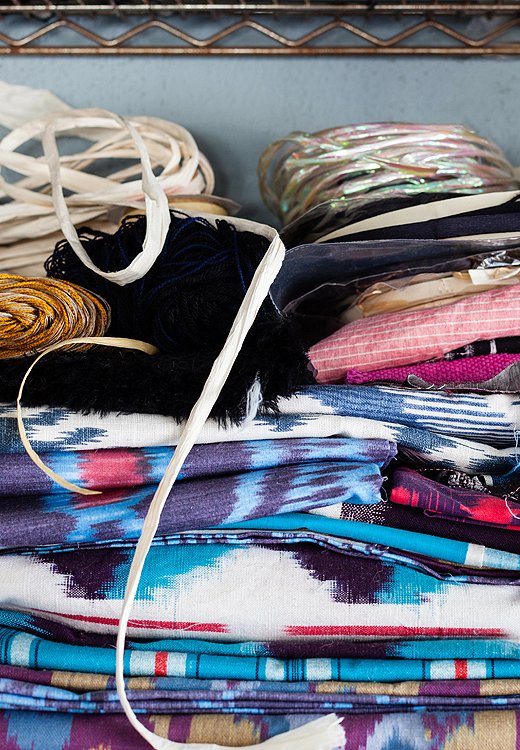 What's a typical day in your studio like?
"I get in around 8:30 or 9 and spend the first hour or two getting organized. I'm not weaving quite yet. I'll drink my coffee and look at what I did yesterday: Do I like it, or do I want to make some changes? This helps me draw up the day's game plan. Then I get in the work zone. I typically break for lunch, then I work until about 7. I try to clean up every night so that I have a fresh start in the morning. I have a hard time feeling inspired in the morning if I'm faced with a mess from the night before."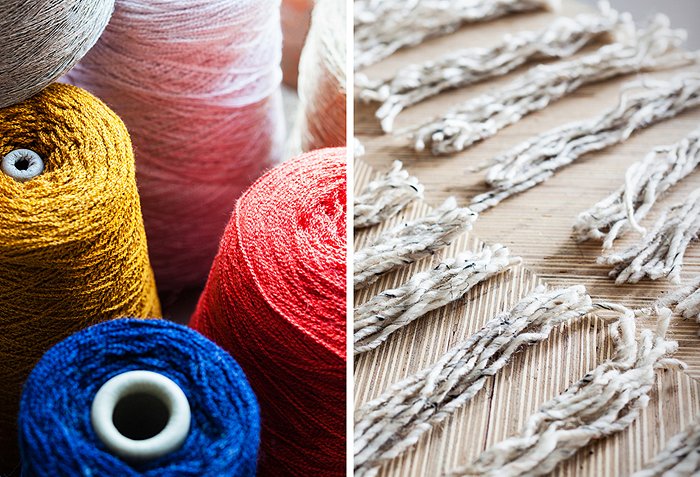 Are you good about getting out of the studio: meeting friends for lunch or catching a yoga class?
"No, I'm really bad about leaving. I also only take 10-20 minutes to eat my lunch! I need big chunks of time to work and be focused, so I leave errands for one day a week. Otherwise I might run to the store, then decide to get a coffee, then visit someone, and then there goes my whole day!"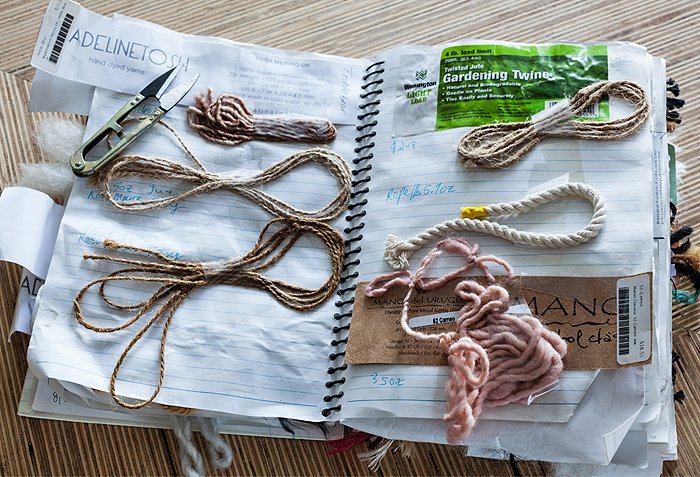 Are you an early bird or a night owl?
"I'm a morning-ish person. I don't wake up superearly, but I like to be ready to work before 9. I feel the most inspiration then and do most of my sketching and planning in the morning. That said, I do have a lot of 'eureka' moments while driving home from the studio as I'm mentally processing what I did during the day."
What's essential to you in a work space?
"A lot of light is vital, especially natural light. Bulletin-board walls are also crucial. I can't work without walls I can pin into. And a table would be nice, but I started out weaving on the floor, so really I can weave in any corner."
When did you decide to make the jump from being employed full-time to quitting and starting All Roads?
"I've always had little side projects going. But after Robert and I met and moved to L.A. I found myself surrounded by all these creative people doing their own thing. Their lifestyles and livelihoods were so inspiring to me. I wanted that. I wanted to make it happen. And everyone in this creative community was like a cheerleader for me."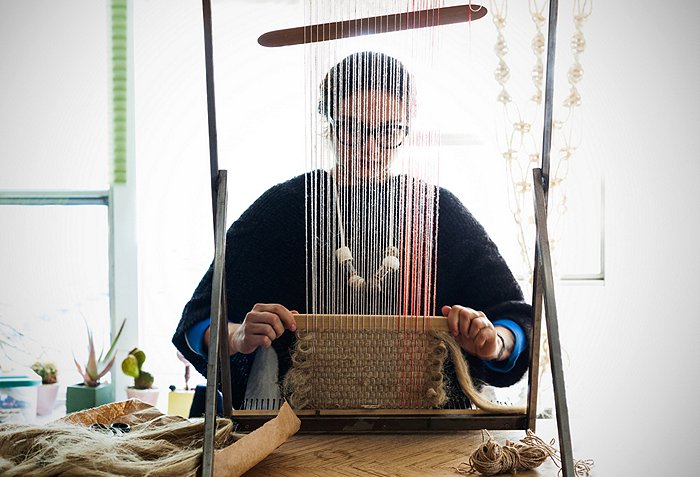 What's your best advice for someone who'd love to take her hobby from pastime to full-time?
"You have to nail down your passion. For some that comes naturally. For others, like me, it takes some finding. I've always been a creator, making things and having side projects. But textiles was something I was particularly passionate about, and it organically turned into something that could sustain me. Also, you will be doing your craft for many, many hours a day, so it should be something you love and can keep finding inspiration in!"
We're big fans of your Instagram feed. Who are some of your favorite people to follow?
"Robert discovered National Geographic's feed, and I recently started following it too, as it shows amazing, often unpublished photos. Justina Blakeney is superinspiring and fun, and we actually became friends in real life through Instagram. Another real-life friend I made through Instagram is Los Angles photographer Lani Trock. She captures local nature scenes with a dreamy, magical eye. I want to live in her photos!"
Check out All Roads' sale, which starts tonight at 6 pm PST/9 pm EST.