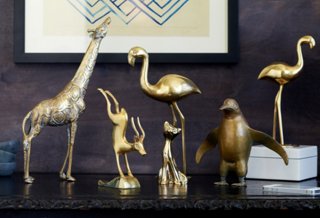 Create an Eye-Catching Menagerie
A collection of brass animals on any table surface makes for a bold and whimsical statement without being visually overwhelming. Don't be afraid to mix and match sizes and styles—the variety is what makes the collection feel fresh and modern.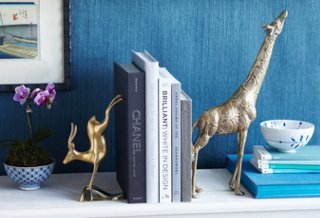 Use for Mix-and-Match Bookends
A pair of mismatched brass animals make for stylish and unexpected bookends. When picking a pair, varying the scale will make for a more dynamic arrangement.  Also keep in mind the heaver the brass object the more weight it will support.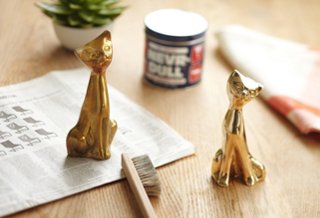 How to Make Your Brass Shine
Vintage brass animals can be found at any decent flea market, but unfortunately vintage brass is often tarnished. Never fear: You can restore its luster with the right polish. Nevr-Dull and Simichrome Polish work amazingly well. Two other indispensable tools to have on hand are a cotton cloth for buffing and a soft brush for getting into nooks and crannies. A few pages of newspaper are perfect for protecting your work surface and make cleanup a breeze.