I've been really excited to try my hand at making an antiqued mirror ever since I first heard about a product called looking-glass spray. So when this latest winter storm hit the Northeast I decide to hunker down and crack the code to a perfectly antiqued mirror.
I began by rounding up a few largish empty picture frames. I wanted to create a gallery wall of mirrors, so I set out to find a nice mix of shapes and styles. My first stop was the art-supply store for a simple rectangular frame. Next I hit up my local thrift store for a couple of interesting vintage frames. Whether you want to create a gallery wall of your own or maybe give a set of French doors the antiqued-mirror treatment, the possibilities are nearly endless. Ready to get started?
Here's what you'll need:
Krylon Looking Glass Spray
A glass frame
A can of black spray paint
A can of gold spray paint
A spray bottle
White vinegar
Paper towels
Prep
To get started, fill your spray bottle with equal parts vinegar and water. About a cup of each should be more than enough. If the glass is removable, take it out and clean it to remove any dust. If it's not removable, take off the back of the frame to expose the glass and clean.
Spray
Be sure you are working on a flat surface, since any drips will spoil the antiqued effect. To ensure an authentic look, mist the back of the glass unevenly with the vinegar-and-water solution. Keep in mind that every place there is a water droplet the looking-glass spray won't stick. Next, coat the misted surface with the looking-glass spray. The spray goes on grayish, taking on a mirrored finish as it dries. Once the surface is dry, use a paper towel to gently dab away the water droplets. Repeat this processes three or four times to create a layered texture.
Tip: The looking-glass spray is like spray paint, so be sure to work in a well-ventilated space or even outside if you can.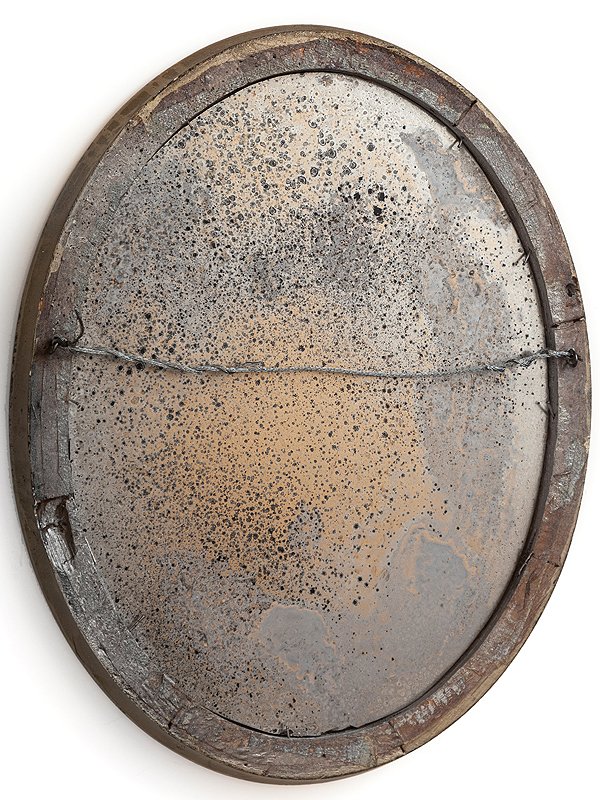 Finish
To heighten the contrast, I lightly misted a couple of spots on the back of the mirror with a bit of gold and a bit of black spray paint. It will show through the nonmirrored areas, adding depth to the finish. Just be sure that the looking-glass spray is completely dry before you do this step.
Inspired to go a little further? Head over to Design*Sponge for all the details on the project below, where I transformed clear plexiglass trays in modern mirrored masterpieces!