I was super impressed when my friend first showed me pictures of her kitchen, which she had just finished tiling and painting herself. Now that she had a clean slate, she was looking to add some much-needed storage and a bit of personality to the tiny kitchen but didn't want to compromise the clean, airy new look. With a few simple solutions, we managed to add storage AND style! Keep reading to see how we did it.
Here's What You'll Need
4 small wine racks (more depending on the length of your shelf)
1 board, 1″ x 12″, cut to length
1 quart of paint (in satin or semigloss)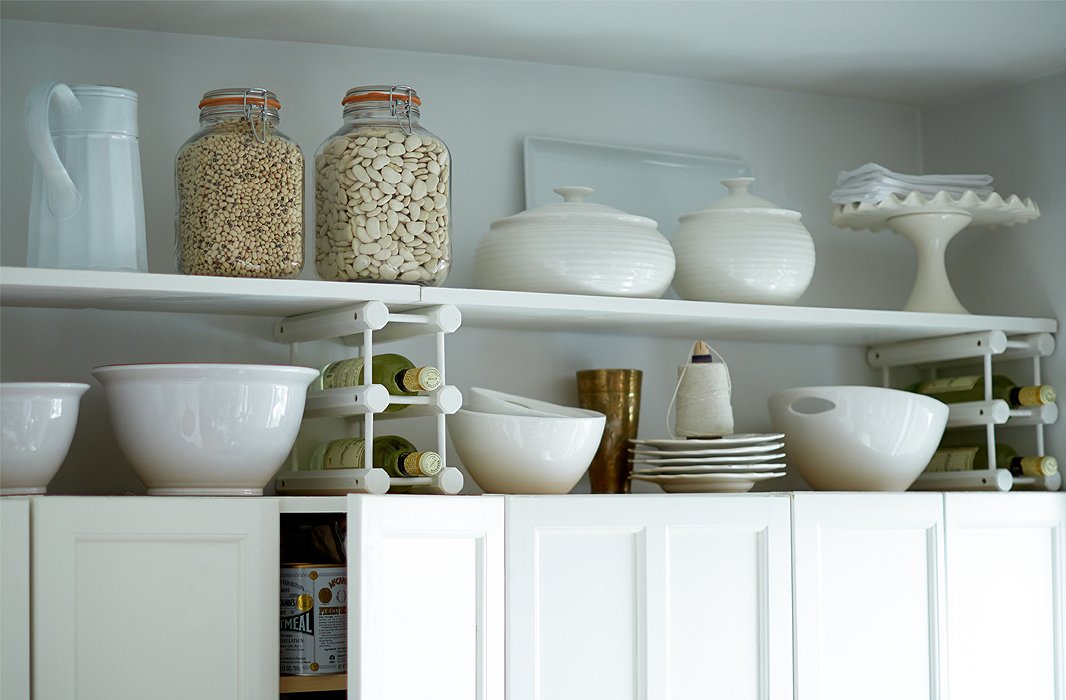 Building the Shelf
The main dilemma was that she needed more storage (who doesn't?), and the most obvious place to add it was above the upper cabinets. I decided to add a simple wooden shelf, using four modular wine racks stacked on top of the existing cabinets as supports. To unify the the new shelving with the existing cabinetry, I painted it the same white (Benjamin Moore White Dove). This easy addition nearly doubled her shelf space along that wall.
Styling It Up
To give her new open storage space a curated feel, we stuck to a tight color palette. I love using open shelving for large bowls, cake plates, and canisters because smaller items tend to look bitty and result in a look that's more cluttered than chic. I suggest keeping that stuff in a cabinet.
Maximizing Every Inch
On a small wall next to the refrigerator, I hung a few vintage cutting boards that she likes to use as serving trays when she has guests over. Hanging them performs double-duty as both storage and wall decor, while the aged wood adds a warm texture to the space. Plus one of them is hiding a less-than-attractive fuse box.
Tip: The large wire basket on top of the fridge turns this forgotten space into stylish storage by providing an extra spot for produce.
Blending Beauty and Function
Just because a space is small doesn't mean you have to skimp on the decor. This vintage portrait adds a bit of unexpected character and fun to her backsplash without taking up counter space. Rather than a traditional canister, a white pitcher holds wood cooking utensils, freeing up valuable drawer and shelf space.
Finishing Touches
To finish off the new look, I created these feather-covered lampshades to conceal some unattractive pendants. Because the pendants were hung from track lights, I was able to simply unclip them from the track and slide the shade down the cord. Head over to Design*Sponge for the full how-to of this lampshade project.