One Kings Lane stylist Michelle Wong is a New York-based foodie and passionate party planner. When she's not styling a beautiful room or setting a gorgeous table in our photo studio, you can find her hosting dinner soirees in her downtown apartment, noshing her way through the city, or taking in the best of NYC's bars and restaurants.
One of our favorite parts of fall is enjoying apple cider, whether it's on ice, mulled and piping hot, or with doughnuts from the farmers' market. For us, the autumn favorite is also a welcome ingredient that brings a tart, seasonal twist to classic cocktails. From a refreshing sangria to a new take on the Moscow mule, these sweetly crisp cocktails, crafted by our stylist and resident foodie Michelle Wong, are sure to raise cheer for all your fall festivities, be they dress-code soirees or last-minute happy hours.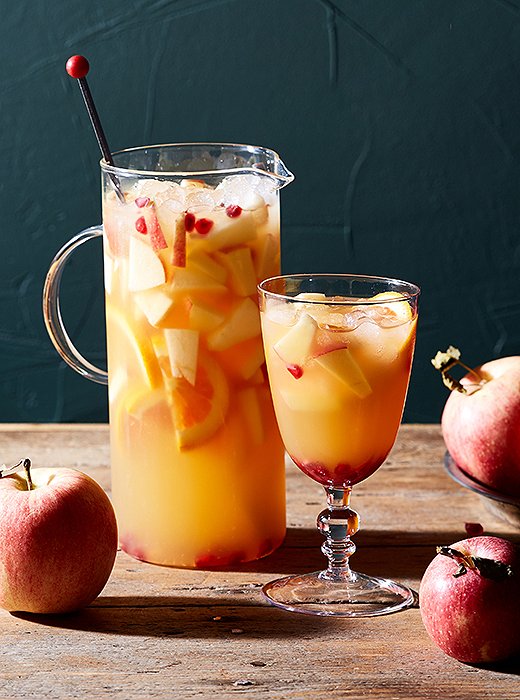 Apple Cider Sangria
With the addition of apple cider, one of our summer staples, sangria, gets refreshed for fall. Tart pomegranate and tangy orange complement the sweetness of the cider for a beautifully balanced beverage. Best of all, the recipe couldn't be easier, making it ideal for a pitcher's worth that serves a crowd.
Ingredients:
2 cups apple cider
1 apple, cut
1 orange, cut
½ cup pomegranate seeds
1 bottle dry white wine (sauvignon blanc or pinot grigio)
1 cup club soda
½ cup cognac (optional)
Directions:
Combine all ingredients into a large pitcher and stir. Refrigerate for an hour before serving. Serve chilled with ice.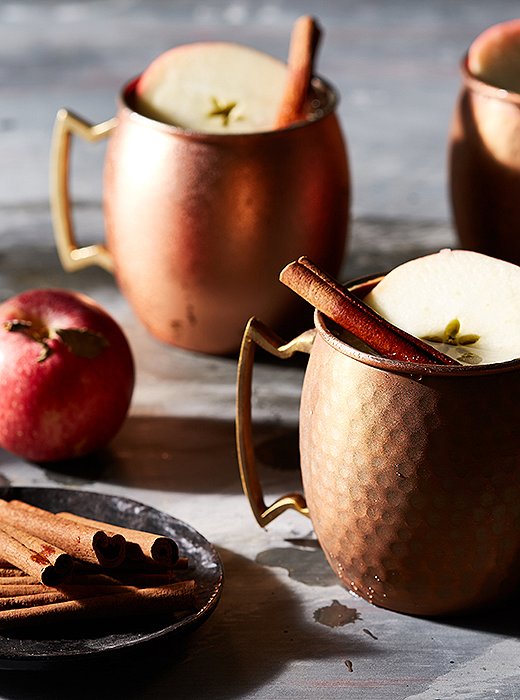 Sparkling Apple Cider Moscow Mule
Sparkling apple cider takes the place of ginger beer in this twist on the traditional Moscow mule that's as crisp as the weather outside. Serve in a copper mug with a cinnamon stick for an extra bit of spice (and shimmer).
Ingredients:
¼ cup vodka
½ cup sparkling apple cider
Juice from 1 small lime wedge
Directions:
In a mug, add vodka, sparkling apple cider, and lime juice. Top with ice, stir, and garnish with a cinnamon stick and an apple slice.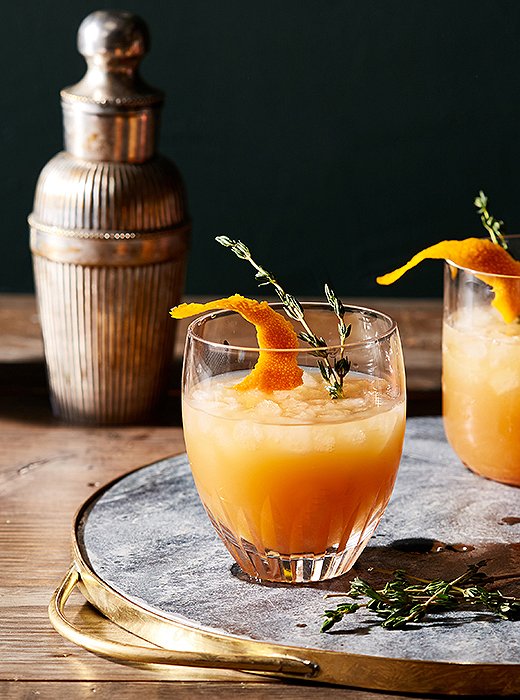 Bourbon Apple Cider Sour
Cider transforms the classic bourbon sour into an easy-drinking cocktail we'll be enjoying all season long. Shake up a few, bring them in on a tray, and enjoy by the fire or as the perfect prelude to a fall dinner party.
Ingredients:
4 oz bourbon
1 cup apple cider
½ squeeze lemon
4 dashes bitters (optional but preferable)
Directions:
In a cocktail shaker, add ice, bourbon, apple cider, lemon juice, and bitters. Shake and pour into a lowball glass. Garnish with an orange peel and thyme.