You might say Ashley Stark Kenner and Chad Stark were born to write Decorating with Carpets. Not only are they grandchildren of Arthur and Nadia Stark, founders of designer-favorite STARK Carpet, but they are also actively involved in running the business.
Founded in 1938, STARK claims to be the first importers of luxury handcrafted rugs into the United States. Since then the company has branched out to design its own floor coverings, as well as fabrics, furniture, and wallpapers, in addition to importing antique rugs. The focus on quality as well as beauty has remained the same, however. There's a reason, after all, that STARK floor covering have graced the White House since the Kennedy administration.
Yet Kenner and Stark didn't rely solely on their familial expertise when writing Decorating with Carpets. The book combines their own insights with advice from design luminaries such as Charlotte Moss and Jeffrey Bilhuber. Here, we've compiled some of its standout gems of wisdom to help you select the optimal floor coverings for every space in your home.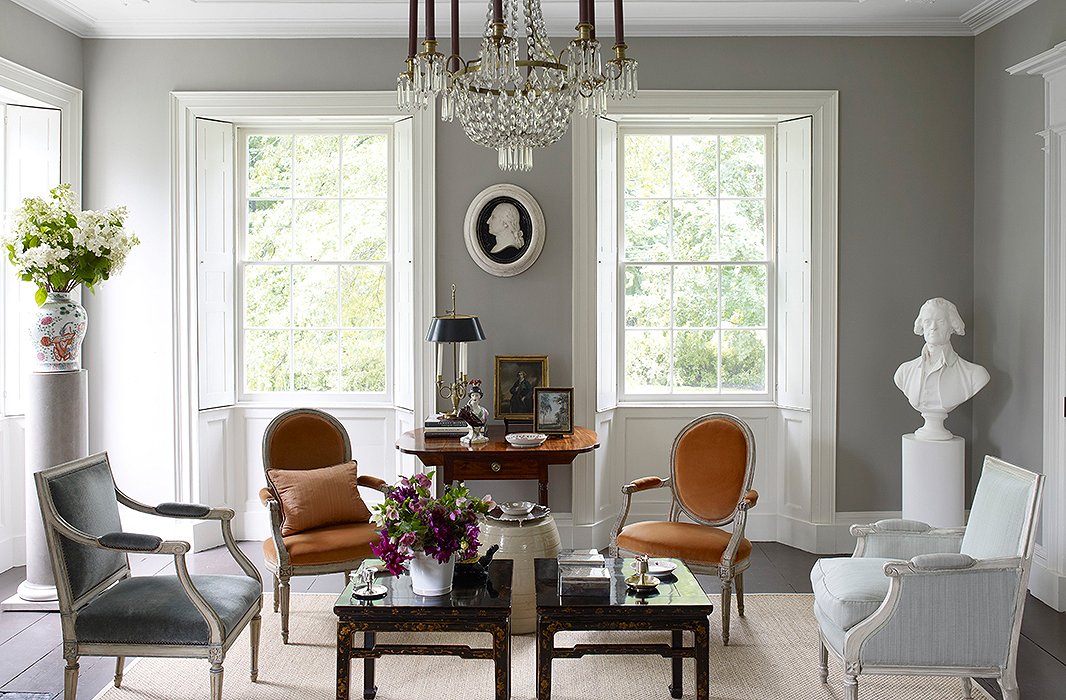 Rugs for… Living Rooms
As Kenner and Stark see it, "Determining carpets for the living room involves an equation—space + budget + approach—but no set formula." Decorators use the rug as a starting point or to help pull the finished look together, as is the case with Jeffrey Bilhuber. "We ask the carpet to connect all the dots and to illuminate the furniture plan," he explains in the book. Layering is still a tried-and-true technique for a large living room. "A sisal carpet provides a neutral ground that pulls a big room together," says designer Charlotte Moss. "The risk is that it can look a little bland. By dropping a rug on top, you have a chance to make the color palette of the room cohesive." Moss opts for layering on Oriental area rugs in fall and winter; she swaps them for cotton dhurries when summer arrives. The book also touches on how to consider the right rug in relation to what else is in the room: "Moss uses a living room rug as a tool. If the upholstery fabric is dynamic, she uses the carpet to calm things down. If a room leans monochromatic, then the rug becomes tonal."
Best of all, a fine carpet is the most portable treasure. You can feel secure in investing in one because you can take it with you.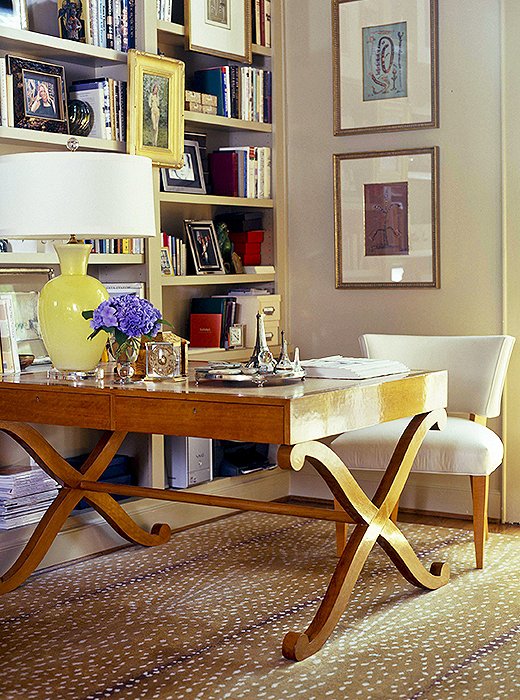 Rugs for… Studies
The book's characterization of a study as "more intimate than the living room, more communal than a bedroom, more comfortable than the kitchen" is so on point in terms of a framework for choosing the perfect floor covering. As a low-traffic "other" space, a study presents the perfect opportunity to indulge more personal and playful decorating whims. Walls lined with books, however, are a consideration: "The dense patterning of book-lined rooms presents a particular decorating condition. One can either go all in and increase the density or step back to counterbalance it. A carpet is one of the easiest ways to tip the scale in either direction." Kenner and Stark present the decision of whether to go pattern or no pattern as dependent on how the space is used. "Patterned carpets also supply the perfect foundation for studies that double as family rooms. Given the different ages and activities the room hosts, from homework and office work to game and snack times, a carpet with an overall dense pattern is not only the most forgiving, in terms of wear and spills, but also the most flexible."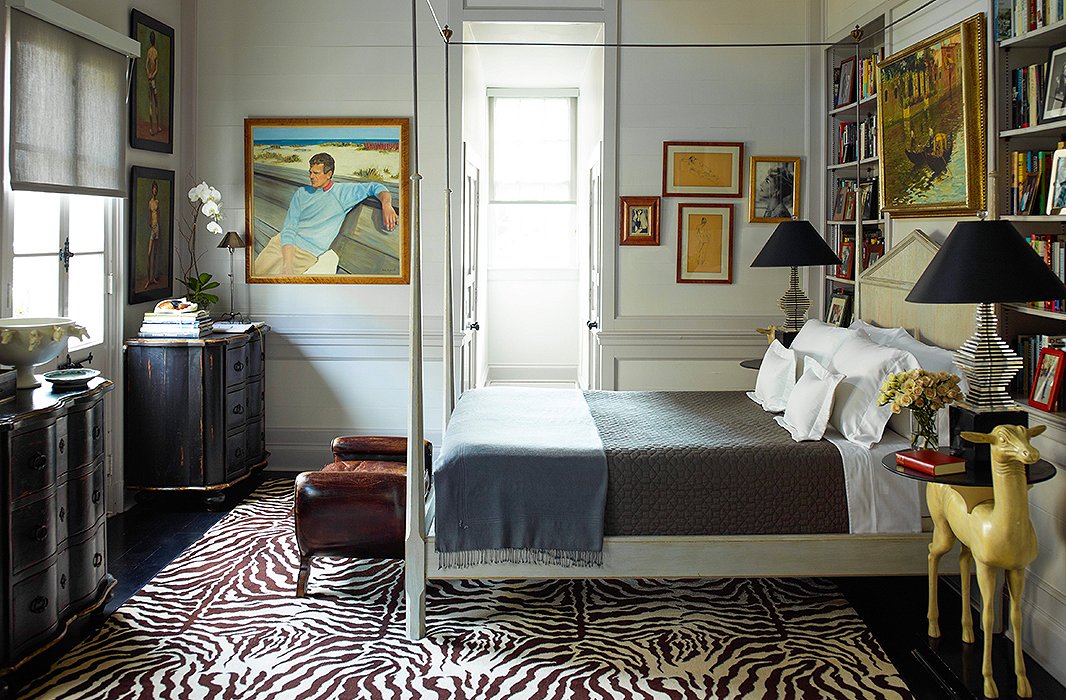 Rugs for… Bedrooms
For Kenner and Stark, "No matter how streamlined the rest of the house may be, there are two things that no bedroom can be without if it is to make us feel rested and renewed: a mattress and a carpet." Whether or not you agree with that, there's no arguing with some of the practical purposes of a rug in the bedroom. Among other things, "it muffles sound from other floors and from footsteps within the bedroom," not to mention being a soft landing for bare feet, so plushness here is important. As for style, once again the rug can act as a balancing element or pile on even more pattern. "When pattern is in major play on bedroom walls, designers tend to take one of two tacks with floor coverings. They either select carpet that's an equal sparring partner or tone it down altogether to allow the wallpaper to shine."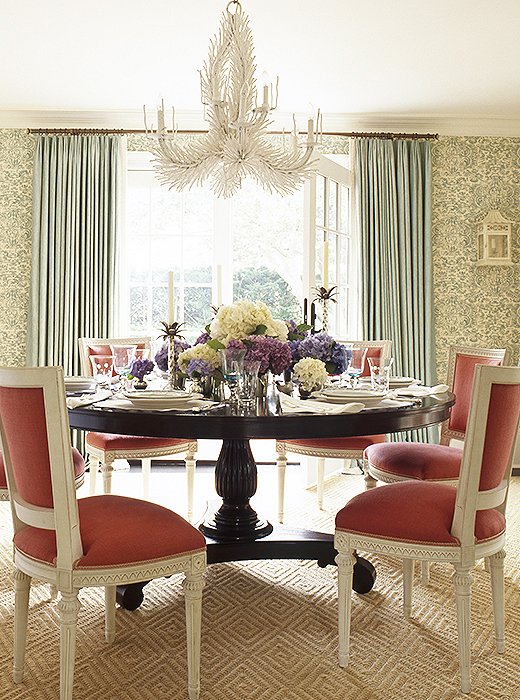 Rugs for… Dining Rooms
"Dining rooms typically have so many hard surfaces," designer Katie Ridder says in the book, "yet they are the one place in the house where upwards of eight people may be trying to have conversations simultaneously. That makes the acoustical benefits of a carpet essential." Once again, patterns serve a highly practical as well as decorative purpose. "Patterns of all kinds, whether in the texture of the weave or in coloration and design, are a good choice for dining rooms and not just because they better disguise a drop of wine or a sprinkling of crumbs. A patterned carpet introduces a welcome divergence from the second-largest horizontal plane in the room: the smooth top of the dining table," according to the book. As for the ideal material, Keller and Stark sing the praises of an unexpected choice: natural-fiber rugs. "Dressing a quite formal dining room in the least precious carpet might seem unorthodox, but it is a tradition of great English country houses that designer Jeffrey Bilhuber, for one, applauds." The idea is to inject contrasting textures. "Rush, hemp, and sisal are the durable antithesis of fragile materials like porcelain and glass, their textures dull and rough against the luster of silver and the sparkle of crystal."
No matter how exquisitely the dining room may be appointed, it should feel warm and welcoming. A natural-fiber carpet, by tempering the formality, puts people at ease.
Rugs for… Leisure Spaces
Rooms intended for fun or leisure, be they dens, playrooms, or pool houses, require their own specific floor-covering strategy depending on their intended use. "In a room designed for easy transition between indoors and out, the carpet must be prepared both to embrace nature visually and to handle its incursions—of water and sand mostly." The solution? "Sisal is the preferred treatment for such conditions." Other suggestions? "Ringed by windows and infused with light and air, sunrooms call for pale rugs to keep the swirl of freshness in motion." Look for options that allude to the world just beyond the windows via nature-inspired motifs.