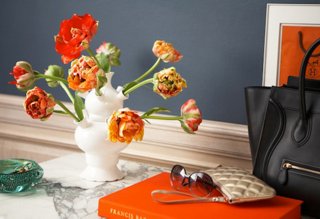 Few flowers can boast that they have a vessel devoted solely to highlight their blooms.
Tulips have a namesake vase called a tulipiere—a container usually made of pottery that has spouts to accommodate individual flower stems.
First designed for the European elite in the 17th century, the tulipiere was an ornate vessel that housed one of the greatest luxuries (and rarest items) at the time—fresh tulips.
"Tulips are in season now, and I couldn't resist doing an arrangement using only them," says Meghan, stylist and flower artist. "Plus, a tulipiere does the arranging for you."
Meghan opted for a white, streamlined style. "It's a fresh take on the traditional chinoiserie version that felt more modern."
To start, fill up the basin with three inches of fresh, room-temperature water. "Tulips are top heavy, so you can embrace their dramatic droopy nature, or cut them short," says Meghan.
She chose double tulips that have more than the normal six petals. "It was a thrill to discover this variety. Some had so many petals that they resembled another favorite flower of mine…the peony."
Arranging Tip:  Keep it simple by using one color and variety. The busy nature of
the vase demands a singular flower choice.
Flower Fact or Fiction:  There is a myth that adding pennies to the water will help tulips last longer. The fact is that all they need is fresh water every two days and a clean vessel.