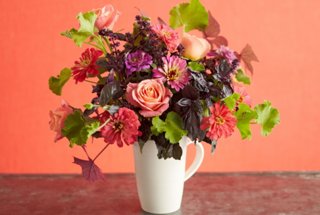 For this month's arrangement, stylist and in-house floral designer Meghan Guthrie turned to a favorite summer shade for inspiration. "Coral is a quintessential summer color," she explains. "It's bright and happy, and it complements other popular colors of the season, like turquoise, navy, and white."
To start, Meghan chose zinnias in shades of coral and violet, then added purple basil, pink roses, and leafy geraniums around them. As a finishing touch, she layered the bouquet with several long stems of sweet-potato leaves.
"I wanted surprising colors and contrast," she says, "but I was also going for a farm-fresh bouquet that had a heady summer scent. The purple basil has a heavenly aroma, which is lovely alongside fragrant geraniums and roses."
The geraniums made for lively additions of green that helped offset the bright-colored blooms, creating a pretty and fun floral arrangement for a nightstand or an end table.
For a vase, Meghan chose a simple white ceramic pitcher to keep the focus on the bouquet's vibrant colors.
Arranging Tip: Cut the zinnias at different lengths within an inch of each other so that they pop up at varying heights for a more dynamic look. It's always good to do this with the dominant color in your arrangement.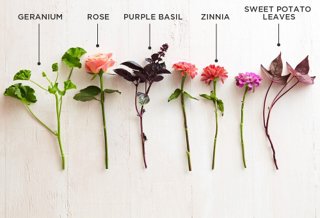 Floral Kit: Above are the elements of our arrangement to help you make one of your own.
"I wanted surprising colors and contrast, but I was also going for a farm-fresh bouquet that had a heady summer scent."
—Meghan Guthrie, Stylist