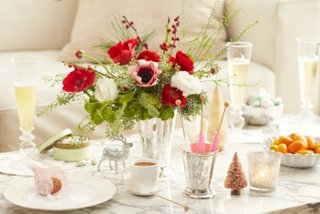 Our in-house floral designer, Meghan Guthrie, put together a festive arrangement that's equal parts cheery and chic. She describes it as having "holiday colors without the expected flowers like poinsettias, amaryllises, and paperwhites." Scroll down for the how-to.
What you'll need:
– A mix of greenery, red-berry branches, and red, white, and pink flowers (we chose anemones and ranunculus)
– Sugar pack
– Mint julep cup or any container of your choice
– Sharpie paint pen
– Flower frog (depending on vase size)
– Thorn stripper
– Flower shears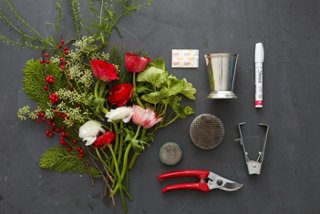 Getting started:
1. Use the thorn stripper to pull off excess leaves from the bottom of all the stems. "Leaves that come in contact with water can create bacteria, so strip them to make the flowers last longer," says Meghan.
2. Use the paint pen to write a festive quote on the front of your container.
3. Put a flower frog inside the vase, and fill it with water. The frog will sink to the bottom and keep all the stems in place.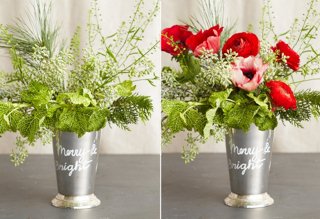 Making the bouquet:
1. Start by adding the tallest greens first in the back of the vase. Make sure they are secured into the frog inside the vase.
2. Trim the stems of the leafier greens. Add them to the front of the vase. "These longer, slightly heavier greens bow naturally and balance out the tall ones in the back," Meghan says.
3. Arrange the remaining greenery by adding the spiny, taller pieces in the back and shorter sprigs in the center.
4. Pick out the most eye-catching red flowers and trim the stems. "The most colorful and unusual flowers become focal points of interest," says Meghan. "I always cut these slightly shorter and tuck them in the front." Add the long-stemmed flowers in the back.
5. Finally, layer red-berry branches and white and pink blooms throughout the bouquet to break up areas with a lot of red or greenery. "By alternating colors and flowers, it invites the eye to explore the arrangement," Meghan says.
Care Tips:
Keep the arrangement out of direct sunlight.
Change with lukewarm (not cold) water every other day.
Add flower food to keep the bouquet looking fresh."If you don't have some, a bit of sugar will do the trick," Meghan points out. "Flowers love fructose."