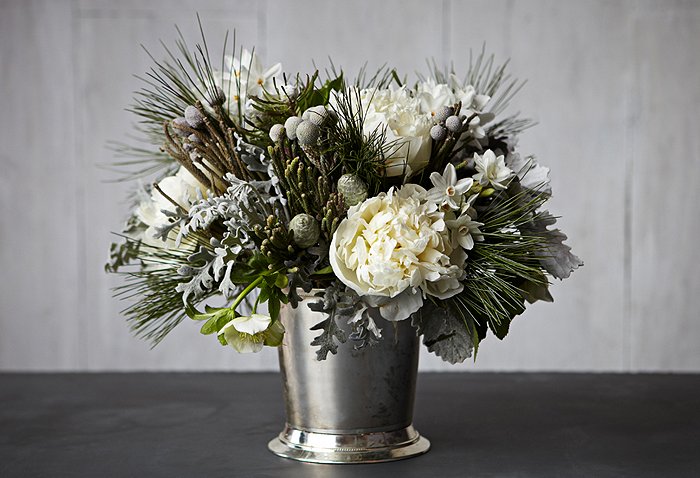 "The earth laughs in flowers," wrote Ralph Waldo Emerson.
We couldn't agree more. That's why we tasked our style director (and talented floral designer), Meghan Guthrie, to dream up this inspired arrangement. The overall palette was inspired by a winter sky with shades of silver, white, and gray. "I wanted the arrangement to give you a sense of walking through the woods in winter," Meghan says.
Meghan began with an ornamental plant called dusty miller because "it looks as if it's covered in a dusting of snow." She then added pine sprigs to bring a bit more of the outdoors in, and leucadendrons for a graphic statement. Meghan brought in downy white peonies for their "soft and messy look" and a few paperwhite narcissi "because their scent fills a room so nicely."
For the vessel, she chose a mint-julep cup. "It feels special and glamorous, but its wideness allows for a loose, casual shape."
Arranging Tip: When arranging, it's good to work in odd numbers. Here, three peonies looked better than two or four.
Floral Kit: Meghan broke down the elements of the arrangement below to make creating one of your own easy. Take this guide to your florist to have them make one for you.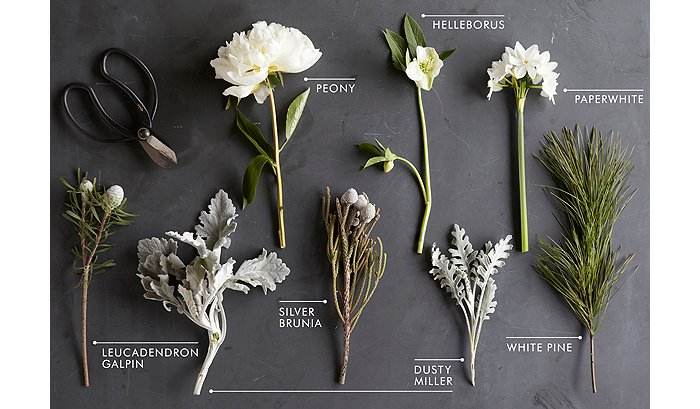 "I love using elements that you could actually pick when you walk out the door."
—Meghan Guthrie, Style Director