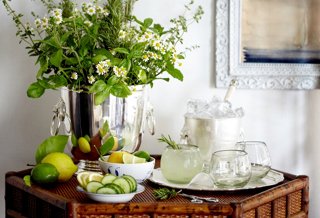 This month's arrangement was inspired by the promise of a refreshing summer sip. "I love the new trend in cocktails of using fresh herbs," says Meghan Guthrie, stylist and floral designer.
"I wanted to create something for a summer bar that would be beautiful and interactive," she says. "Guests can snip off their herb of choice…a little basil in a Lillet. Or some fresh mint in a Vodka Tonic.
Fragrant as any floral creation, the arrangement—which includes basil, mint, rosemary, and oregano—is at home on the bar when placed in a silver champagne bucket. Meghan added a bit of color with chamomile—an edible flower. "You can also try nasturtium, pansies, or lavender."
Because the arrangement is relaxed and organic, Meghan kept the process simple. "I started with tall, stocky rosemary. I added the other herbs and let the form take shape naturally," she says. "The less 'arranged' it looks, the better." Meghan does recommend removing the bottom leaves from the chamomile. "They will drink the water before it reaches the flowers."
Stock your bar with a variety of ingredients that will pair nicely with the herbs. "Vodka, gin, seltzer, and tonic are great basics," says Meghan. "You can also keep small bowls of lemon, lime, and cucumber slices."
Lastly, place a pair of scissors by the arrangement so guests can snip what they like.
Arranging Tip: It's important to keep the herbs well chilled to avoid wilting. Refill the vessel with cold water when the arrangement starts to droop.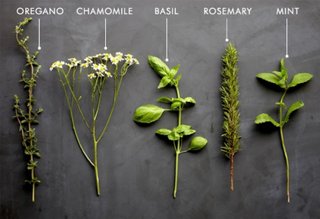 Floral Kit: Above are the elements of our arrangement to help you make one of your own.
"I wanted to give new meaning to 'an edible arrangement'."
—Meghan Guthrie, Stylist