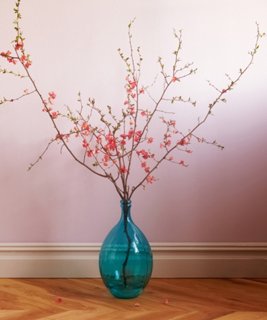 When blooms appear on the trees each spring, many cultures celebrate with a festival. Inspired by such acts, resident stylist Meghan Guthrie put together an effortless arrangement that both honors the coming of spring and welcomes it into our homes.
Start by searching out beautiful branches in trees from your yard or from a flower shop or market.
It's important to use a heavy vessel, since the weight of the branches could topple a small vase. Meghan chose a blue glass vase: "It's a great combo with these hot-pink blooms." She recommends filling with at least two inches of water.
Using large, sharp pruning shears, cut branch stems at a 45-degree angle. This guarantees an adequate amount of water will travel up through the stems.
Flowering branches will last for several weeks. Just remember to change the water once a week. If the water becomes cloudy, add a teaspoon of bleach to keep it clear.
The most exciting part? These branches will sprout new growth—just like a living tree. Happy spring!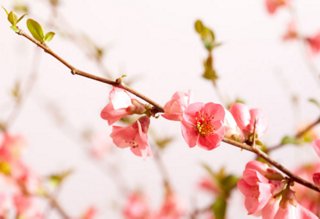 Arranging Tip: Meghan used quince branches, but dogwood, cherry, apple, or forsythia, are all lovely this time of year.
Decorating Tip: Because of their size, floral branches work well in an empty corner or against a blank wall. In an entryway, they bridge the gap between outside and in.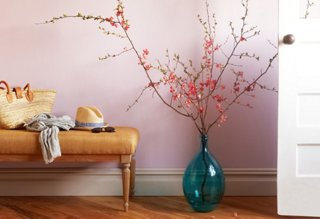 "The best part about this arrangement is that there is no arranging."
—stylist Meghan Guthrie