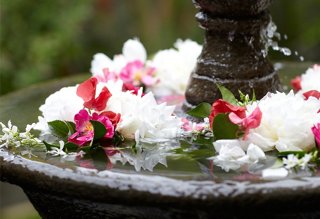 When it came to creating an arrangement this month, stylist Meghan Guthrie had an epiphany while at One Kings Lane co-founder Susan Feldman's home in Los Angeles which boasts an incredible garden.
"I saw all of these lovely and fragrant blooms and instantly wanted to do an arrangement, she says. "I also wanted to use a new vessel and thought a fountain is just a large vessel for flowers. It's romantic and dramatic at the same time."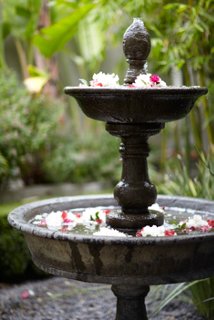 For the mini-bouquets, Meghan chose a graphic color combo of red and white "so they really pop on the water."
She used Duchess peonies in white and pink, red anemone, white garden roses plus mint and jasmine for their springtime scent.
Meghan assures that any variety will work. "This is a great opportunity to use what you have in your garden."
Meghan used these oasis mini foam pieces (below) as the base for the arrangement. They are perfect for a water vessel as they float. "Place on a flat surface and put your largest bloom in the center," she says. "Then just fill in with the rest of your flowers—remembering to mix the sizes and textures in the arrangement."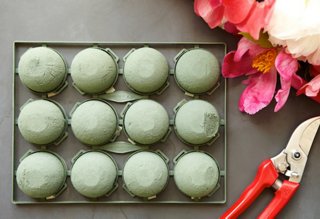 Tip: Meghan advises that the oasis can sink when they become fully saturated. To avoid this, take them out of the water once or twice a day to dry them out."
Source: smithersoasis.com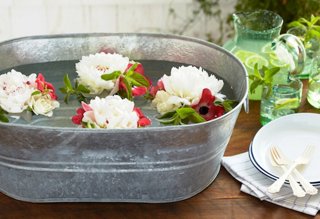 Alternative Arrangement
If you don't have a fountain or birdbath, you can recreate this idea with any galvanized or copper tub (above). "I love the contrast between the delicate flowers and rustic container," says Meghan. "Its the perfect mix for a casual summer party."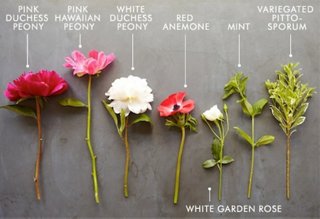 Floral Kit: Above are the elements of our floating arrangement to help you make one of your own. Take this guide to your florist to have them make one for you.