As a nod to harvest season, our very own style director and passionate floral designer, Meghan Guthrie, dreamed up this showstopping centerpiece using the most beautiful bits of fall's bounty. "Nature is starting to fade in most parts of the country, and the lovely colors here celebrate this gorgeous moment in time." Here she shares a few simple arranging tips for turning some seasonal gourds, fruits, and flowers into this elegant display.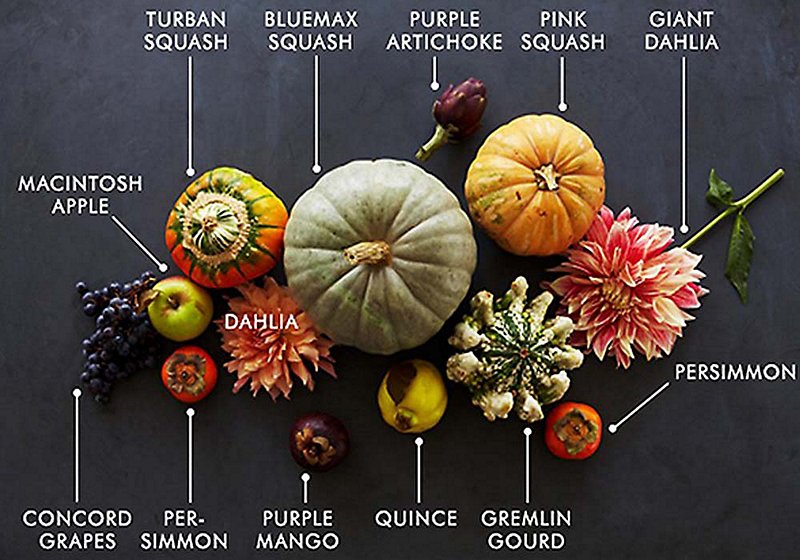 Start with a holder.
Meghan suggests using a tray to "contain" the tablescape. "If you don't have one big enough, a butcher block works great. A large piece of slate can also be a unique surface, which is what I used."
Pick out unusual shapes and colors.
"Go for the unexpected," Meghan urges. "I went with bluish green and pale orange gourds, gigantic pink dahlias, and yellow quince, which is vibrant and gives off a delicious scent." What's important is to mix different fruits and gourds. "You can use different shapes of squash, small pumpkins, and green artichokes you find at your local store or market," she says.
Arrange around two objects.
"Choose two focal points and then build around them, making sure to alternate size and shape," she says. "In my case, I chose the green and orange pumpkins as my focal points and worked outward, adding an apple, a knobby gremlin gourd, purple artichoke and mango, and persimmons."
Finish with unique items.
"The ends should cascade into a tapering shape," Meghan says. "I put Concord grapes on one end and a large dahlia with the stem intact on the other." She recommends checking out a local farmers' market, which may yield more-interesting finds for berries, fruits, and flowers than a regular grocery store.
These lovely colors celebrate this gorgeous moment in time.