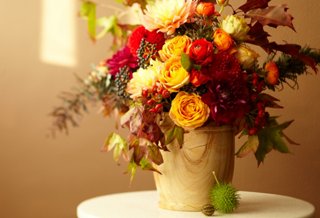 For stylist and in-house floral designer Meghan Guthrie, one of the most captivating things about fall is the beautiful mix of colors. From the reds and oranges to the browns and marigolds, the palette served as her inspiration for this month's arrangement.
First, Meghan decided on dahlias as one of her main blooms in the bouquet. "Dahlias are in season now and they come in all the right fall colors," she says. "I couldn't decide on one shade, so I picked out dahlias in red, deep magenta, and a faded pink."
Meghan then began adding texture and volume. "I put in some fluffy orange garden roses and ranunculus for softness, and then used some rose hips for a graphic shape," she explains.
To complement the larger blooms, she layered on sprigs of acacia and dutch cucumbers, and finally she added fall foliage, which completes the bouquet and gives it a truly autumnal vibe.
For a vase, Meghan chose a stone vessel. "I love its veiny texture and the natural coloring," she says. Because of the arrangement's full size and sophisticated appeal, she suggests displaying it in a prominent spot. "I think it would be great on top of an entryway table or next to a window where the bouquet can be framed by the autumn scenery outside, which was the original inspiration."
Arranging Tip: Gather fall foliage from your backyard. It's an easy thing to source and the leaves will add texture, fall color, and seasonality to the bouquet.
Floral Kit: Above are the elements of our arrangement to help you make one of your own.
"Gather fall foliage from your backyard to add texture, fall color, and seasonality to the bouquet."
—Meghan Guthrie, Stylist