"This month's arrangement had to be suited for a barbecue—it's a must on July 4," says Meghan Guthrie, our resident floral artist.
"I wanted to use casual blooms in a patriotic palette," she says. "And I thought it would be fun to give a nod to fireworks—my favorite part of the holiday."
Meghan suggests using flowers from your garden or collected on a nature walk. "I would have loved to use dandelions and asters, but in a city, they're not readily available. The point is to use what's around you."
For this arrangement, she selected anemones, pincushion flowers, and sweet peas in shades of red, then added Queen Anne's lace and passionflowers for a hit of white. Finally, she layered in a mix of blues including a light-blue hydrangea, deep-blue thistle, and a navy-colored blueberry branch. "I like to use different shades of each color when working around a palette," says Meghan. "Primary red, blue, and white falls flat. This is a living thing, and it should show the range of nature's color."
The pincushions and thistles were a perfect addition, as their blooms mimic the look of fireworks bursting in air.
Meghan selected a blue mason jar as a vase because of its color and its all-American lineage.
Arranging Tip:  Fruits in flower arrangements can provide a great surprise of color and texture. And nothing is more deliciously summer than fresh berries.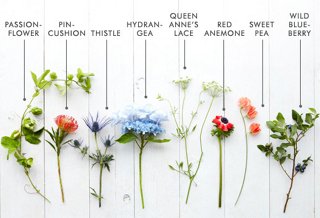 Floral Kit: Above are the elements of our arrangement to help you make one of your own.
"I wanted to use a patriotic palette while evoking my favorite part of the holiday: fireworks!"
—Meghan Guthrie, Stylist