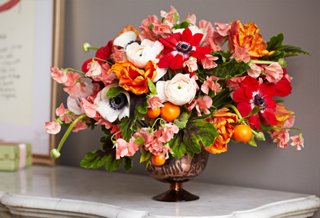 Resident flower artist Meghan is back with an arrangement that is perfect to celebrate Valentine's Day.
But her inspiration came from something other than hearts and chocolate. "It all started with the J. Mendel dress below," says Meghan. "The palette and tulle fabric reminded me of a ranunculus."
Meghan began to build a centerpiece that is an old-fashioned, romantic nod to Valentine's Day. "I wanted the arrangement to be flirty and fun, but not saccharine-sweet."
Using flowers that evoke the color and feel of the dress, she gathered parrot tulips ("They mimic the ruffles");  sweet peas and geranium leaves ("for their subtle, sweet smell"); and kumquats ("I like something seasonal").
To finish, Meghan added red and white anemones. "The white and black give the arrangement some neutral tones to balance all of that pink, red, and orange," she says.
Choosing a rose-hued footed mercury bowl allowed the vessel to "sort of disappear," says Meghan. "And I like that it has a nostalgic candy-bowl feel."
The result? A beautiful, sweet, and thoughtful gesture. Isn't that what the day is all about?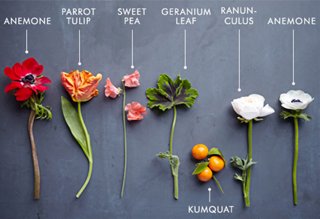 Arranging Tip: Floral foam is a budding arranger's best friend. It is easy to use and helps keep everything in place so that you can create a defined shape. It comes in the form of a brick—you can simply cut the amount you need to fit your vessel. It's best to start with your largest stems and work your way down to the smallest blooms.
Floral Kit: Above are the elements of our Valentine arrangement to help you make one of your own. Take this guide to your florist to have them make one for you.
"I wanted the arrangement to be flirty and fun, but not saccharine-sweet."
—Meghan Guthrie, Stylist