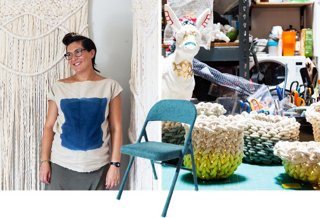 Born in San Diego but raised in Tijuana, Tanya Aguiñiga grew up on the borderline, as Madonna would put it, crossing it daily to go to school and visit family. "The dichotomy of growing up on the border completely shapes my work," says Aguiñiga, who's based in Los Angeles' up-and-coming Atwater Village neighborhood.
Aguiñiga felts metal folding chairs, creates gorgeous macramé wall hangings, weaves rope bowls, dreams up gallery installations, fashions jewelry, and is skilled in looming, metalsmithing, and woodworking. We popped by her studio to talk shop, and watch her in action.
Inspiration
"Mainly I'm inspired by traditions and materials," says Aguiñiga. "Every year I try to visit a different place with a strong textile history; I've been to Peru, India, and all over Mexico. I've never been to Mongolia, where felting originated, but it's on my list!"
Materials
"I get my wool, predyed, from a fiber store in New England, and they get it from Scandinavia," she says. "And the rope I use in baskets, jewelry, and wall hangings is from my 'rope guy' here in L.A. Every piece I get from him is slightly different and has its own beauty—I love letting that shine through."
Method
"For the chairs, I do what's called 'wet felting,' where I spray soapy water on the wool, then rub and rub and rub it, essentially creating dreadlocks, so it tightens up. Each one takes at least 25 hours to complete. And the baskets are woven by hand, then dip-dyed. I also weave my wall hangings by hand—really they're knotted like macramé."
Studio
"My space is about four blocks from my house," she says. "It's in an old warehouse by the train tracks that's been cut up into different studio spaces. It gets pretty lively in there because I have four people working for me, and we're all talking and listening to music. And while it can get crowded, my wood shop and welding equipment are portable, so we can swing them out of the way."
 A Peek into the Process
Photos by Nicole LaMotte.