First we fell for Ashley Woodson Bailey's art—an inspired take on flower photography. Soft and smoky, each image depicts a flower set against a perfectly white or black backdrop, allowing all the delicate shading and natural colors to come into the light. As it happens, dark florals are in fashion right now, and her images show us why that trend has such appeal. But Ashley's work reflects something beyond even her deep passion for flowers—it exudes a straight-up love of life. A recent life-changing accident led the mother of two to focus purely on her passion for flowers. It's a silver lining that led to a new career in photography. We visited her Atlanta studio to find out more.
It's so clear that you have a next-level love for flowers.
"Yes, I can't stress how much I love them. Flowers just give me an overwhelming sense of happiness and love."
 Can you remember where that began?
"I grew up in south Texas around lots of flowers, especially bright beautiful bougainvillea. When I was 19 my parents threw me a big party, and my dream was a Midsummer Night's Dream atmosphere—I wanted guests to feel like they were walking into a forest. I worked closely with the florist, and that's when I realized flower design was a real job."
Did you keep working with flowers?
"Yes—after college I worked in a flower shop and then for a Houston floral designer for years. I had an interlude in New York working in knitwear for Nautica but returned to the South to direct events at the Savannah School of Art & Design. I was always, always using flowers and teaching my team how to arrange them."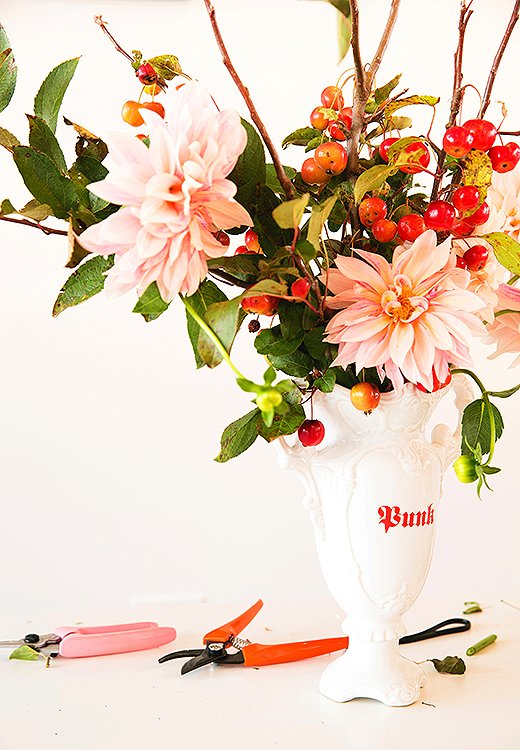 What got you into photography?

"It came about through a pretty tough time, actually. Our family got into a terrible car collision, and I spent a long time—about seven months—recovering. I had to wear a Star Trooper-ish back brace, so there was no way I could work in my usual crazy hands-on way, climbing 40-foot scaffolding and running around."
I'm so sorry. What a horrible thing to go through.

"It was. I just feel lucky to be alive. And I talk about that accident because it's the reason I started channelling all my creativity into photography. When I got out of the hospital, all I could think about was 'I need to get flowers for everyone who's been helping our family.' And while I was in bed at home, I was surrounded by all these flowers—wildflowers from friends, bouquets from my husband—and I started taking pictures with my iPhone and training myself to edit them. It was really just to entertain myself."
Tell us what you're trying to achieve in your editing process.
 "I use a program called Afterlight to apply a series of filters and layers—I just spend hours refining them to get them into a hazy, smoky, soft place. In the beginning, I actually tried shooting with a giant fancy digital camera, but the iPhone gets a softer look that is more my language."
I want the flowers to look painterly and romantic, to become a sort of sexy picture of a flower
What are your favorite flowers to shoot?
 "I love ranunculus. I know there's a craze for them right now, but I just want to say I was early—I got a ranunculus tattoo on my ankle back in the '90s! And like every other woman on the planet, I love peonies. And scabiosa, which is the worst name for a flower, but they are so beautiful. And dahlias—I go to a farm that sells so many variety, and I loved shooting the café au laits."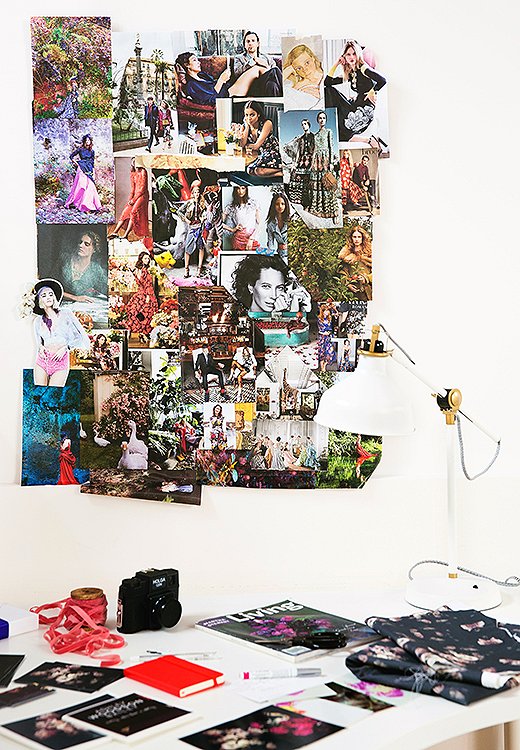 Do you always shoot in your studio?
 "Actually, no. The flowers arrive in buckets, and I arrange them in the studio and find the right backdrop, but I mostly shoot them in my backyard. I love the natural light. And sometimes I'm walking down the street and see a flower, and just photograph it on the spot. Banks is a photograph I took in Savannah, when I saw some Lady Banks roses growing on the side of someone's house."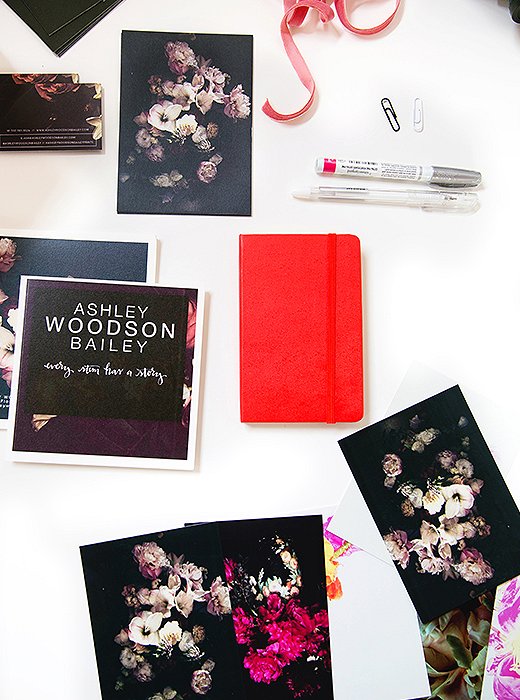 What's the best moment to photograph a flower?
 "I really capture it through the whole evolution—from when it's freshly picked, beautiful, and fresh until it's wilting, brown, and dead. I'll take about 200 photographs of a single stem. The photograph I call The Dance shows roses that are dead—I let them fade, put them in the rain, got them dirty. In the image, they look like a row of long-legged ballerinas in tutus."
"I'll take about 200 photographs of a single stem.
Some of your work references flower still lifes by Dutch old masters. Any other important influences?
 "I don't study something and try to recreate it. But I love every single thing that [photographer] Tim Walker does. His images are so ethereal and crazy, and he uses flowers a lot. And if I could partner with anyone in the world, it would be [fashion designer] Dries van Noten, who does a lot of amazing flower prints."
How do you get such a beautiful print from an iPhone image?
 "I think it has everything to do with the way I edit—nothing is supercrisp on purpose. But yes, I'm as surprised as you are with how well they turn out! When I opened my first printed piece, I actually cried. There's no pixilation. The printer in Los Angeles does everything on a deep matte paper, which really brings the flowers to life."
You often debut work on Instagram. How has that helped the exposure of your art?
 "While I was recovering, I started putting my edited photographs on Instagram. And then the day I started selling prints, Grace Bonney [of Design*Sponge] wrote about them, and then Cup of Jo. It was so wonderful; people just went crazy. That's let me focus on sharing my love of flowers—taking photographs and teaching arranging classes in the studio."
Any must-follows on Instagram for other flower-lovers?
 "I follow a lot of Australian florists—since our seasons are opposite, they often use flowers that I can't get my hands on, and I love to see what they're creating. I love the feeds of@doctorcooper, @afloralfrenzy, @flowerwild, @sarah_winward, and @nicamille."
Flowers just give me an overwhelming sense of happiness and love.