Claire Stansfield is the master of creating inviting spaces that make you want to kick back and stay awhile. For the past four years, Stansfield has lived in a Robert Byrd-designed home nestled in the Hollywood Hills with her husband, John Speaks, and two sons, seven-year-old Lucky and five-year-old Rocco. Decorating has always been a hobby, but it wasn't until she sold her fashion company, C&C, in 2005 that she turned her attention to interiors, including those of her husband's restaurants (AOC and Hyperion Public) as well as her own home. Through word of mouth, she's taken on projects including the homes of chef Suzanne Goin and actress Jennifer Jason Leigh. "If you want the comfortable-chic, easy family living, that's my thing," Stansfield says.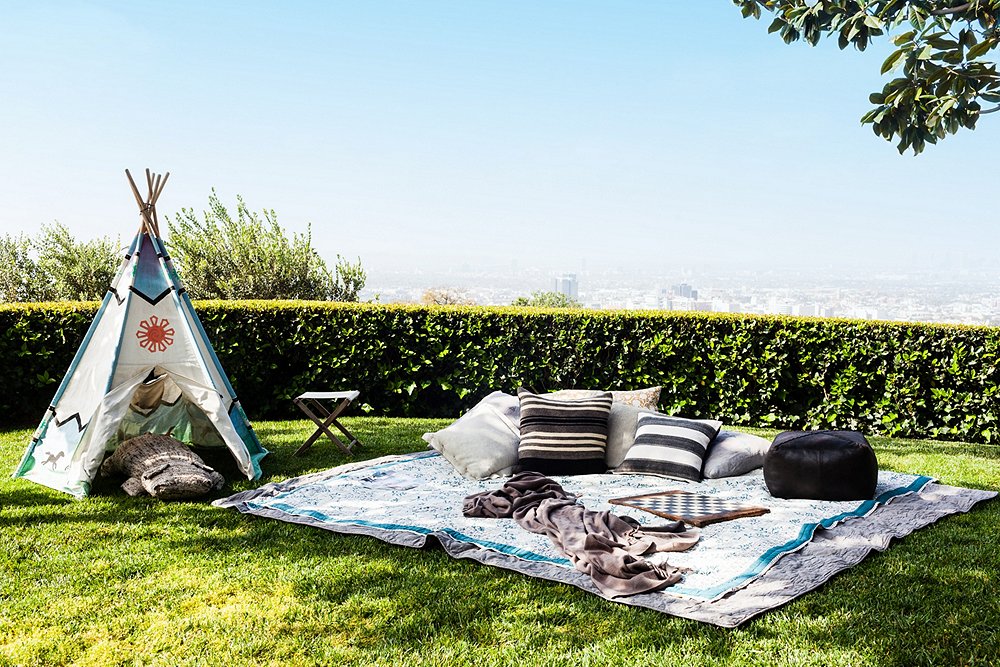 Field of Dreams
Essentially, all of Los Angeles is Stansfield's backyard. Framing her beautiful view of the city are traditional hedges and a lawn that she wanted to feel like an English garden. The lawn is a daily hangout spot that she makes all the more enticing by laying out blankets, pillows, provisions, and a teepee for anyone who wants some shade. "The blanket comes out every morning—and not because there's a photo shoot," she says. "It's part of the routine."
Game Time
It's no surprise that Stansfield entertains frequently—and effortlessly. When pals or relatives are over, her goal above all else is to ensure that they have fun. A consummate collector of vintage objects, she'll set out throwback games—backgammon, cards, checkers played using stones—in a large basket for the young (and young at heart) to help themselves. "It's easy weekend entertaining," she says.
Lounge Act
Right off the back of the house is the main outdoor entertaining space, kitted out with a Design Within Reach patio set and a few of Stansfield's tried-and-true decorative touches. "You can create a homey space with cushions, candles, and funky pots," she says. When the party gets large, Stansfield adds extra seating by dragging benches and poufs out from the house.
Amazing Alfresco
Inspired by a picture of a French outdoor eating area she saw in a magazine, Stansfield created this space, which extends right off the den. She used rolls of inexpensive twig fencing (available at good garden-supply stores) to create the feeling of a thatched roof. It's an ideal indoor/outdoor room that the family often uses. "It's easy to hang out there at night without feeling like you're outside while the kids are inside and you need to keep an eye on them."
Morning Routine
This delicious breakfast of strawberries and granola isn't far from how Stansfield normally entertains. "I try to do buffet style where I'll just stack some Heath bowls, a big pile of linen napkins, a basket where I put cutlery, bowls of fruit, and a baguette so people can just graze. It works for kids too," she says.
Family Room
This completely shaded nook is where the family convenes to have a cup of tea, read magazines, or play cards. To make it the ultimate lounging spot, Stansfield makes sure there are plenty of pillows (the Army canvas ones are from her favorite store, NK Shop), refreshing drinks, and entertainment on hand. Here, fun comes in the form of a vintage Pierre Cardin backgammon set, a gift from a friend.
There's a rule in our house: We don't shut the doors. It's an open energy flow that makes people feel comfortable.
Natural Order
Vintage printing-press drawers that once held block letters are used as catchalls for rocks Lucky and Rocco find on the beach. It's something of a family custom: "My mother is German, and it's a traditional German child's thing where you stored your stuff," says Stansfield, who had a similar collection as a child. Rounding out the organic installation are a stoneware jug, dried flowers, and animal horns. "After a while I put the indoor flowers outdoors in jugs, and then they live out there until I get tired of them. Nettles, weird grass reeds, or craspedia are great—and you get a double life from them."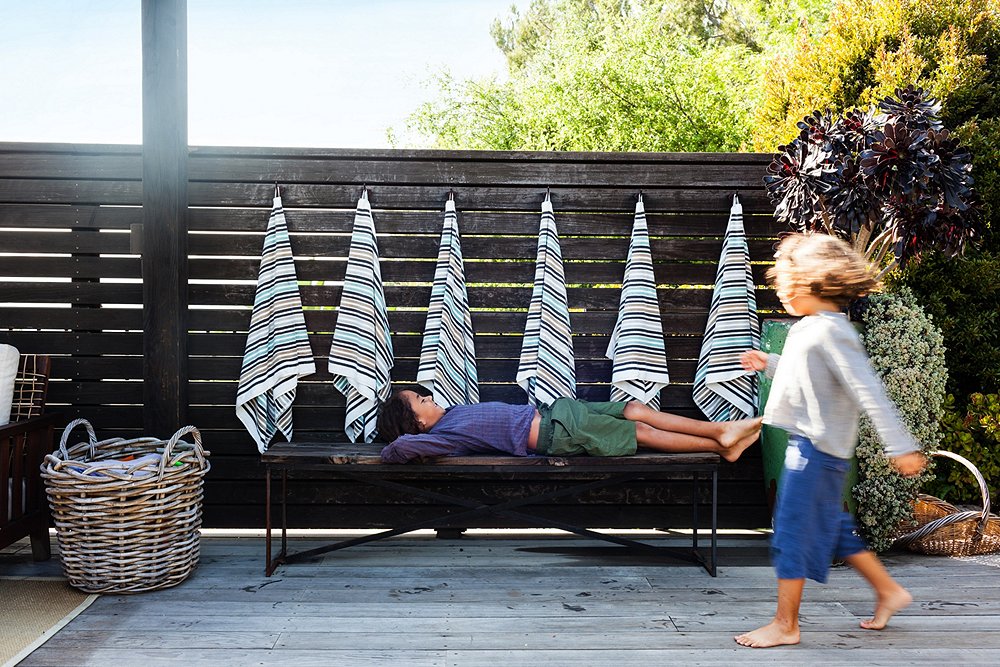 Make a Splash
Here, Lucky (on a bench from Calypso Home) and Rocco play poolside. Stansfield keeps a big basket filled with outgrown bathing suits, sunblock, pool toys, and goggles on deck so friends can go for an impromptu swim. "You can never have enough baskets!" she says. Stansfield, who combs "hippie head shops" for African baskets, uses them daily for entertaining and corralling "stuff."
Secret Garden
On the other side of the dining nook is a glass-enclosed greenhouse that the previous owner left full of plants. Stansfield kept most of the greenery as she found it but added lots of hardy succulents and decided to decorate it as she would any other room. "I'm not a gardener," she says. "But I can move plants around and make them look nice."
Hothouse Hangout
Stansfield placed a vintage wooden dining table in the middle of the greenhouse and added a sound system, creating a green hideaway that the whole family enjoys. "My husband sits in here with his coffee, and I might have a friend in there and put on some classical music," she says. "It's so surreal."
Snack Time
Entertaining three or four times a week doesn't have to be overwhelming. For impromptu get-togethers Stansfield stocks the pantry with tempting nibbles like olives, avocados, nuts, and cheese, which she puts out on help-yourself bowls and platters. Fresh-cut herbs—rosemary, basil, parsley—are an extra-special touch that she sprinkles on food or even slips into flower arrangements. "They look and smell beautiful," she says. "That extra-sensory thing is very powerful."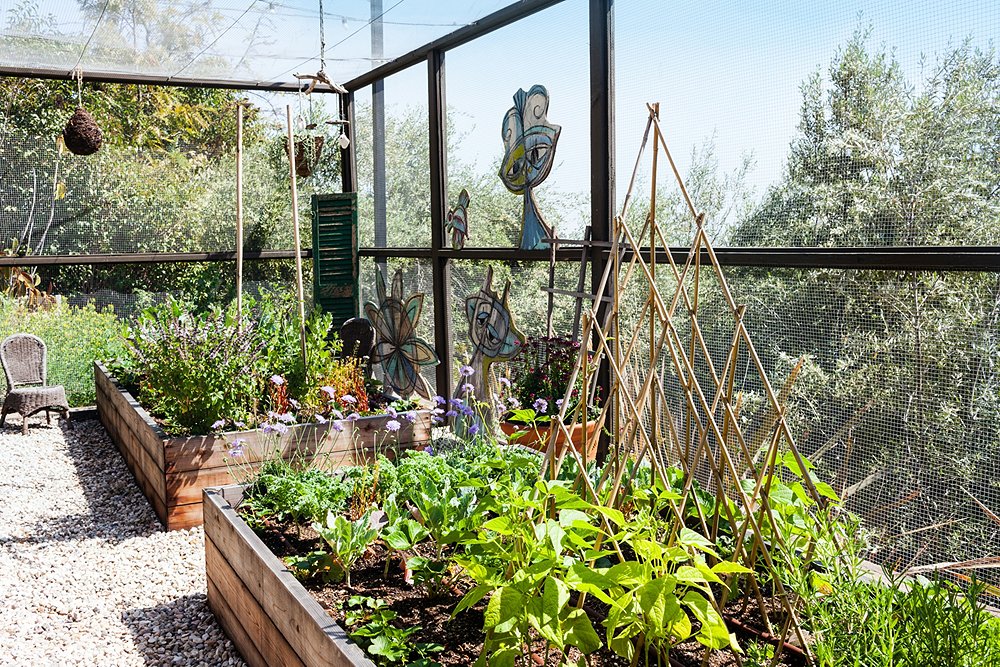 Locavore Living
Down the hill is an enclosed garden that Lauri Kranz of Edible Gardens LA helped build. The walk-in space was created out of necessity—local animals were feasting on the produce—but Stansfield decorated it so it feels like a New York City community garden. Hanging orbs, macramé plant hangers, and whimsical artwork by Thomas Campbell (a gift from Stansfield's brother) are hung from the wire fencing for a magical vibe. A swing set and a sandbox were installed so the kids can hang out while Stansfield picks green beans and kale, and a bistro set purchased on One Kings Lane creates a sitting area where she can pause and take in the view.