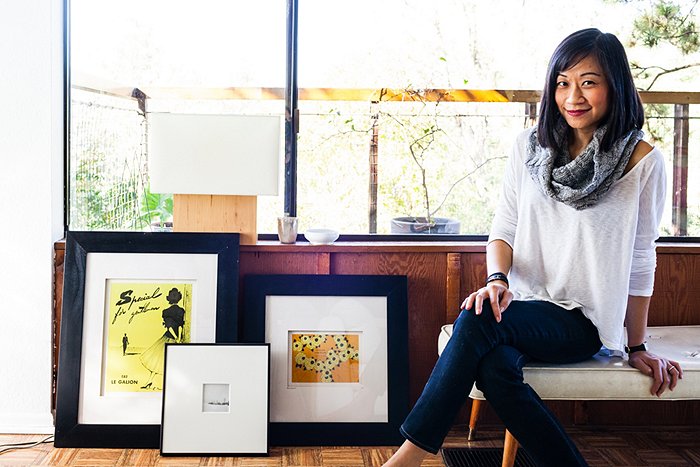 We've long been Peggy Wong fans. She's the ultimate creative dynamo: a globe-trotting travel and architecture photographer, the creative director of new travel magazine Wayfare, the designer of a line of stationery and rugs for her brand bluepoolroad, and the blogger behind onbluepoolroad. She's even been a One Kings Lane Tastemaker because her design perspective is just so crisp and cool.
When we heard that she was relocating from Los Angeles to San Francisco, we thought it would be fun to get a peek at her place before everything got boxed up and shipped north. No surprise, her Los Angeles townhouse came with its own pedigree: Called the Neutra Treetops, it's located in the Neutra Colony in Silver Lake, and was designed by Dion Neutra, the son of famed modernist architect Richard Neutra, for the architectural firm that his dad started and he continued.
Great Wide Open
"I love the view and openness of this room—it's like I live in a treehouse!" says Wong of the living room, which has grandstand-quality views of the Silver Lake Reservoir. To balance out the dark wood shingles and paneling, which can't be painted due to the home's historically noteworthy status, she stuck with a light palette for almost everything from the biggest furnishings (couch and rug) to the smallest accents (frames, planters, and even vases). "I like to bring in color through pillows and artwork," she says. "I tend to be drawn to graphic statement pieces, especially typographically driven ones."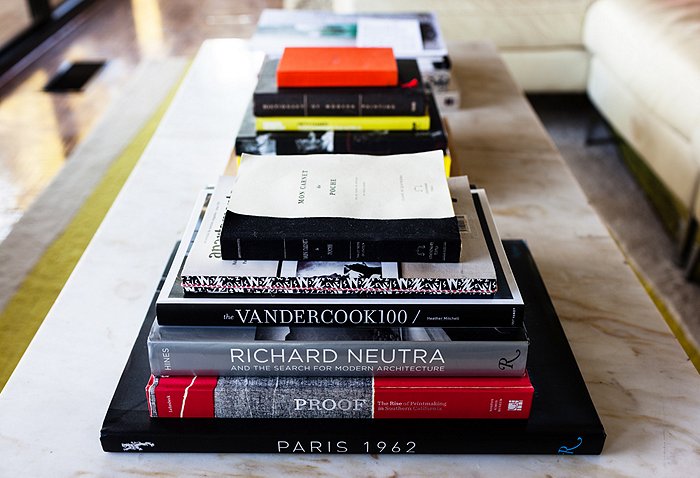 Book Smarts
"One of my favorite homes is the Kaufmann House in Palm Springs, designed by Richard Neutra, so it's no surprise that I live in a Neutra townhome!" says Wong, who even owns a couple of tomes on the esteemed architect.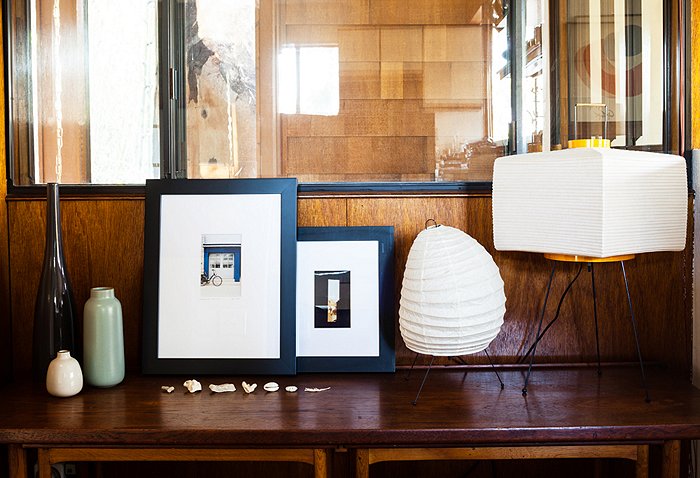 Mix Master
When Wong was growing up, her design-minded parents mixed contemporary furniture and Chinese antiques with aplomb. "We had a Saarinen round table with chrome chairs in the dining room, and when you turned around, there was a Chinese screen and a wall of antiques," she says. "That combination of aesthetics has always stayed with me." And it's apparent in the entryway where sleek vases from Faïencerie de Charolles and Heath share space with Akari light sculptures by Isamu Noguchi. As for those photos in the middle? Her own shots snapped on month-long sojourns to Europe.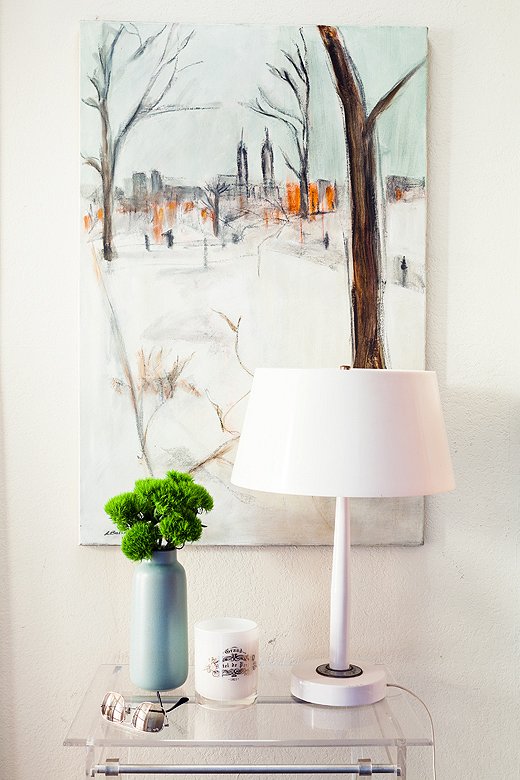 "I've learned to be an editor of my own home. The times when I was an emotional shopper, I gave away my purchases a day later. "
—Peggy Wong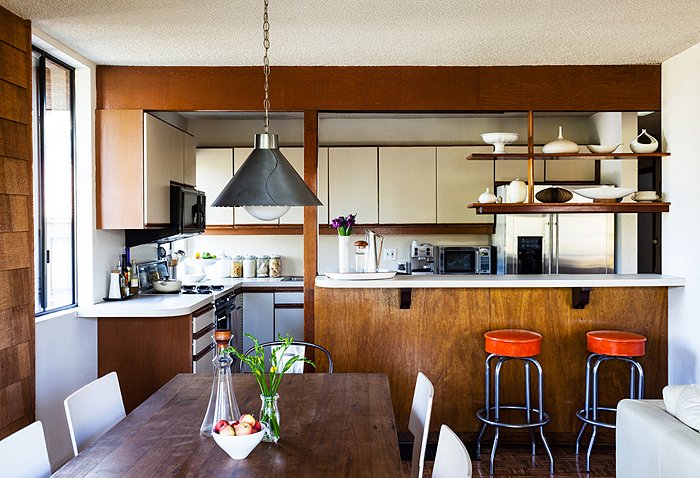 Lighten Up
The retro-cool kitchen opens up to the living and dining areas, letting in the views along with tons of natural light. But because it also has its fair share of wood paneling, the first thing Wong did was "put in a stainless-steel fridge!" she laughs. "I wanted to brighten up the kitchen, but I wasn't allowed to change much, including that black vintage microwave above the stove."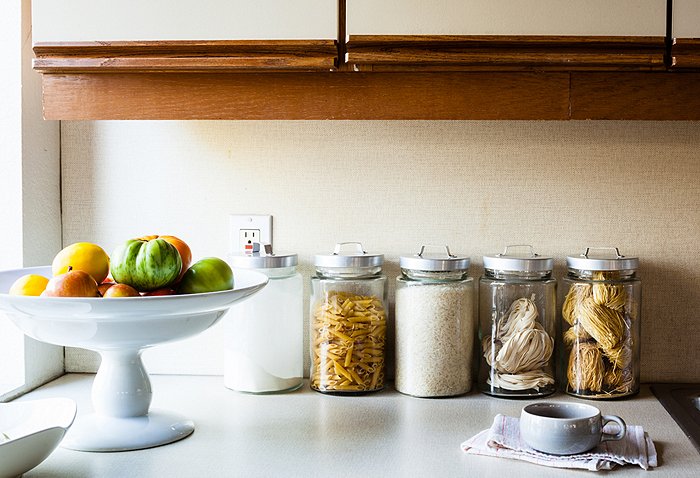 Edible Arrangements
Wong stores dry goods in glass jars to "add a subtle layer of texture without being too 'loud,'" she says. In much the same way, her fruit and veg are on display to inject a bit of color in the kitchen—no paint needed. Plus, tomatoes, which bring a ton of color to the party, aren't supposed to be refrigerated anyway.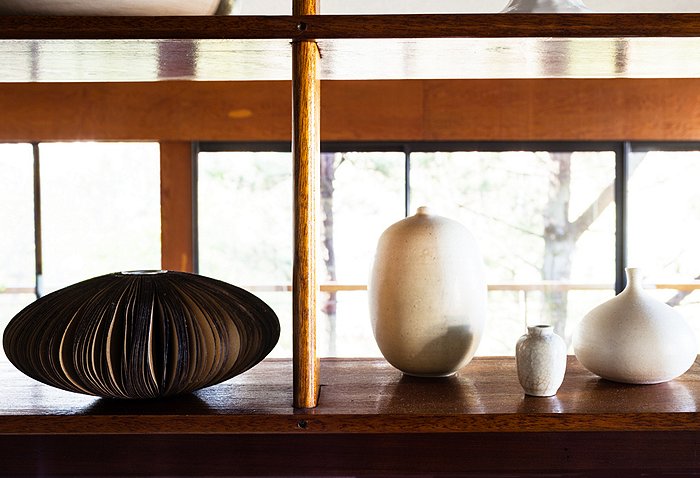 Vase Value
"Over the years, I've collected so many white ceramic and ironstone pieces—from an 1860s ironstone footed bowl by Anthony Shaw to everything Eva Zeisel," says Wong. "And now I have many of my parents' antiques in my own home too." On this particular shelf, a feathered paper sculpture she pounced on in a gallery is juxtaposed with three ceramic pieces (from left): a vase she stumbled on in a museum gift shop, an antique Chinese crackle-glaze porcelain vase from her parents, and a piece by Sara Paloma that Wong picked up while visiting the artist's Emeryville, CA, studio.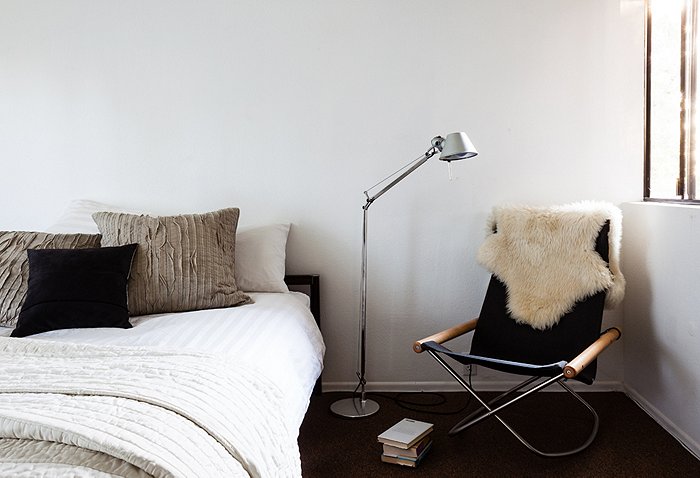 Bare Necessities
Because she works from home, Wong wanted her bedroom to be an utter escape, clad only in neutrals. She modeled it after a hotel, her ultimate design inspiration. "I love the simplicity of a luxurious hotel room, which has just those few essentials," she says. In this case, those essentials include one of Takeshi Nii's NY Chairs, which he designed in 1958 (fun fact: it's a rocker!). "I sat in it at the store and knew straightaway I had to have it. But it wasn't until I brought it home that I felt a sense of familiarity with it, so I went through my old photographs, and what did I find? A shot of me when I was three, sitting in this same chair—except it was white instead of gray—waving and smiling."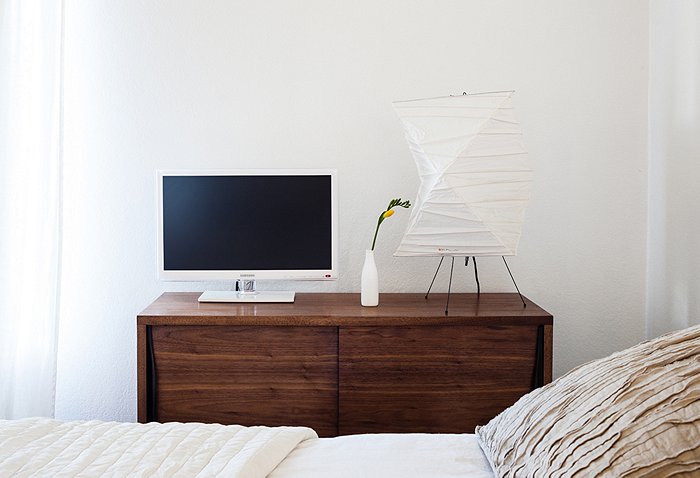 "I intentionally kept my bedroom quite bare and utilitarian. I'm a minimalist at heart! I'll think, 'What are the absolute essentials?' and then weed out the unnecessary components."
—Peggy Wong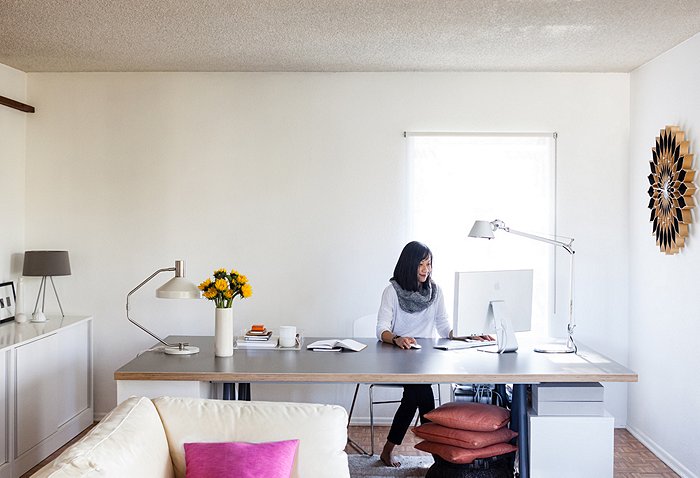 Office Space
Wong's pared-down, minimalist leanings extend to her office, which is tucked into one end of her living room but doesn't cramp her style thanks to its simplicity. "I knew all along that I wanted my work space to be part of the living room," she says. "I love looking out and having nature surround me while I work. Many times squirrels will be running up and down the trees and across the roof."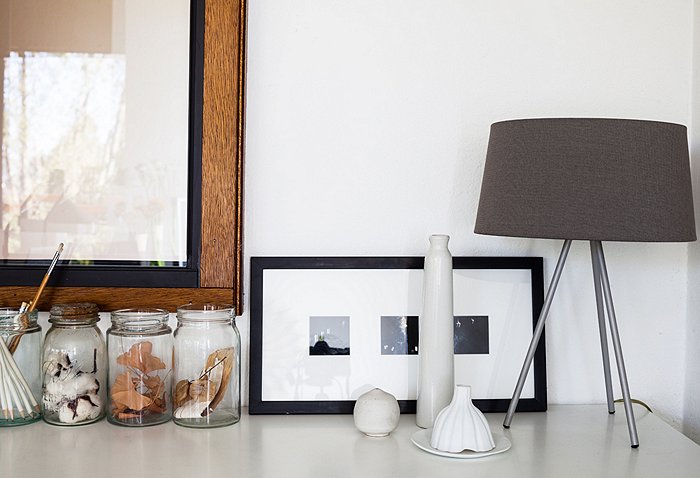 All in the Details
"The tripod lamp is the first piece I bought that really streamlined my taste. I've had it for more than 10 years, and love it as much as the day I bought it—if not more," says Wong. Its hard gray lines complement the softer curves of its neighboring ceramics. "The one in the front is called Igloo de Nuit by Tsé & Tsé," she says. "It's made of the most delicate matte porcelain, and glows like an igloo when there's a tea-light candle inside."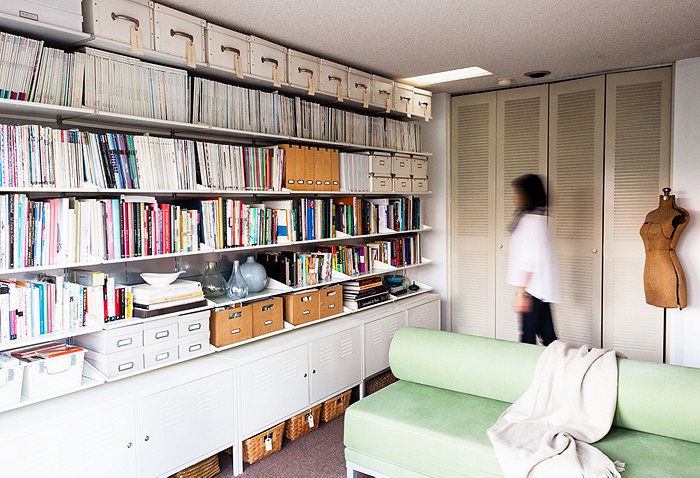 Shelf Respect
Wong turned her second bedroom into a storage-stuffed overflow office space, stocked with endless inspiration from matchbooks to garment-hanger tags—her "research library," as she calls it. "I knew right away that I wanted white shelving and cabinets in here, because I'm organized to a fault. Every container, basket, and binder is labeled. I travel so much that when I'm home and working, I need everything to be in place."