Autumn Adeigbo is on her way to becoming a fashion icon. The Nigerian-American designer counts Mindy Kaling, Kerry Washington, Amanda Gorman, Phillipa Soo, and Busy Philipps as fans of her eponymous fashion line. In 2020 she became the first Black woman to raise more than $1 million in venture capital funding for fashion. Autumn is building an empire.
"I've always had a love for fashion since I was a child," says Autumn. She fondly remembers her mother sewing her clothes as a child and introducing her to wild prints and patterns. You can find those same exuberant designs in her interiors style. We first came across her wild living room when Domino ran a story on her featuring our popular Marceau Sofa. We knew we had to sit down and chat with her about her style. 
"I just love color and print," Autumn says. "I think those two things really tell a story of who you are." Autumn's story is colorful. In a room filled with bright pinks, oranges, and yellows, her Marceau Sofa in Cream/Gray Cheetah Linen is neutral. "I looked all over the market" for something like it, she says. She was drawn to the quieter colors and her favorite pattern: cheetah print. "It's so fun and original," she says. The creamy white and soft grays act as foils for the brilliant colors throughout her home. She paired the sofa with animal-print pillows, proving that you can't have too much of a good thing. "I love walking into a place that creates joy," says Autumn.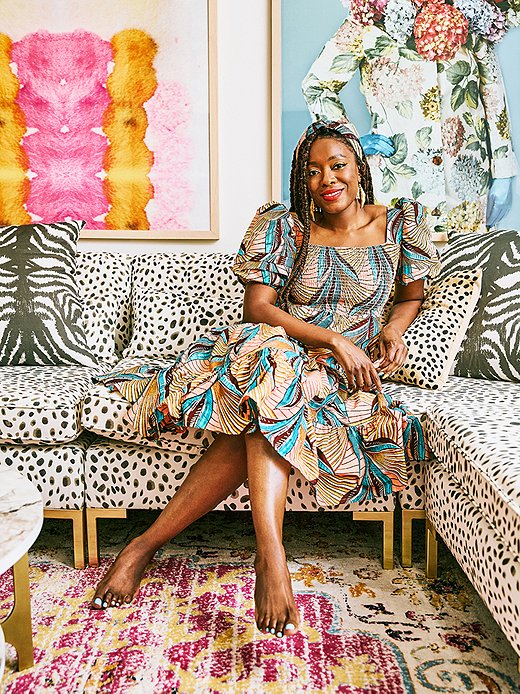 Get to Know Autumn 
Autumn's eponymous line is a sustainable look into individuality. Her Nigerian mother instilled a love of clothes in her at a young age. After graduating with a degree in economics from Spelman College, Autumn asked herself what she wanted to do for the rest of her life; shortly thereafter, she enrolled at Parsons School of Design. She has gone on to work for storied brands and was selected as a prestigious Tory Burch Fellow in 2019. Her clothing has been featured in magazines the world over, and she is working on expanding her brand to include home decor. Get to know Autumn a little better below. 
How she describes her style: "Culture. Color. Conscience."  
Her fashion influences: "Tory Burch. I respect her as a businesswoman. She has created a whole lifestyle around her vision. Besides that, my mom. She set the foundation. I wouldn't have this love of fashion if not for her." 
Favorite color: Autumn's hard-pressed to name just one favorite color. Among her top contenders are yellow and pink. "I love pink. I used to hate pink, which is so funny." 
Favorite style era: "I love the freedom of the '80s. I love how people were so free and wild."