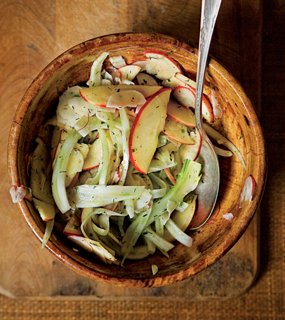 Photo by André Baranowski, courtesy of Saveur
Fennel, Sunchoke, and Apple Salad

Delicious food. Easy entertaining. When it comes to autumn get-togethers, the little things really make them special. A crisp fennel, sunchokes, and apples salad will do just the trick.
Ingredients
Serves 6–8
½ cup extra-virgin olive oil
2 tbsp. rice vinegar
2 tbsp. fresh lemon juice
2 tbsp. chopped fresh chives
2 tbsp. chopped fennel fronds
Kosher salt and freshly ground pepper to taste
8 radishes, trimmed and very thinly sliced
6 sunchokes, peeled and very thinly sliced
2 gala or fuji apples, cored and very thinly sliced
2 fennel bulbs, trimmed, cored, and very thinly sliced
1. In a bowl, whisk together oil, vinegar, lemon juice, chives, and fennel fronds to make a smooth vinaigrette. Season vinaigrette with salt and pepper to taste.
2. Add radishes, sunchokes, apples, and fennel. Toss well, cover, and refrigerate for at least 30 minutes or up to 1 day, to allow the flavors to come together. Season with salt and pepper before serving.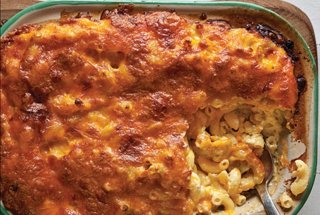 Photo by André Baranowski, courtesy of Saveur
Southern-Style Macaroni and Cheese

Home-cooked meals. Cozy evenings. A hearty dinner shared with friends is the M.O. for fall, and a savory dish like rich mac-and-cheese is sure to bring cheer to any crowd.
Ingredients
Serves 8–10
1 1⁄2tsp. kosher salt, plus more to taste
8 oz. hollow pasta, preferably elbow macaroni
Butter, for greasing
7 oz. extra-sharp cheddar, cut into 1⁄2″ cubes
   (about 1 1⁄2 cups), plus 6 oz. grated (about 2 cups)
2 tbsp. plus 1 tsp. flour
1 1⁄2tsp. dry mustard
1⁄4 tsp. freshly ground black pepper
1⁄4 tsp. freshly grated nutmeg
1⁄8 tsp. cayenne pepper
2⁄3 cup sour cream
2 eggs, lightly beaten
1 1⁄2 cups half-and-half
1 1⁄2 cups heavy cream
1⁄3 cup grated onion
1 tsp. Worcestershire
1. Heat oven to 350°. Bring a 4-qt. saucepan of salted water to a boil. Add pasta and cook until cooked halfway through, about 3 minutes. Drain pasta and transfer to a greased 9″ x 13″ baking dish. Stir in the cubed cheddar cheese and set aside.
2. Combine 1 1⁄2 tsp. salt, flour, mustard, black pepper, nutmeg, and cayenne in a large mixing bowl. Add the sour cream and the eggs and whisk until smooth. Whisk in the half-and-half, heavy cream, onions, and Worcestershire. Pour egg mixture over the reserved pasta mixture and stir to combine. Sprinkle the grated cheese evenly over the surface. Bake until the pasta mixture is set around the edges but still a bit loose in the center, about 30 minutes. Let cool for 10 minutes before serving.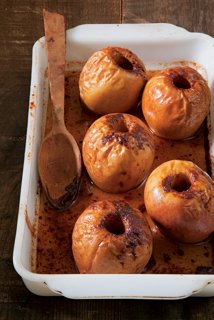 Photo by André Baranowski, courtesy of Saveur
Baked Apples with Caramel Sauce
Tasty treats. Staying in. Whether it's a soiree with close friends or a casual night curled up on the couch, yummy desserts like baked apples drizzled with caramel are definite delights for fall.
Ingredients
Serves 6
FOR THE BAKED APPLES:
1⁄4 cup sugar
1⁄4 cup maple syrup
4 tbsp. unsalted butter, at room temperature
2 tbsp. ground cinnamon
1⁄4 tsp. kosher salt
6 firm Fuji apples, stemmed and cored
Ice cream, for serving
FOR THE CARAMEL SAUCE:
1 1⁄2 cups sugar
1⁄3 cup heavy cream
1⁄2 cup raisins
2 tbsp. dark rum
1. Make the baked apples: Heat oven to 325°. Combine sugar, syrup, butter, cinnamon, and salt in a bowl; set aside. Cut 1⁄4″ from bottom of apples so that they sit flat; transfer apples to a 9″ x 13″ baking pan. Fill hollow cores with reserved sugar–syrup mixture. Cover apples with foil; bake until tender, about 50 minutes.
2. Meanwhile, make the caramel sauce: Heat sugar and 1⁄2 cup water in a 2-qt. saucepan over medium-high heat. Cook, without stirring, until amber colored and a candy thermometer inserted into syrup reads 330˚, about 20 minutes. Remove pan from heat; let cool slightly. Add cream (caramel will bubble up slightly). Stir in raisins and rum; set aside. Serve apples with caramel sauce and ice cream.
For more delicious recipes for salads, mac-and-cheese, and desserts this fall, head over to Saveur.com:
Savory Salads
Macaroni and Cheese
Apple Desserts and Drinks