If you love the look of a patterned tile backsplash but not the options you're seeing, I have a suggestion: flooring! Sounds strange, but after discovering the Charleston-based company Mirth Studio recently, I'm a total convert. Its signature wood tiles are a fresh riff on the traditional Moroccan cement tiles out there, can be sealed to make them more durable in high-moisture areas, and couldn't be easier to install yourself… in an afternoon! Intrigued? Keep reading for my step-by-step guide to the project.
Step 1: Mix and Measure
I love the idea of mixing and matching a variety of designs for an update on an old-school look, so to get started I picked out four patterns. I measured my space and ordered the correct number of each tile so that my backsplash ran the width of the countertop and was two rows high.
Step 2: Lay It Out
Laying the tiles out on the floor will help you refine your mix-and-match design before you put it on the wall. One key tip is to remember to snap a pic with your camera or phone to help you remember the order you landed on. Before you install, apply a layer of protective sealant to the front of each tile to help block moisture.
Step 3: Go for It
A liquid nail is a really simple way to adhere the tiles to your existing surface. The best part is, you don't have to deal with mixing any special grouts or a messy cleanup. Simply start with the bottom row of tiles so that it lines up with your countertop and work your way up.
Tip: If you are a renter you can try putting up the tiles with a new product I found, removable and extra-strong glue dots.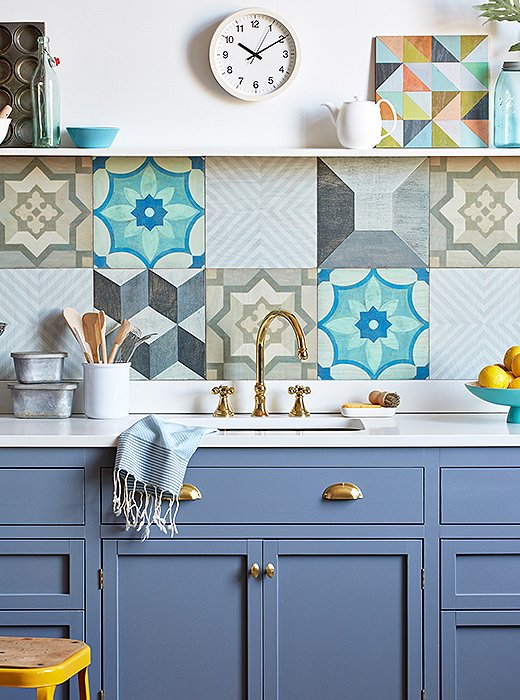 Step 4: Finish Up
Rather than go all the way up the wall with the tile, I decided to finish off the look of the backsplash (and provide a little storage) by installing a shelf along the top edge of the tile. It gave it a clean edge and balanced all that pattern with a healthy dose of white.