Our idea of the perfect summer soiree? Pitching a tent in the backyard, inviting some friends, and reveling in the great outdoors. No matter what you call it—upscale outdoor lodging, un-roughing it, or glamping (glamorous + camping)—old-school campsites have gotten a serious makeover. Companies like Shelter Co. will do the work for you, but there's just something to creating your own bespoke camp—at home. Not only does it make for a memorable summer party for guests, but you don't have camp showers and curious bears to contend with. Read on for a day-to-night itinerary packed with chic comforts of home, then get glamping!
1 PM: Welcome Happy Campers
Drape tables with indigo cloth or blankets, and serve up easy-to-mix cocktails (like a Dark 'n' Stormy) with store-bought dip and crackers. Then stoke up the summer barbecue one last time.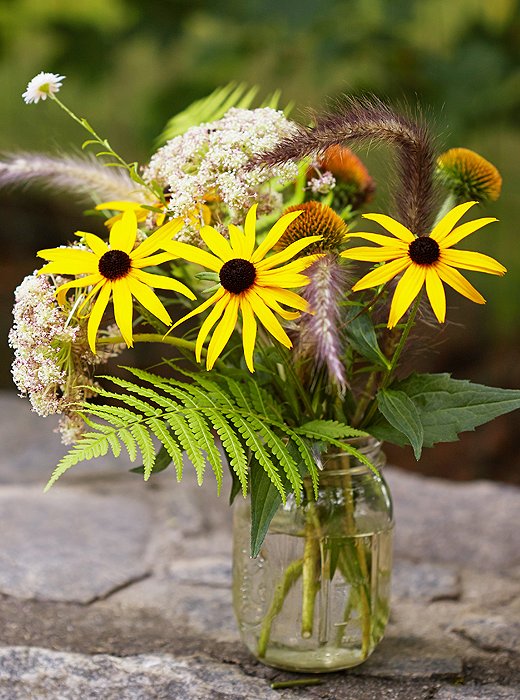 3 PM: Wildflower Walk
On the afternoon activity board? A walk around the grounds (or a nearby trail) to gather nature's best. Keep jam or pickling jars handy for guests to arrange their stems. Scatter them around the campsite for decor that everyone can take home later.
5 PM: Game On!
Everyone gets some free time to do as he or she likes. Encourage some healthy competition by bringing out the board games. No tables needed: Simply spread out some blankets (conveniently corralled in a metal bin). Yatzee!
7 PM: Gather 'Round
Create a comfy conversation pit for after-dinner drinks, s'mores, and ghost stories. Pull chairs from outside (and in), pile on the pillows and blankets, and top a tree stump with a silver tray. Voilà: a high-low lounge they'll never want to leave!
11 PM: Time for Bed
Guests who are staying over will be blown away by these luxe extras. Layer some rugs inside the tent to create a souk-meets-Yosemite vibe. A chandelier comes courtesy of a camp lantern, and a garden stool filled with string lights just outside the tent provides a pathway for nighttime bathroom runs.
The Following Day…
8 AM: Morning Glory
Bring out a tray of freshly brewed coffee and croissants and serve on a table set with fresh flowers. It's a fine way to cap off the camp adventure!