If you've snuck a peek inside Day's Cobble Hill, Brooklyn, apartment, you're already familiar with her casual-chic sense of style and curatorial eye for design. So it's no surprise that she recently decided her backyard was due for a major overhaul—just in time for summer. "We moved here last August and went straight into indoor season. We've been staring at our backyard covered in a foot of snow all winter," she explains. "So it's going to be an open door all summer long."
She didn't stop with just a few updates. With a bit of planning (and lots of planting), she took to the spade and transformed her entire backyard—from the balcony deck to the concrete "garden" lot—into a comfy and inviting place for her family. Read on to see how she took the space from dreary to absolutely dreamy.
1. THE GARDEN LIVING SPACE
The Challenge:
Day wanted to break up the rectangular backyard space into a few different areas for lounging. "There are these old pavers, there was nothing growing; it just looked like a parking lot," says Day, who also wanted to bring her love of mixing old and new (as she does in her home) outside to her backyard.
The Solution:
Day created a living area that has several seating options, including a comfy garden sofa (for up to three people) and chic weather-resistant brass chairs (which are easy to move around). To help ground the living space, she used a graphic outdoor rug that contrasts beautifully against the bamboo fencing she had installed all around the backyard.
"I'm expecting a baby, so I've been spending a lot of time out here on the sofa relaxing while Arthur is playing in the garden," Day says. "I'm really excited for more of this all summer."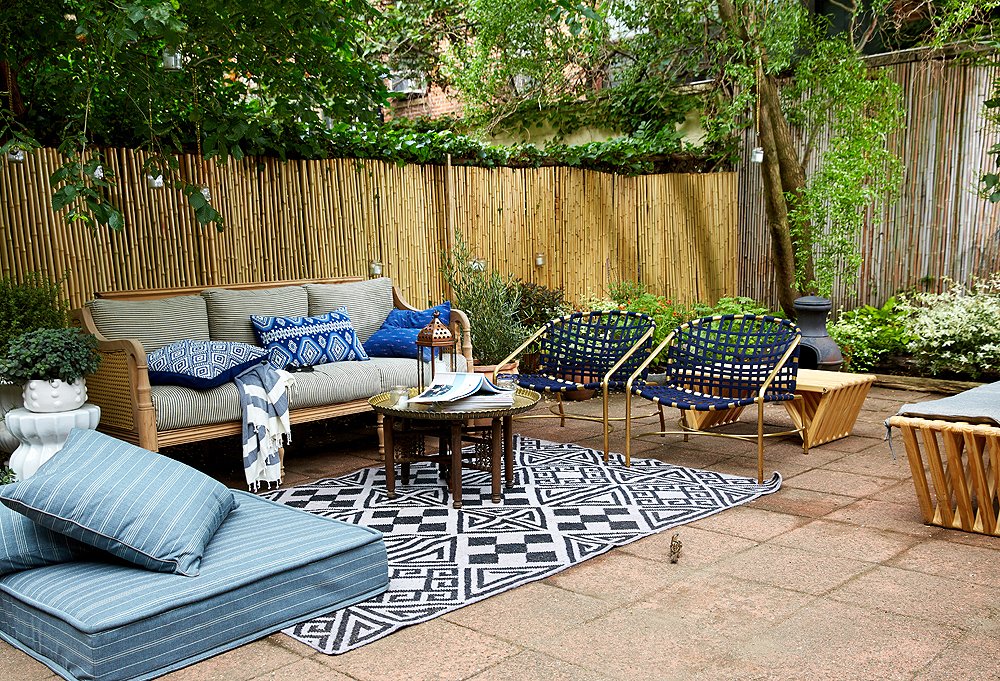 I want the garden to feel a little haphazard and overgrown. The point of a garden is not to be perfectly clean and polished; I want it to feel a little collected.
Getting Comfy On the Floor
True to her classic yet relaxed sensibility, Day brought in outdoor pillows and floor cushions, which have custom covers in a striped outdoor fabric by textiles company Perennials. The piled-on look keeps the backyard from feeling overly formal and adds a laid-back vibe. Her three-year-old son, Arthur, has already found his favorite spot.
All Clustered
As a way to distract the eye from the pavers on the ground, Day filled the backyard with clusters of planters. "I didn't want all terracotta but more like urns and contemporary planters that feel more collected and not matchy-matchy," she says.
Secret (City) Garden
To realize her collected yet overgrown look in the backyard, Day filled the outer border of the garden with flowering planters. "I wanted to fill the border with a lot of potted plants to break up the squareness of the backyard," she says. "It helps to create seating areas, and I wanted to put planters around them so that there's always greenery where you're sitting."
Entertain On the Go
As a testament to her love of mixing old and new designs, Day brought in a collapsible vintage Moroccan table with a removable metal tray top (perfect for entertaining and easy to carry) to be the centerpiece in the seating area. "Our house is a mix of traditional architectural details from the 19th-century brownstone, which we left as is, and modern upgrades," she explains. "We wanted the outside to be a reflection of that."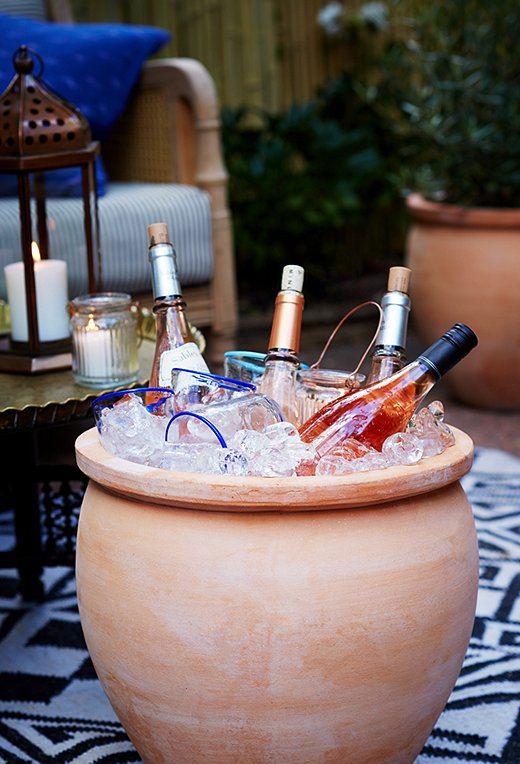 Simply Cool
Day ingeniously rethinks a large planter as an oversize ice bucket and wine cooler for entertaining in her backyard. This stylish alternative to plastic coolers means there's no need to dump out the ice, thanks to the drainage hole at the bottom.
2. THE OUTDOOR DINING AREA
The Challenge:
Day, who loves to entertain, wanted to turn her makeshift outdoor dining space into a gathering spot that can accommodate big parties.
The Solution:
An expandable table and outdoor benches and chairs offer flexible seating for large groups. Day positioned the benches to face the living area, which keeps the space feeling open and makes it easy for guests to move around. She also padded the seats with cushions in Perennials fabric—added comfort for guests to enjoy meals well into the night.
Outdoor space in New York is really rare, so entertaining outside is a draw. I want to be able to have big evening hangouts with our friends that go on and on.
Hanging Some Mood Lighting
For lighting, Day brought in mini hanging lanterns, which give her dining area a romantic, enchanting atmosphere. "I'm obsessed with hanging things from trees. And I'm loving my dining area; it gets shade from a tree that bows in this beautiful arch, and I was able to hang lanterns on the branches," she explains. "It's always been a specific fantasy of mine."
Plant a Centerpiece
Staying in line with her mix-and-match aesthetic, Day reiterated her greenery clusters in a smaller way by grouping planters filled with succulents for a centerpiece (and focal point) on the dining table. Against the backdrop of mini hanging lanterns, the grouping adds modern appeal to the table.
Raising a Garden
Day's husband, Max, tends to the food at gatherings. "My husband is an amazing cook. In the division of labor that is not my thing," she laughs. She extended a helping hand by adding a raised vegetable garden for lettuce, carrots, and seasonal greens. "We have a lot of friends living nearby, and now we have a vegetable garden and a long table to seat them—and everyone can bring a friend!"
The Challenge:
Day wanted to maximize this narrow space, which is just off the kitchen, and turn it into an easily accessible, cozy nook for her family.
The Solution:
Deep comfy armchairs and a neutral rug help define and anchor the space. To bring indoor comfort outside, Day covered the seat cushions in a soft Perennials outdoor fabric. She also opted for a movable stool as a table to keep the space light and airy (just the thing for coffee for two!). "The back of the house is eastern facing, so the deck is perfect early morning before it gets the superblazing sun," she says.
I have a vision of the deck being a place to have coffee in the morning right off the kitchen—sitting with a cup in my lap, comfy chairs that let me pull my legs and knees up to my chest.
Make Room for Little Ones
While the outdoor nook on the deck may be set up with armchairs for two adults, Day made a point to also carve out a spot just for Arthur. The scaled-down seat is the perfect size for him to hop on and pull up his feet—just like Mom would do.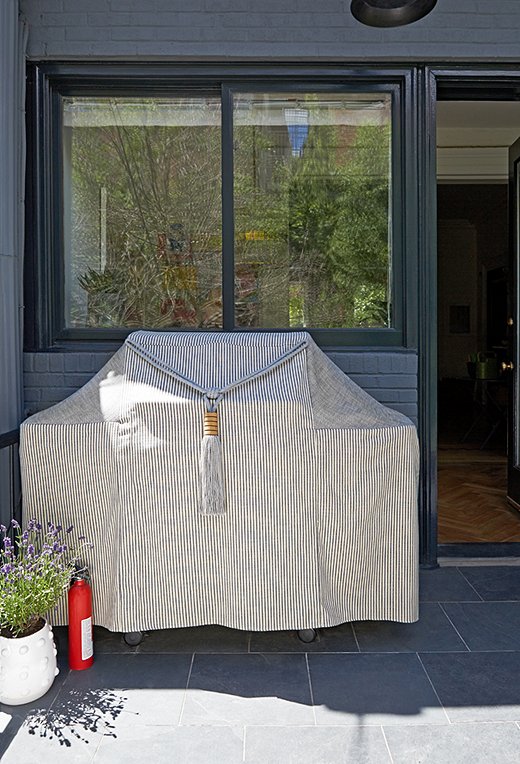 Cover Style
For a chic touch that's a little unexpected, Day had a cover custom-made in an outdoor fabric by Perennials for the grill that occupies one side of the deck. It's fitting that a spot the family uses so often should get a little extra attention. "I love the idea of a late barbecue right on the deck, like cooking dinner at 9. It doesn't have to be a big deal; it can be us and just nice and simple."