Antique Glamour Girl: @stacieflinner
This San Francisco-based interior designer's darling digs are filled with a wonderfully curated mix of finds, but we're particularly smitten with the stylized entryway moment into her bedroom. To give your boudoir a good first impression, try an oversize rug and an accent chair (preferably in a similar shade to your headboard or bedding) placed asymmetrically, thus creating a perfectly 'grammable moment and a spot to put on your booties before heading out the door.
Monochromatic Minimalist: @csanyi
Every one of this NYC-based Hungarian travel photographer's envy-inducing Instagram snaps showcases her uncanny ability to capture natural light. This pic of her bedroom is a case in point. Though the room is already #blessed with high ceilings, she exaggerated the sky-high look by choosing a low-profile bed and anchoring it with a hotel-worthy plethora of decorative pillows. Instead of stealing this space, we'd prefer to move right in (wink).
Collected Eclecticist:  @joannagoddard
Many people think that a dark color on the walls will visually constrict the size of your room and make the space feel flat. Lifestyle blogger Joanna Goddard (the force behind A Cup of Jo) proves that with carefully selected pops of color, palpable textures, and a glint of gold, dark walls can instead feel vibrant, fresh, and larger than life!
Colorful Bohemian: @justinablakeney
Justina's true-blue bohemian designs are always a feast for the eyes, and the transformation of her personal abode, @TheJunaglow, elevates our love of her layered aesthetic even more. Tap into your inner-boho spirit with a mélange of vintage textiles (some used as mismatched curtains!) and patterns in the bedroom. A beloved vintage oil painting, like the one Justina moved in from another room in the house, also makes for great company.
Convertible Modernist: @robbiel1
We love photographer Robbie Lawrence's work, which often showcases moody shadows and controlled color palettes, and the bold simplicity of this on-set bedroom is no different. If you have an open-plan loft or studio, the addition of a wall (in tonal materials) can give you more styling options by creating a headboard, exaggerating a low-profile bed frame, and even providing a dressing room area.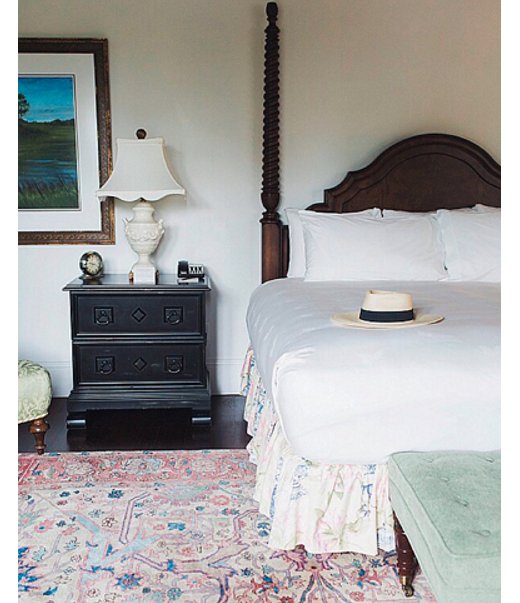 Traditional with a Twist: @waitingonmartha
Mandy Kellogg Rye, the brilliant blogger behind Waiting on Martha, is our go-to gal when we're in need of a dose of Southern charm, but the traditional simplicity of this particular respite caught our eyes. Our favorite aspect? The pops of pastels paired with the rich dark wood furniture. An expert way to do this is to add pieces with both color and texture, like a tufted ottoman at the foot of the bed and faded pink Persian rug underfoot. Bonus: the carved four poster bed draws the eye upward, making ceilings look taller!
Blogger It Girl: @designlovefest
If you are a part of Bri Emery's cult following, you know her love of bright whites and pops of pink is undeniable. We're digging the pared-back simplicity of her bedroom in L.A.'s Silver Lake neighborhood. Her all-white bedding and blonde-wood bed frame and wall decor allow for her grounding pieces—a Moroccan rug, a marble-top console, and lots of plant friends—to truly shine.
The New Traditionalist: @theglamourai
If you're the proud owner of some bold and beautiful wallpaper, use it as your starting point: Pull hues out of the print and into the room in the form of decorative accents, like these blush lampshades and velvet pillows. Edgy mounted antelope horns keep the whole thing from feeling too "grandma" and instead give it a haute-hipster vibe.
Modern Mixologist: @em_rehabitat
We turn to designer Emily Barry for consistent textile and pattern inspo, but what wowed us in her bedroom snap was the expert use of an oddly placed alcove. Tip to steal: Use unusual interior architecture to your advantage by fitting it with a slim credenza or console. You'll create loads of extra storage and have a chic dressing or makeup area with the help of a table lamp and a hanging mirror.