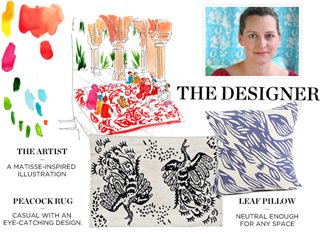 (Portrait image and illustration courtesy of Virginia Johnson)
Fashionably Late
Johnson wasn't always turning out eye-catching prints. She worked as an accessories designer for the minimalist fashion brand Helmut Lang when she discovered her passion for textiles. "I took a weekend class at FIT in silk screening, and I fell in love with the process," says Johnson. Soon after leaving her fashion post, she shopped her debut resort pieces around New York City. When two stores opted to carry the line, a business was born.
Artist's Approach
Johnson's comes by her artistic flair naturally. An art-history major, "art has always been a strong interest of mine," she says.  "Matisse was an early favourite." Johnson paints her designs freehand with watercolors before they are silkscreened onto fabric in India and her native Toronto. For Johnson, her illustrations (featured by Kate Spade and Vogue) are key to the finished product.  "I often mix illustration and design by sketching a dress or an object with a print on it, and then I'll develop the print.  Or sometimes, I'll design a print and then incorporate it into an illustration."
Room to Grow
Johnson's bedding, pillow, and rug collections expand her popular line of shawls, clothing, and bags. And Johnson would love to tackle more in the home. "It would be fun to design furniture, tableware, wallpaper," she says. For now, a new retail store in Toronto and a 10th-anniversary collection for Anthropologie will suffice.

"I begin the process with my sources of inspiration, sifting through them, looking for themes to emerge. Then I spend time painting freely and walking away, coming back later to see what jumps out. "
—Virginia Johnson