We love Farrow & Ball's richly pigmented paints and handcrafted wallpapers. Now its products and virtual consultations with its color experts are available from One Kings Lane.
The story of Farrow & Ball, the world-renowned heritage paint brand, starts in a clay pit in southwestern England. That's where, in 1946, John Farrow and Richard Ball met and discovered a shared passion for making rich colors using the finest ingredients available at the time. Farrow, a chemist working for a paint company, and Ball, an engineer who'd spent much of World War II as a prisoner of war, decided to put their common interest to use, and Farrow & Ball was born.
The company built a factory in Dorset and grew the business,  supplying paint to other storied brands such as Ford Motor Co. and Raleigh Bicycles. After a fire destroyed the original factory in the 1960s, the company moved to nearby Wimborne, also in Dorset, where it has been crafting paint and wallpaper ever since.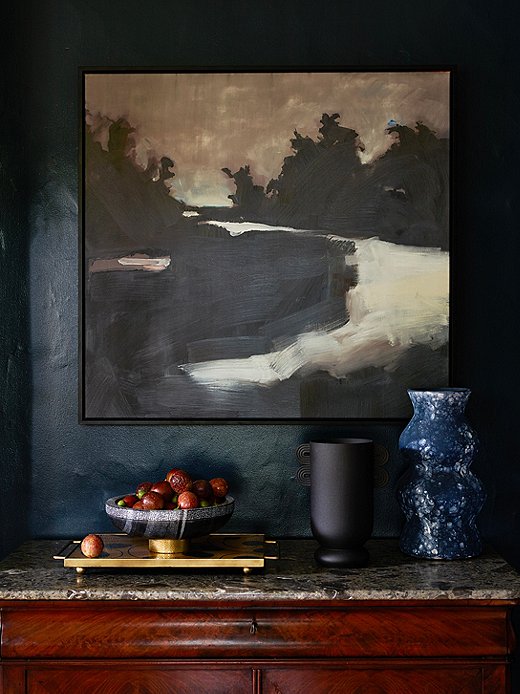 Since its inception, Farrow & Ball has become synonymous with classic style and enduring tradition. The formulas have not changed in the past 75 years, promising the same quality finish for generations to enjoy. The company made its mark with its Estate Emulsion finish, which leaves walls with a signature matte finish. For a more modern and wearable finish, it also offers a modern emulsion that resists scuffs and stains. Farrow & Ball also offer styles specifically made for flooring and historic homes.
Historical homes play a large part in the story of Farrow & Ball. The team behind naming the paints draws inspiration from the names of heritage homes and landmarks. Picture Gallery Red, for example, is named after the gallery found in Shropshire's Attingham Park estate. Oxford White gets its name from the cottages in the Oxfordshire countryside of the Cotswolds. Farrow & Ball has also collaborated with many historic properties and museums, most recently in 2019 in a partnership inspired by the Natural History Museum in London.
The beauty of Farrow & Ball lies in its dedication to its craft. Want to bring some of that Farrow & Ball magic into your home? Book a Colour Consultancy appointment and let the experts find the perfect shade for you.