It's berry season, baby! Strawberries are in season from late April through August, so there's no time better than the present to head to your local market and pick up some baskets of sweet fruit. Always in the mood for fresh recipes to serve at our summer soirees, we pulled together this rustic berry tart recipe. The result is a moist, warm treat that's the perfect cap to a late summer dinner.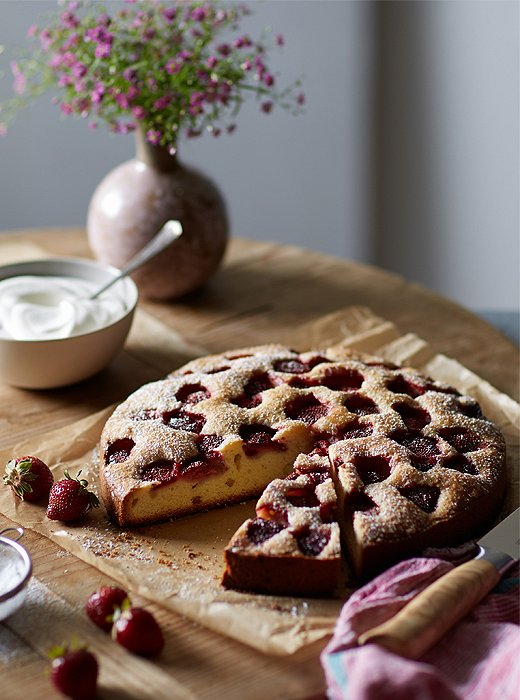 Berry Tart
INGREDIENTS:
1 1/2 cups all-purpose flour
1 1/2 teaspoons baking powder
1/2 teaspoon salt
6 tablespoons unsalted butter at room temperature
3/4 cup sugar
2 large eggs
1/2 cup buttermilk
1 teaspoon pure vanilla extract
1 pound strawberries, hulled and halved
1 tablespoon powdered sugar
DIRECTIONS:
1. Preheat oven to 325 degrees. Grease a 9-inch round cake pan. Combine flour, baking powder, and salt together in a bowl.
2. Put butter and 3/4 cup sugar in the bowl of an electric mixer fitted with the paddle attachment. Mix on medium-high speed until pale and fluffy, about 2 minutes. Reduce speed to medium-low; mix in eggs, buttermilk, and vanilla.
3. Gradually add in flour mixture at a low speed. Transfer batter to cake pan. Arrange strawberries on top of batter, cut sides down.
4. Bake cake for 50-55 minutes, until golden brown on top. Finish with a sifting of powdered sugar through a sieve before serving.