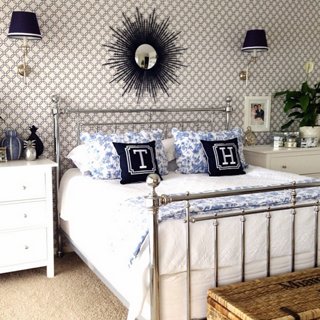 Who: @mumlittle
Why:  This vision in blue and white tickles our fancy because of the dedication to the beloved color scheme. From the graphic wallpaper and the monogrammed pillows to the floral shams and coverlet to the sconce shades, this beautifully decorated bedroom is a prepster's dream.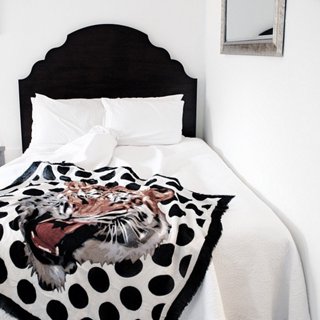 Who: @goodlivingisglam
Why: Adding an oversize bold scarf to a clean white bed is pure genius in our book! Gina Kamburowski, blogger babe and founder of Théo Pure Skin Collection in NYC, consistently takes gorgeous minimalist pics and has great skin care recipes on her blog; we suggest you follow along!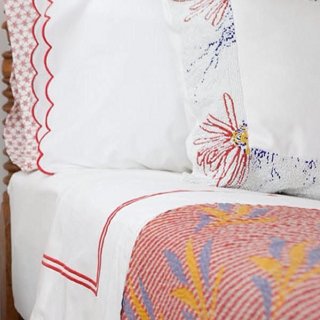 Who: @sarahscalesdesign
Why: It's clear after perusing Boston-based interior designer Sarah Scales's blog that she has some clear decorating chops and is a major fan of colorful patterns (think Lilly Pulitzer and Dorothy Draper). The DVF and Matouk linens on her bed fall right in line with her refined and playful aesthetic.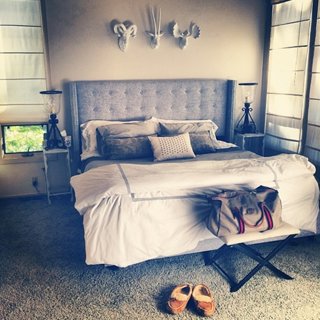 Who: @g_r_t
Why: While our own Grant Taylor, a senior vendor account manager, may be exempt from winning a set of our new bedding, we couldn't help but show off his gorgeous bedroom look. The oversize headboard, upholstered in a heather gray, immediately caught our eye. That paired with white and tonal gray sheets (each stitched with a different detail) made us very proud.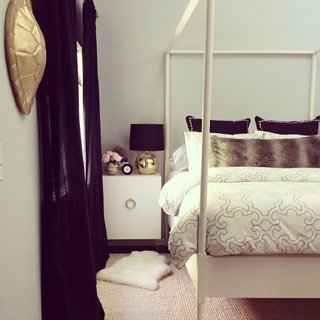 Who: @malloryshawdesign
Why: We admit it: We're major suckers for a good four-poster bed! However, the large-scale medallion pattern on the duvet matched with a stack of Euro shams, standard shams, and a long bolster pillow makes our heart pitter-patter a bit as well.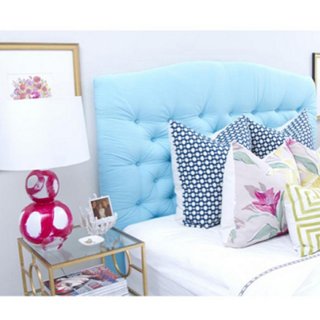 Who: @janabekdesign
Why: It was no surprise to find out that the talent behind this dreamy bed vignette was a decorator with a penchant for soft feminine interiors. The blue tufted headboard, mixed-pattern pillows, and white sheets with a hand-stitched border prove designer Jana Bek has mastered color and pattern in our book!
Who: @thestudiolo
Why: The Austin, TX-based interior designer makes us want to crawl into this bed—with its perfectly rumpled bedding and hammam towel as a throw blanket—with a good book on a lazy Sunday afternoon. Brava, Killy Scheer!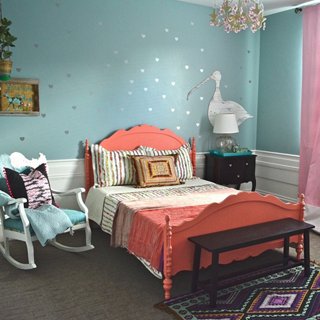 Who: @asaltboxdesign
Why: We can only hope that the child whose room this is adores it as much as we do! The coral color of the bed frame and matching coverlet is a perfect complement to the pale blue walls and decorative accents in the room. This sweet space can't help but make you smile.
Wait, wait… it's not over! Our photo contest doesn't end until November 18, so make sure to enter by Instagramming your own bedding look with #HowIStyleMyBed and #OneKingsLane! To get a peek at what you might win, check out our exclusive new bedding collections; we have a feeling you'll be snapping in no time.