We'll always love light and bright rooms, but there's a place for darker spaces in our homes and lives too. Moody, black interiors are ideal for those days when you want to curl up with a good book or a classic flick and just unwind. Today we're taking a look at some of the most gorgeous black spaces we've seen. Prepare to be inspired.
A kitchen in need of an update will look like it got a full-on facelift if the cabinets are covered in a new coat of black paint (plus the shade will complement essentially all existing wall colors). Choosing black for your open shelves as well will put the focus on any good-looking items—china, barware, vases, cookbooks—you have displayed there.

Paint color: Graphite by Benjamin Moore
Save
Save
Sooty black is a natural when it comes to highlighting a room's best feature, be it a gorgeous fireplace, elaborate built-ins, or detailed molding. And just like fashion magazines preach, break the rules and mix black and brown to your heart's content. A rich wood floor adds character and dimension to a dark, dramatic room.

Paint color: Jack Black by Little Greene
Save
Save
Jet-black in your bedroom is cool and calming and will ensure that drifting off is a cinch. And thanks to its rock 'n' roll leanings, it makes typically traditional accents like chandeliers and hide rugs come off as more fashion-forward than formal.
Wall covering: Custom black-denim wallpaper. Try Pondera Weave in Denim by Schumacher for a similar effect.
Save
Save
With the versatility of a little black dress, black paint can look sophisticated in every room of your house. Here, gray-black takes a bathroom from quaint to chic, never crossing into stark territory thanks to the addition of natural wood accents. Have beadboard in your bathroom? Painting it along with the walls makes for a modern, monochromatic vibe but allows you to preserve its interesting texture.

Paint color: Raccoon Fur by Benjamin Moore
Save
Save
Books are spotlighted when stacked in bookshelves—either built-ins or stand-alones—that are backed in black. And while a black (or really any dark-hued) library can read masculine, you can counterbalance the manliness by subtly working in more-feminine hues like pale pink or deep purple and luxe textures like velvet, satin, and faux fur.

Paint color: Mahogany millwork was custom-stained ebony and finished with a gloss. To achieve a similar look, use Farrow & Ball's Pitch Black layered overInterior Wood Primer & Undercoat.
Save
Save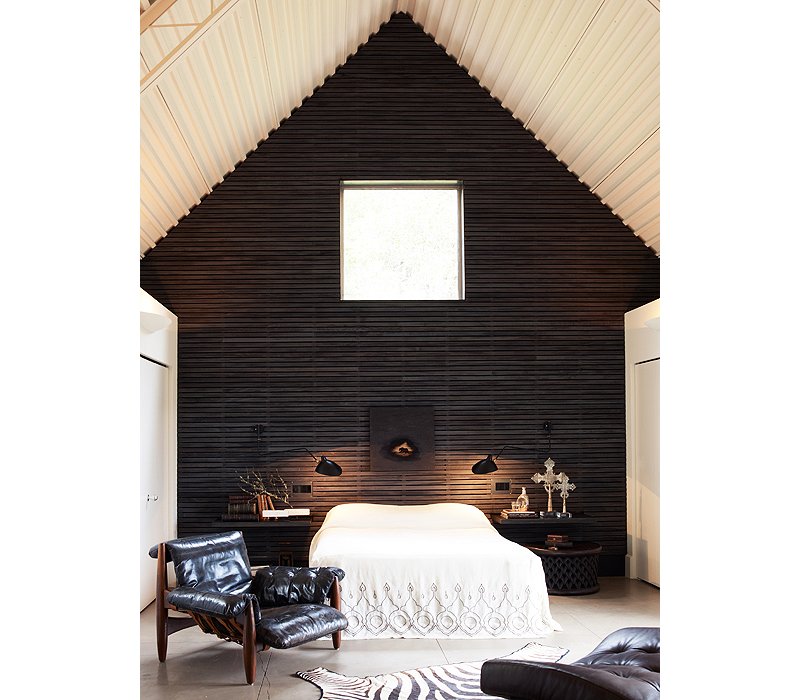 Soaring ceilings are highlighted when a single wall is painted black and left nearly free of adornment—your eyes have nowhere to go but up (and what a view it is!). And the color brings polish to exposed lath, a design treatment that normally conjures up visions of rustic country cottages. Offset the shade's severity by incorporating softer details like a lacy duvet or plush throws.
Paint color: Custom paint job featuring multiple shades. Score a similar look with Benwood Waterborne Interior Stain in Wrought Iron by Benjamin Moore.
Save
Save
Though black, as a neutral, can balance out brights like orange and teal, it dials up the drama much more than its cousins beige, gray, and white. Paired with metallic accents, it will make one of the least sexy rooms in your house—the home office—a glam space you can't wait to get to in the morning.
Paint color: Black by Benjamin Moore
Save
Save