We've seen quite a few fearless, maximalist homes in our day—we're talking to you, Alex Papachristidis—but some of us prefer calmer interiors, reserving bravery for other facets of our lives. If you dare to get out of your comfort zone at home, a small bathroom is a great place to dip your toes in the water. For one, its petite square footage means you don't have to go to great expense. Second, going wild in a powder room is not as audacious as it is in, say, your living room; it's a private place to which the door is usually closed. Ready to rise to the challenge? Read on for a few tried-and-true tricks for going bold in a small bathroom.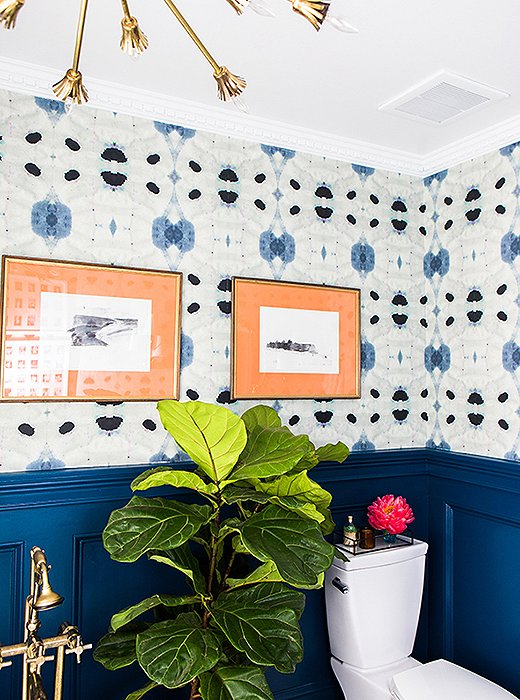 Paint Your Wainscoting
The lower part of a wall is often overlooked, but there's no need to keep it basic white. Have fun with it and paint it a deep, rich color such as cobalt. Instead of just painting your wainscoting and leaving it at that, choose a color combination and continue it through other accents in the space, such as artwork, hardware, lighting, and even tile. Bonus points for using a patterned wallpaper or colorful sconces.
Color combos we love: cobalt and gold; tangerine and navy; rust and turquoise; black, white, and green; blush and brown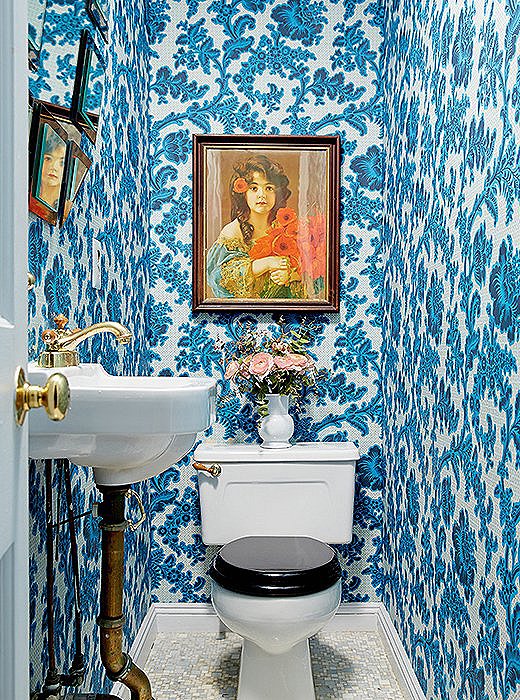 Bring in Personality
We don't generally gravitate toward themed rooms, but we love the Victorian vibe of a small bathroom accented with an antique portrait and a damask wallpaper. The formality of an oil painting—even if it's a print—is a great foil for the busyness of a bold patterned wallpaper or tile; the combination is eccentric yet elevated.
We like the idea of hanging a series of portraits in a small bathroom to really create an experience for your guests. Look for a theme such as female subjects, Impressionist paintings, or oval frames to make even more of a statement.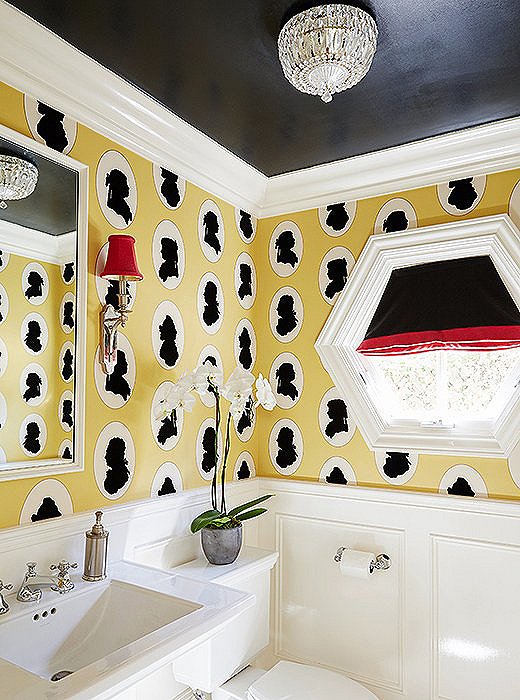 Color Your Ceiling
When it comes to paint and wallpaper, it's time to look up. Painting the ceiling can make a small bathroom appear loftier than it actually is, and as shown here, it can also provide a beautiful contrast to your light fixtures. Black is a particularly great choice for a bathroom with white trim and moldings, as it acts a neutral, allowing you to be playful with other colors, shapes, and silhouettes in mirrors, lighting, wallpaper, and accents.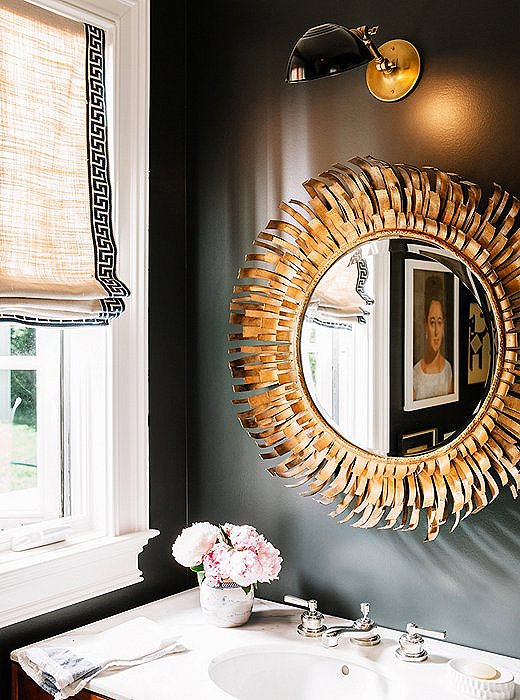 Hang a Statement Mirror
Choose a statement mirror that will get people talking—we have plenty! We love the textural quality of this round mirror; it brings the little space to life. Metallic finishes such as gold and bronze will add instant majestic appeal, while bright shades such as red or orange in a high-gloss finish will contribute a dose of fun. Choose a color or finish that contrasts with your wall color to make your mirror stand out. Feeling indecisive over which shape to choose? You can never go wrong with a sunburst mirror.
Choose a Fierce Wallpaper
Whether your style is traditional, a bit bohemian, decidedly modern, or somewhere in between, there's a bold wallpaper out there for you. Look for large-scale patterns or bright colors that make an impact.
If you're feeling timid, blue and white is a foolproof palette for a large-scale wallpaper pattern, as it is as traditional as they come yet provides a lot of contrast. For maximum impact, continue telling the blue-and-white story down to the smallest details, including porcelain dishes and vases, embroidered towels, and shower curtains.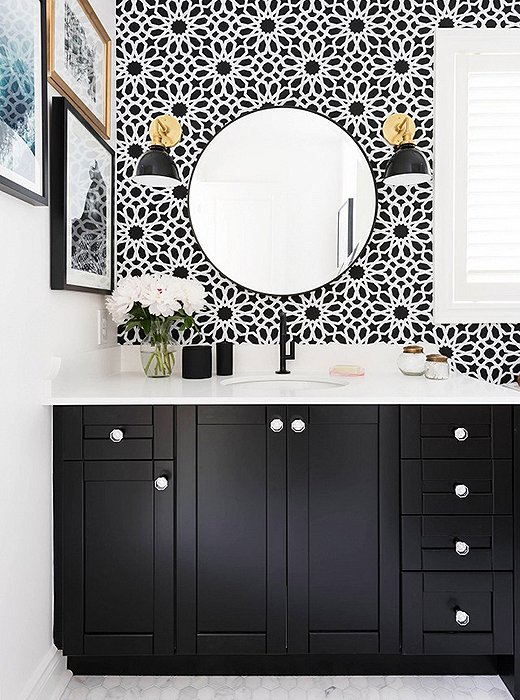 Tile Your Walls
Tiled floors are a given in bathrooms, but have you considered tiling your walls with a patterned design? This bathroom is actually wallpapered in F. Schumacher's Agadir wallpaper, which borrows a kaleidoscopic pattern commonly used in tiles. Traditional cement tiles from Central America come in a wide array of patterns and colors, and you can even have them customized to your liking. Tile is waterproof and steam-resistant, so it's a great alternative to wallpaper if you want to add pattern to your bathroom.
Another thing we love about this small space is the doubling up of accessories. Good things come in twos and threes: Pick up pairs or trios of sconces, jars, and framed art for beautiful balance.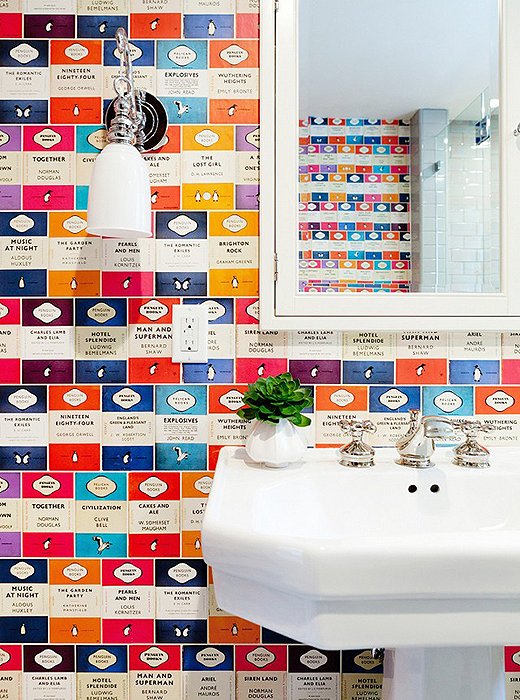 Get Cheeky
Another way to go bold in a small bathroom is to get cheeky with unexpected artwork or patterns. This wallpaper printed with Penguin book covers, for instance, is guaranteed to inspire a smile. Or consider tasteful yet sassy nude artwork—have fun!
If you do choose a powerful multicolor backdrop such as this one, be sure to temper the brightness with subtler and understated elements such as polished chrome fixtures and a simple white mirror. Likewise, if you stumble on bright artwork for your bathroom, balance with a solid white frame without much ornamentation.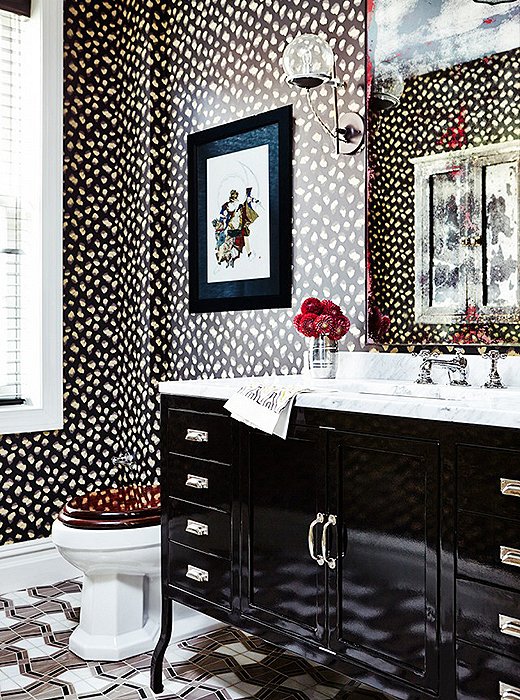 Go for the Gloss
Shine is a surefire way to create a statement-making and glamorous mood in your small bathroom. Finish your bath cabinet or wainscoting in a high-gloss paint; select a wallpaper with a subtle sheen; add glass, metallic, or mercury-glass accents; store necessities in lacquered boxes; hang a large-scale mirror; and select hardware and fixtures in polished metal, be it chrome, silver, or gold. The more metal and gloss, the better!