We love a design challenge, so when the team at Bon Appétit decided it was time to give the BA Kitchen a design refresh, we jumped at the chance to lend a hand. Per the magazine's editor in chief, Adam Rapoport, "The BA Kitchen was really nicely designed, but it wasn't decorated. It felt more like a 'space' than a home." The mission: Create a new homey look using only furnishings and accessories that could easily be incorporated into the current space (in other words, no touching the bones). Of course, our genius team found ways to get the job done and along the way imparted some lessons we can all use to transform a space in need of an update.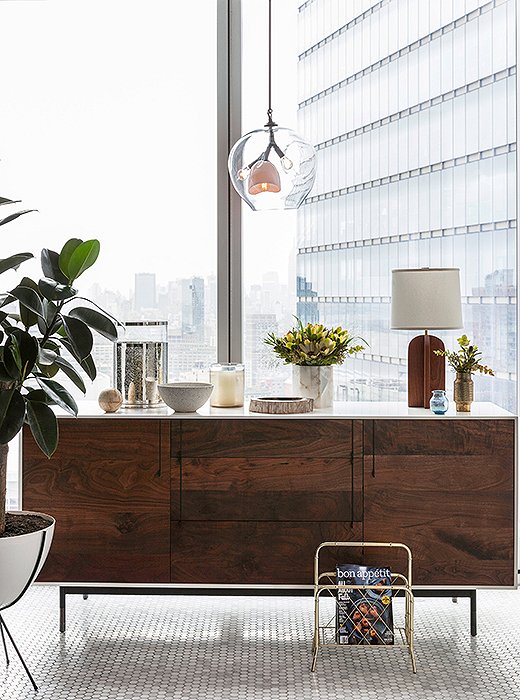 Lesson #1: Open Up to New Styles
"We went with a modern, clean, minimalist look," said Rapoport of the kitchen's original design, so the goal became to warm things up a bit and add a few more layers to break up all those angular lines. Adding design elements that are outside of your space's current vibe (think modern in a traditional-leaning room and vice versa) is a great way to use styling to switch things up. In this case, organic elements, such as the petrified-wood pieces, rough-hewn wooden bowls and lighting, and some carefully chosen plants, inject a bit of imperfection into the modern-leaning space with their irregular, soft lines.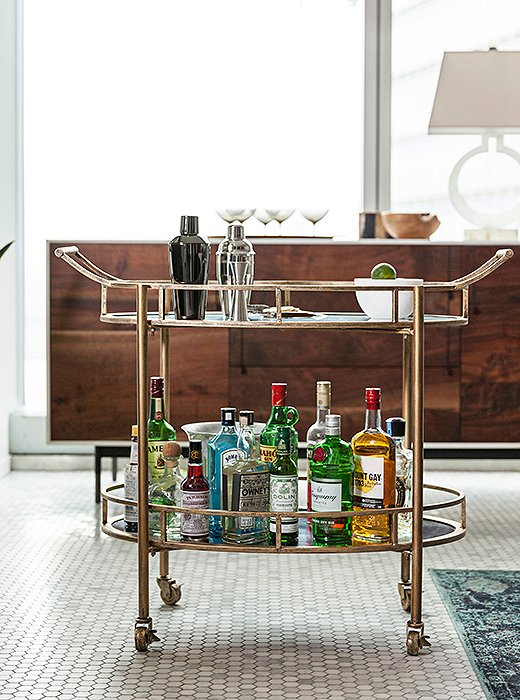 Lesson #2: Add New Functionality
Design is as much about how you experience and use a space as it is about looks. In the case of the BA Kitchen, they had a built-in bar but very much wanted to be able to keep people circulating in the space when hosting dinners. This called for a bar cart, which also becomes a floating element that can be casually placed here and there, making the space feel more like a private home. If your space is feeling a bit lackluster, see if there isn't a way to slightly switch up how you're using your square footage that might better suit your needs.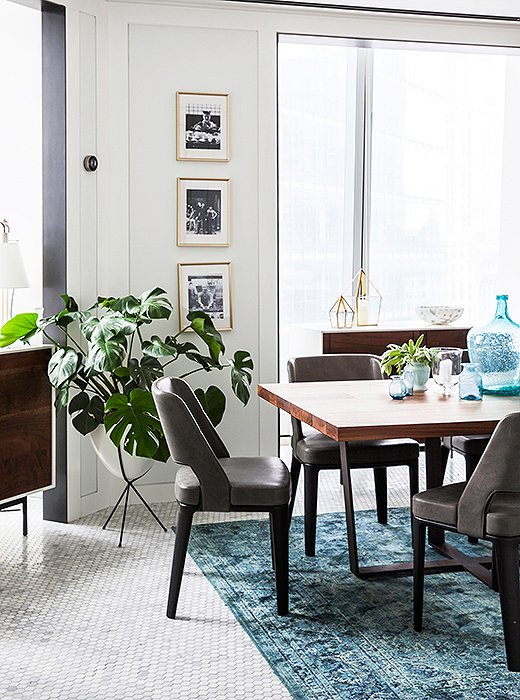 Lesson #3: Change the Foundation
A rug adds an instant foundation of coziness to any room, especially if your floors are stone or tile. Here, a blue overdyed rug injects not just warmth but also a pop of color amidst a sea of marble and wood, grounding the room and taking it from test kitchen to homey dining room. When working with a space with modern bones, it's best not to swing overly traditional with the rug choice, lest it look just random. Instead, opt for fresh takes on traditional styles. An overdyed rug is a great choice that also comes in tons of colors.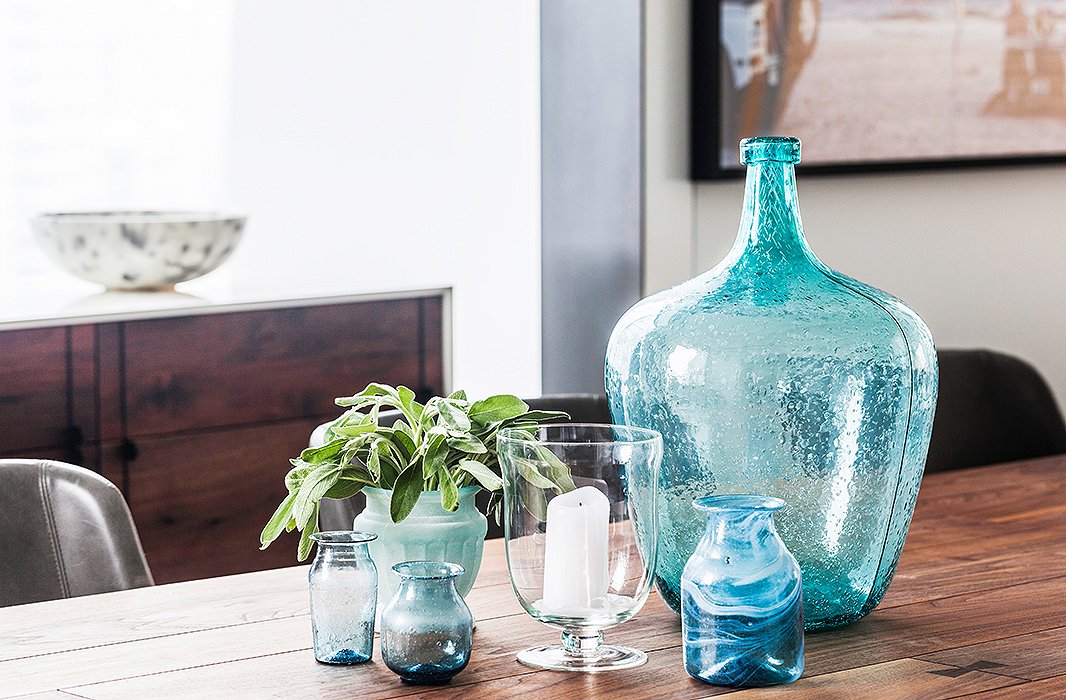 Lesson #4: Embrace Randomness
Continuing with the use of blue as the accent color of choice, we topped the ultramodern walnut table with a grouping of vintage and artisanal glassware in a variety of heights and shapes. Don't discount the power of the haphazard to change the feel of a space. Anything that reads easy and loose, such as an arrangement of pieces where no two items match, can be surprisingly impactful in modern surroundings. Sticking with a single color tempers the randomness a bit for those averse to too much chaos.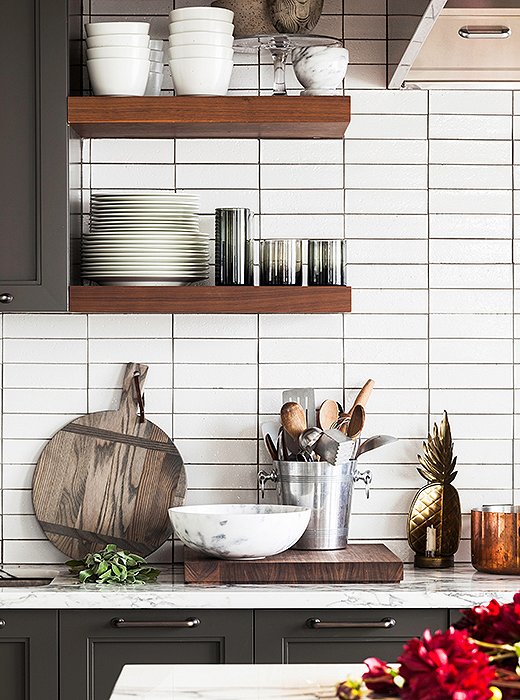 Lesson #5: Always Add Some Vintage
Bringing in vintage elements, with their patina and throwback silhouettes, is another quick and easy approach to restyling a space. If you look around and everything is brand-new, you could probably use a bit of the character vintage brings. You don't need a ton to have a big impact. Here a vintage champagne bucket and brass pineapple lend a collected feel to the overall look of the kitchen's modern counters.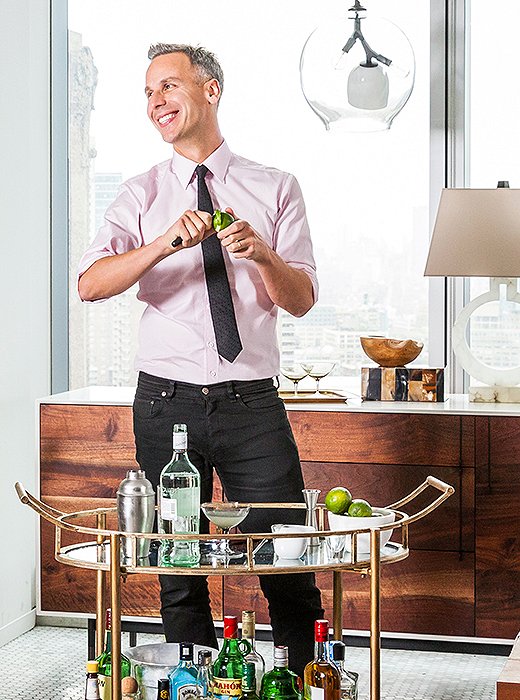 One Kings Lane comes in and—boom!—suddenly the space is SO much warmer. There's now a personality and attitude to the room, and I love that. Life is too short for 'neutral'; it should be fun. And that's what the BA Kitchen is now.