Designed as a place for big-name chefs to socialize and showcase their cooking chops, the BA Kitchen has room for a DJ and a buffet for 100—but it also holds plenty of lessons for home cooks and entertainers. Bon Appétit's editor in chief Adam Rapoport gave us the details.
What was the inspiration behind the BA Kitchen?
The best parties always seem to start and end in the kitchen, so I wanted to create a space that felt like someone's home, like you were hanging out in their kitchen. With the big open island, when we have guest chefs come, the chefs are not in the back cooking dinner and coming out to serve you. They are the party. You can just sort of hang out with them but also really observe and appreciate their skills.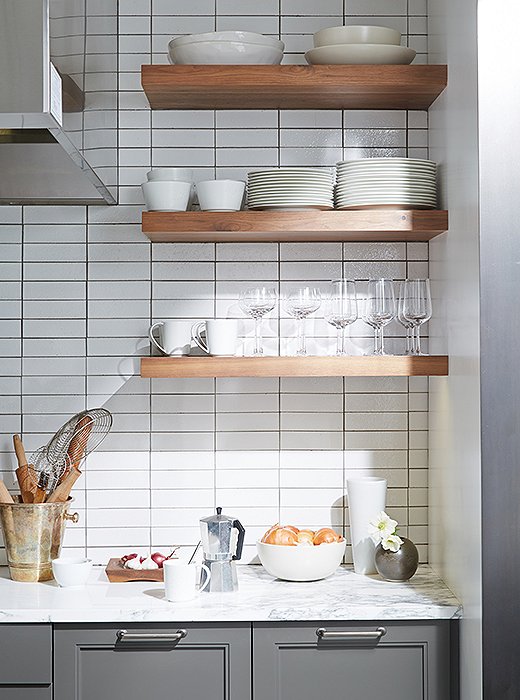 Rumor has it you were very particular about the lighting here.

Life is all about timing and lighting. Get to the right place at the right time, and look good when you're there. Years ago Keith McNally, who runs Balthazar—and Balthazar's the pinnacle of good lighting—told me you want lots of light sources set on low, so instead of having three lamps turned up high, you want nine light sources turned down low to medium. So invest in lots of lightbulbs in various places throughout your room, and make sure they're all on a dimmer.
The best parties always seem to start and end in the kitchen, so I wanted to create a space that felt like someone's home...
What were you going for in terms of style?
We wanted a place that feels modern, but not a place that feels so right-this-minute that in five years it's going to feel dated. We went with a modern, clean, minimalist look. I didn't want anything gimmicky. Mosaic tile floors are never going to look bad. Marble is never going to look bad. Nice wood is never going to look bad.
Which items were nonnegotiable for you?
I said, "We've got to have a bar, and it needs to be really beautifully lit." We didn't have a bar at the old place, and nothing is better than backlit liquor bottles. Put some votive candles behind a bunch of liquor bottles and they just glow all these beautiful colors. When you walk in and see that you're like, "Oh, it's a party."
What are the essentials for a good bar?
You want good ice, a good glass, and good ingredients. Ice can make or break a drink. I use those silicone molds that make one-inch cubes, and I love a good rocks glass like Baccarat's, those ones that weigh like seven pounds. Those are just awesome to hold in your hand. And it's imperative that you buy good liquor, but fresh-squeezed fruit juice also makes an enormous difference. Always squeeze your own.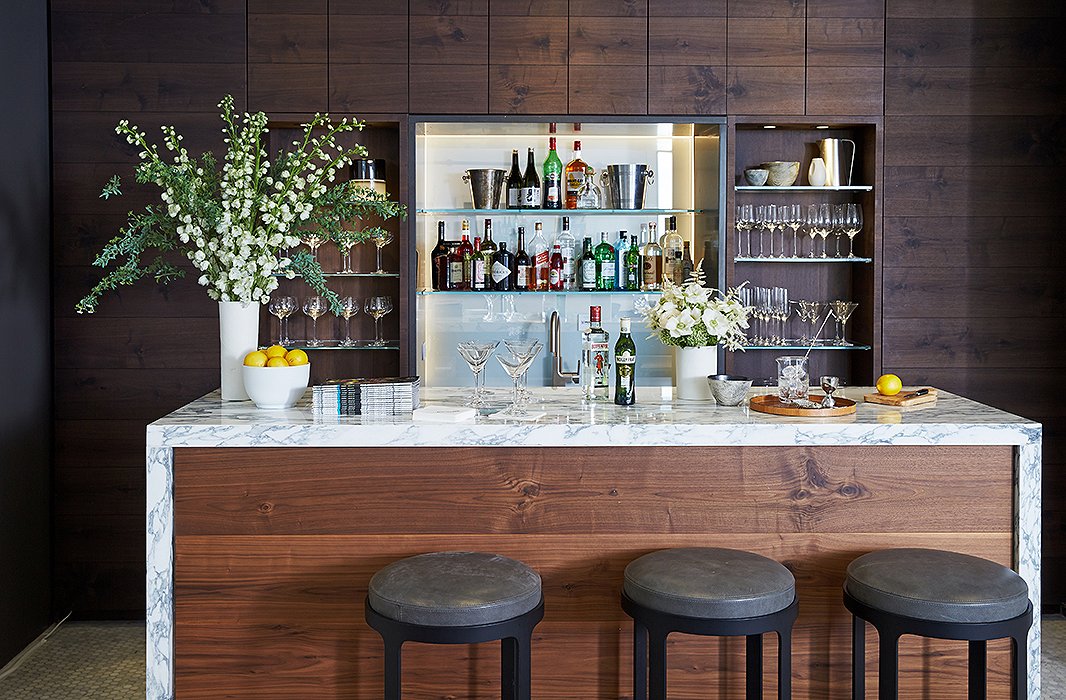 Do you have any favorite kitchen or bar tools?

I got a Laguiole corkscrew 10 or 12 years ago, paid $160 for it. But I'm not into gadgets. I just need a nice well-sharpened knife, a cutting board. I have a bunch of different-sized wooden cutting boards because sometimes it's nice to have a little one if you're just cutting a lemon, and also if I'm making dinner and I'm using onion and garlic, I don't then want to slice a lemon on the same cutting board.
Bon Appétit has hosted parties with some amazing chefs. Tell us about some of your favorites.

We've had intimate, beautiful dinners with chefs like Ben Shewry from Attica restaurant in Melbourne, and that was just for 12 people. Same with David Kinch from Manresa restaurant in California, he and Carlo Mirarchi from Roberta's did a really wonderful dinner. Then we've had bigger, full-on parties with Brooks Headley, a pastry chef at Del Posto, for his cookbook. I mean, he had a keg. Yotam Ottolenghi, the famous cookbook author from London, did a big Middle Eastern feast with maybe 20 dishes, a buffet, and that was for probably 75 people. This space is so flexible, that's what I love about it. You can do an intimate, very special-feeling dinner party, or you can let it rip and invite everyone you know.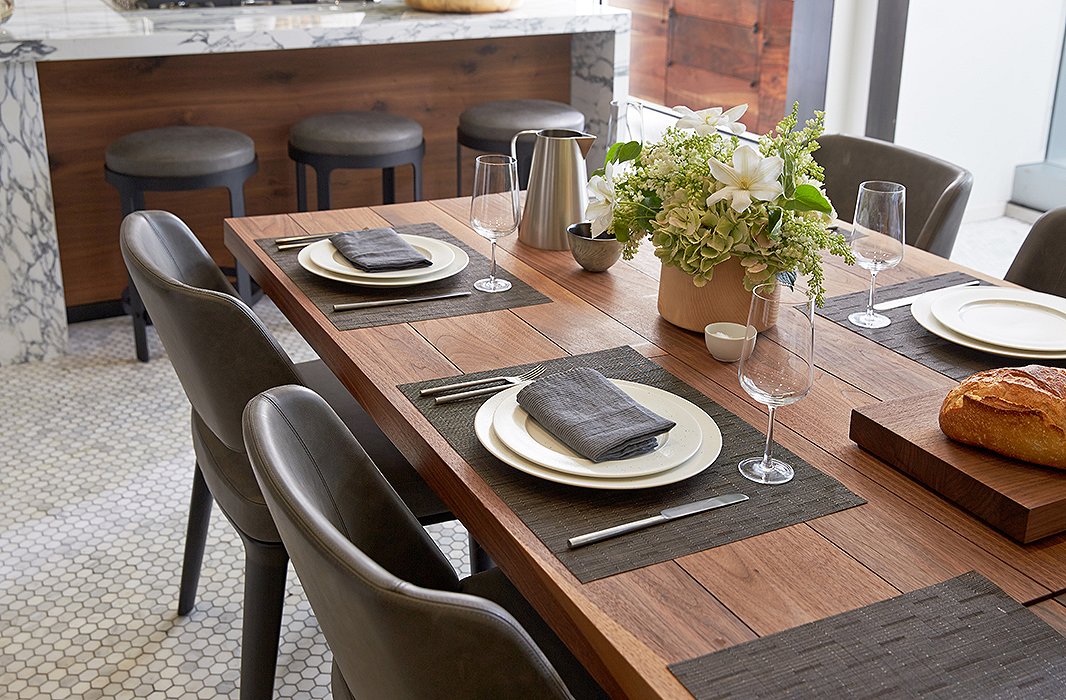 What does every good party need?
Music's always important. You always have to have a good playlist, and you should make a playlist. Unless you're the type who has a vinyl collection and a record player and you want the choosing of the records and the flipping of the records to be part of the evening, so all of the guests get to get up and take a record and put it on. Otherwise, make a playlist, put your iPod on, set it, and forget it.
What are you listening to these days?

My wife and I went through a heavy period of listening to that D'Angelo record every single night. When in doubt, I just put on the Rolling Stones, and my wife rolls her eyes. Like, "Really? Again?" And I'm like, "Yes, really. Again." They're still awesome, deal with it!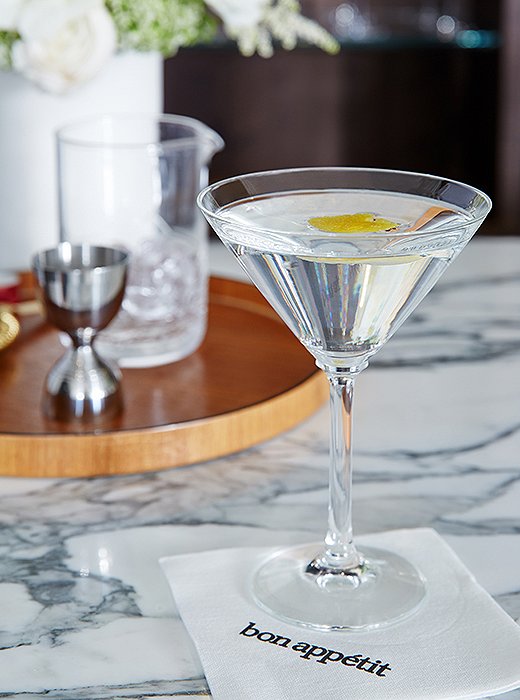 Makes 1
A cocktail should be served so cold it hurts, which you should repeat to yourself as you stir. And stir. And stir.
4 oz. Beefeater gin
¾ oz. Noilly Prat dry vermouth
1 lemon
Holding a large (preferably 1″) cube of ice in the palm of your hand, use the back of a stirring spoon to crack it into large pieces; place in a mixing glass. Repeat with enough ice to fill glass. Add gin and vermouth and, using a bar spoon, rapidly stir 50 times in a circular motion (the outside of the shaker will become very cold and frosty).
Strain martini through a Hawthorne strainer (or a large slotted spoon) into a chilled Nick and Nora glass. Strain any excess cocktail into a sidecar (or a small glass in a bowl of ice) set over ice.
Using a small knife, remove a 1″ piece of peel from lemon; it should be stiff enough to provide some resistance (some white pith is okay). Twist peel over drink to express oils, then rub around rim of glass. Float peel, yellow side up, in martini.