Working in kitchens from Italy to Japan to stateside, Jody Williams opened Buvette (which she dubs a "gastrothèque") in 2011 on a tree-lined block in New York's West Village. Since then critics, neighbors, and fellow chefs have been hailing it as one of their faves. With decor as authentic and delicious as the coq au vin, we asked how it all came together so that we could take home a little Buvette charm for ourselves.
How did you approach the look of Buvette?
"All the things that come into the restaurant besides food and wine but are artful are a pleasure for a chef. I come across things for the restaurant that are off the beaten path… Hand-lettered signs, weathered dog-eared wood: That's inspiring to me."
What's the number-one priority when decorating a restaurant?
"The most important ingredient is allowing that human touch to be there. It cannot be perfect. It's the idea of wabi-sabi."
This is a very old building. Did you ever consider newer construction?
"There is a patina here that I couldn't make or build. Then we layered things out of my own house or things I love. I couldn't afford new hotel silver, so I hit the flea markets and found pieces."
Would you describe Buvette as a classic French bistro?
"It's a French name, a French menu, and a French wine list, but everything else is all-American. Brooklyn tin ceilings. Pennsylvania Shaker tables. Marble from Vermont."
Everything here is effortless. What advice would you give to someone who wants to emulate that look?
"I follow what I love, what I enjoy. If there is one piece you want on your table, it doesn't need to make sense. You'll be gratified just seeing it."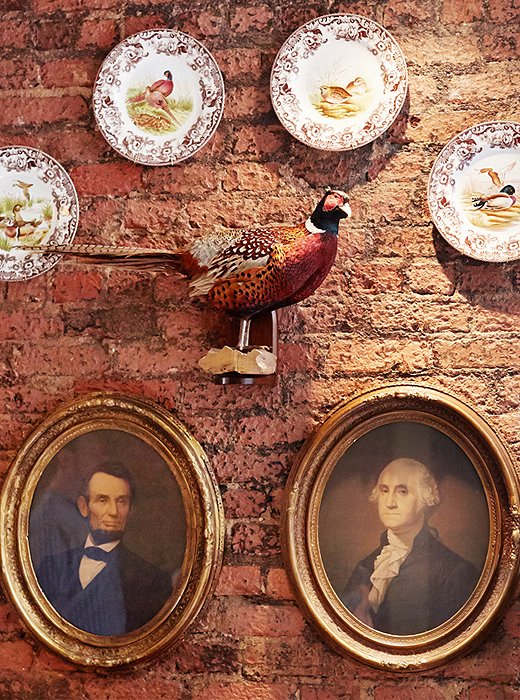 How important was decor when you started to design the space?
"I see everything in my mind, from the front door to the back door. I see how it's used. Use is important. It must function. Nothing is gratuitous. I really try to make every corner here, wherever you turn your head, attractive, functional, and interesting."
Buvette feels as warm as being in someone's kitchen. Was that by design or just a happy accident?
"I like the ingredients to be exposed. Oranges in bowls and eggs in wire baskets tell you we're open in the morning. It's beautiful… a subtle nod to the food."
Finish the sentence: You can never have too many…
"You can never have too many baskets, trays, plates, and pans. Oh, and aprons and wooden benches."
What's your go-to accessory?
"I like hooks. Most people do shelving to display. But I love the haphazardness of hanging items from hooks."
Any personal mementos around the restaurant?
"I have my grandmother's plates and her piggy bank. And I love presidential pieces. My younger sister, Fern, was born on Lincoln's birthday. Everything here has a story."
Okay, last question: What is a "gastrothèque"?
"It's about the pleasure of food and drink. And that's what we do. The community here is very important that comes with that."