If you're a design fiend who loves to travel, get to know The Luxury Collection Hotels and Resorts because they have some of the dreamiest properties on the planet. Since we're serious fans, we decided to team up with the company to create a series of road-trip itineraries—the exact kind of trips we LOVE to take—spotlighting handpicked, utterly authentic spots all over the United States.
This road trip starts out in San Francisco (where the One Kings Lane HQ is located) at one of The Luxury Collection's flagship properties, the Palace Hotel, and was crafted by its chief concierge, Jose Lopez. It'll have you driving through the best of coastal NorCal. You'll be crossing over the Golden Gate Bridge, taking in the darling floating houses of Sausalito, shucking your own fresh oysters at the seaside farm where they were grown, and swooning over expansive seascapes. It's a magical, quintessential California drive that's best taken with the top down, sunglasses on, wind in your hair.
The Palace is historic, gorgeous, and an utter San Francisco classic. There's no better place to use as your base for a California road trip.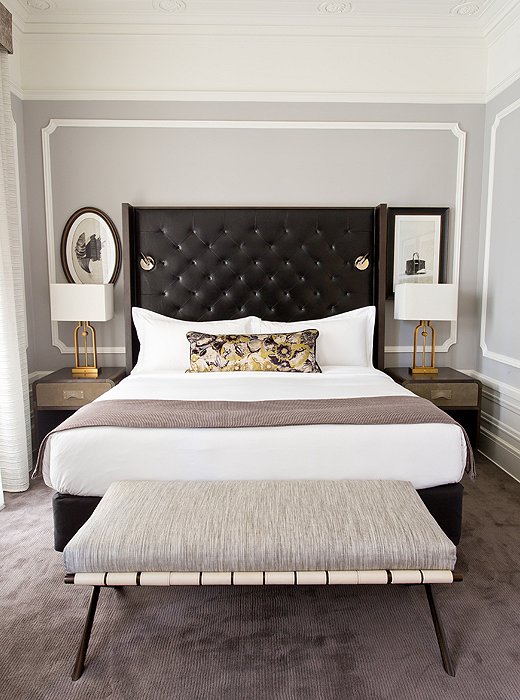 7:00 a.m.
Wakey, wakey! It's time to drag yourself out of that cloudlike bed the Palace is known for—tough, we know. But you've got a big day ahead! If you're feeling so inclined, you can log a few laps in the hotel pool, an indoor oasis under an arched glass-atrium ceiling, or you can head straight down to breakfast.
8:30 a.m.
Ask any local, and he'll agree that one of the most classic San Francisco experiences you can have is sitting down to breakfast (or brunch if you're lucky enough to be there on a Sunday) in the hotel's stuff-of-fantasies Garden Court. Topped by a sky-high glass dome, hung with to-die-for chandeliers, and wrapped in marble, the space is absolutely one of the most beautiful you'll ever stand in—a little bit of the gleam and twinkle of Paris smack in the middle of downtown San Francisco.
9:30 a.m.
When in San Francisco… drive across the Golden Gate Bridge. Not only is it a must-do to cross off your bucket list, but it's also the gateway to the north coast, which you're going to be exploring for the day. And it goes without saying that the bridge, which turns 78 this year, is wildly photogenic. Mind-blowing viewpoints can be found off both its north and south coasts.
10:00 a.m.
The best road trips are peppered with memorable roadside stops, and the community of floating houses in Sausalito makes for one picture-perfect pit stop. Seen Sleepless in Seattle? This is how it's done, Cali-style. Each of the abodes is funkier and quirkier and more darling than the one before. They're painted colors that would make a Crayola box jealous and accented, naturally, with lively nautical details, from oars to anchors. Ahoy, matey!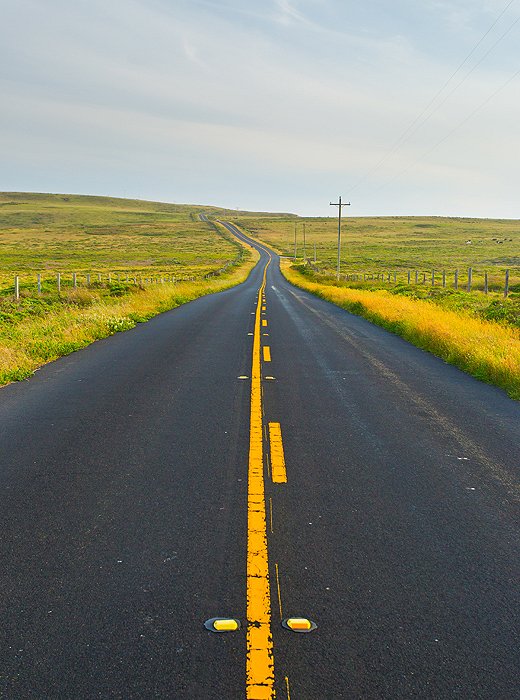 All in all, this is approximately 3.5 hours of driving, with exquisite scenery the whole way.
Noon
All that driving's bound to make a person hungry, right? And that's exactly why the next stop on this glorious rendezvous is the family-owned Spud Point Crab Co., where the boat-to-bite seafood couldn't be fresher. (Those are its fishing boats right out in the marina.) Order clam chowder and anything crab—crab cocktail on the weekdays, crab cakes on the weekend—and grab one of the outside tables to soak in the sun. While in town, Jose always pairs it with a trip to the nearby Bodega Head cliffs. "The whale watching from Bodega Head is remarkable," he says, "and I love listening to the waves and smelling the crisp ocean air."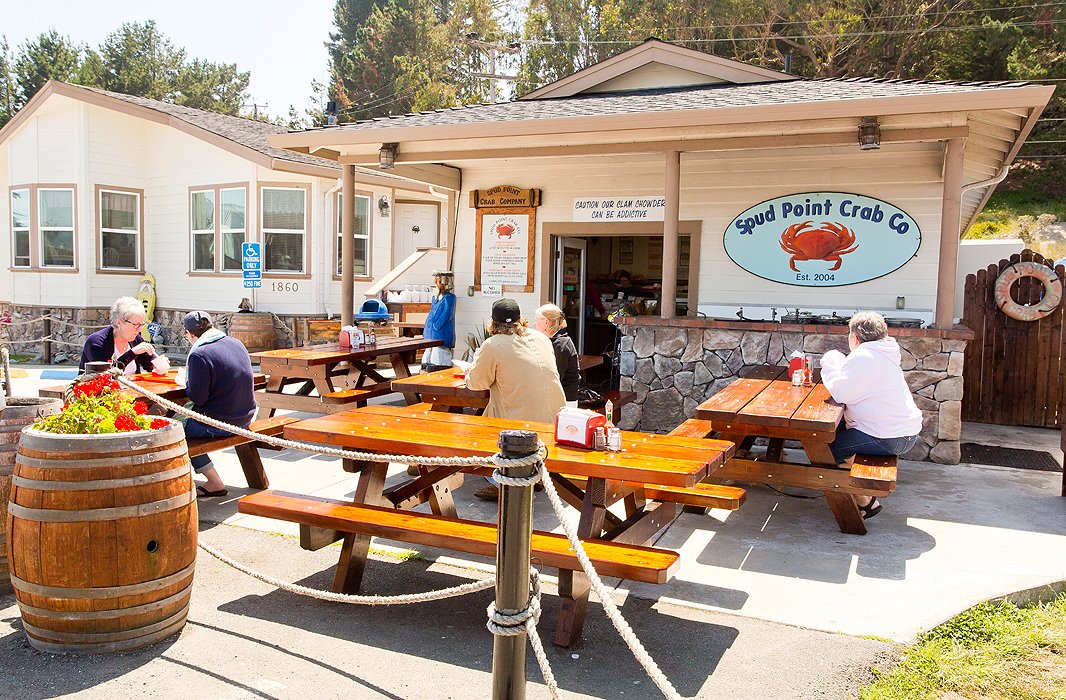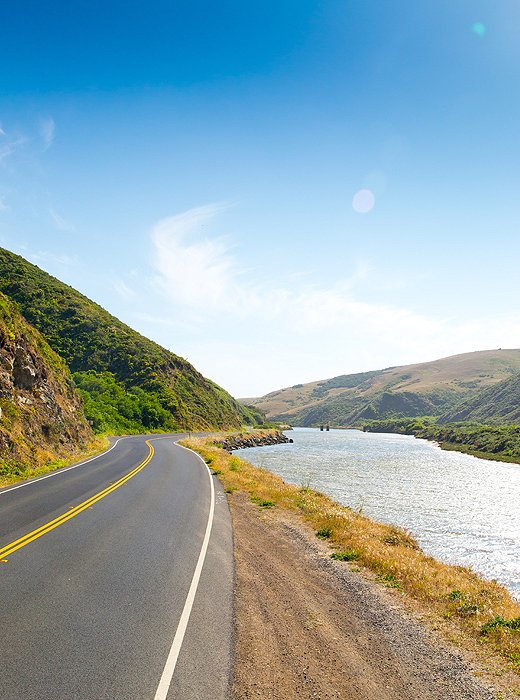 2:00 p.m.
Pull over if for no other reason than to take in those heart-fluttering Cali views. Turn toward the ocean and you have rippling waves and boats bobbing so hypnotically you'll never have felt so blissed out. Face the land, and you have gently rolling hills carpeted in wildflowers. Together the two landscapes make this region one of the most scenic on the planet.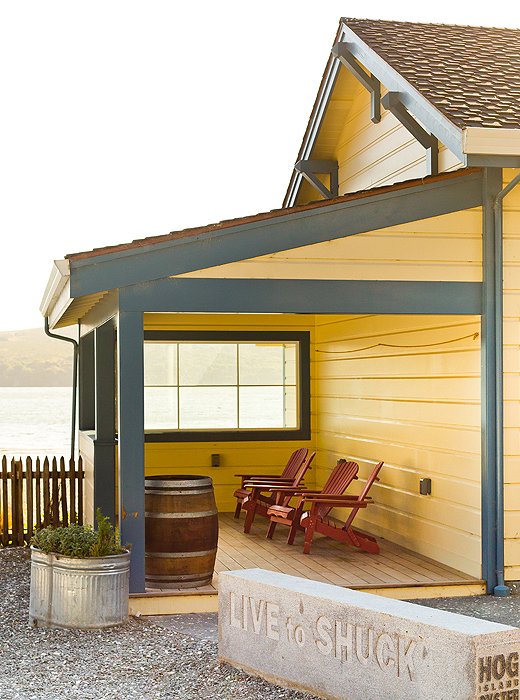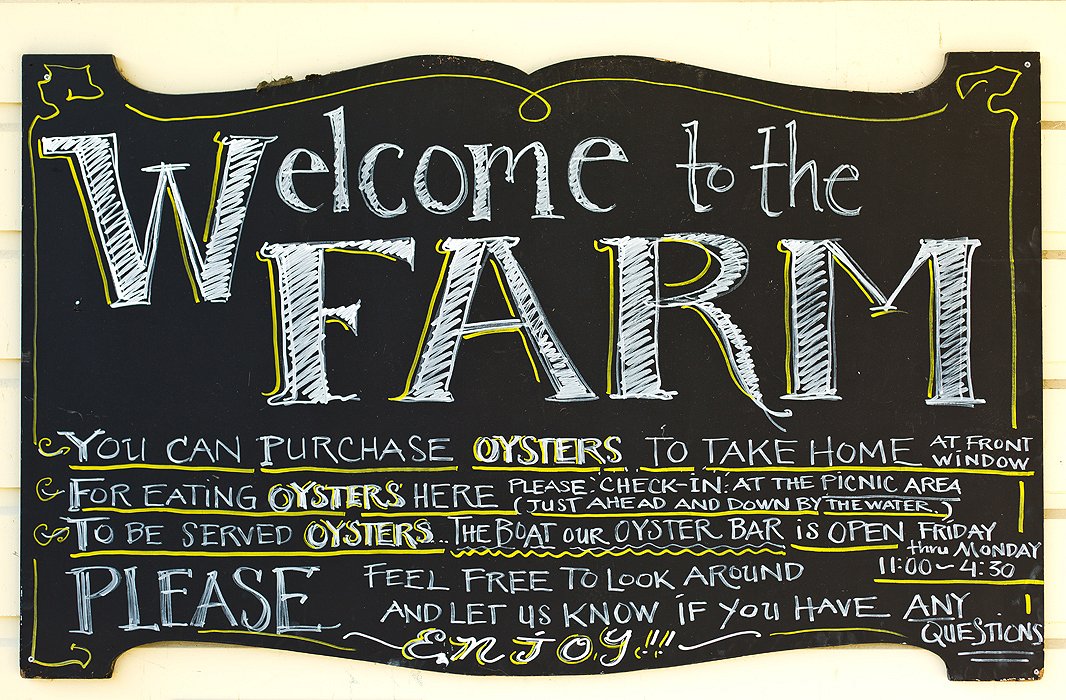 3:00 p.m.
Though you've probably already been feeling like the world is your oyster on this blissed-out drive, pull into the Hog Island Oyster Co.'s Tomales Bay outpost, and you can have your oyster and eat it too. "When in Tomales, you have to have a plate of oysters," says Jose. This beyond-cool spot—part oyster farm, part eatery, part drinkery—possesses a rustic, elbows-on-the-table oceanfront setting that's often imitated but never equalled. You can buy your oysters by the bag and shuck on-site, so reserve a picnic table, which comes complete with its own grill, shucking tools, lemons, and hot sauce. But if you're into a less hands-on experience, the Boat (literally in the bow of an old wooden boat) serves shucked and barbecued oysters, charcuterie plates, and beer and wine from Friday through Monday.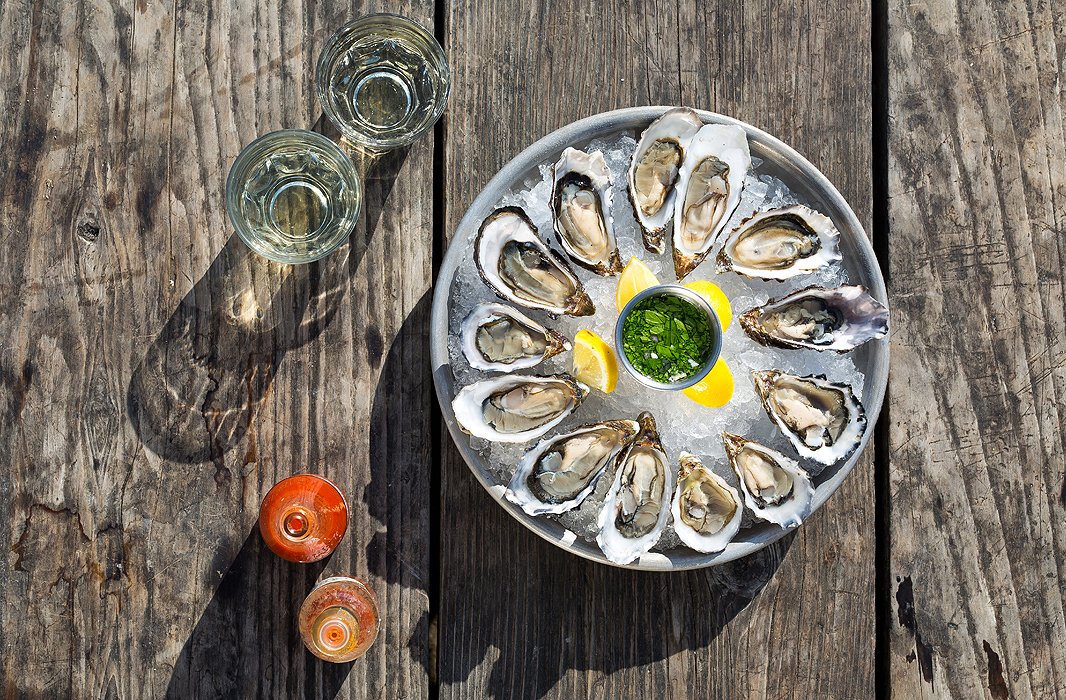 4:30 p.m.
Your last stop before heading back to the city is the Point Reyes Lighthouse, a white-washed, red-roofed beauty with a dramatic cliff-top perch. If you'd like to walk all the way down the stairs for an up-close look, you'll need to make it here before 4:30; otherwise, epic views can still be had from the top. On your way back to San Francisco, swing through downtown Point Reyes, which holds a few quaint shops and the cult-followed Bovine Bakery. "The town is quite charming, and if you happen to be there on a Saturday, they have a wonderful farmers' market," says Jose. "I also always try to indulge in something sweet from Bovine."